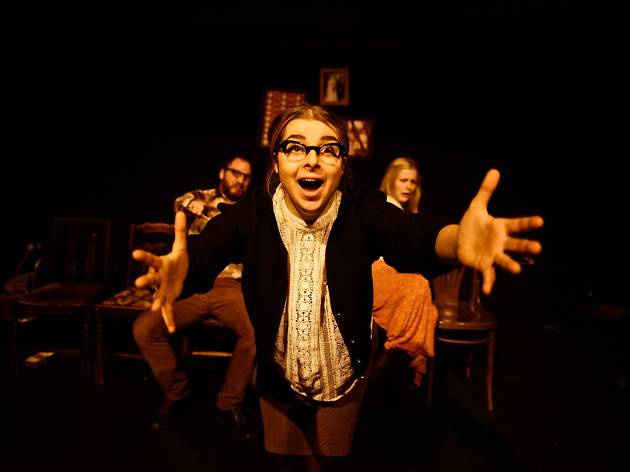 Time Out says
Devised retro romp that kind of does what it says in the title
Here's the thing about sex on stage and screen: it's usually much better or much worse than it is in real life. The shagging in '1972: The Future of Sex' is stylised; exuberant pieces of choreography that begin with participants donning swimming goggles and end with them sprawled on a rumpled carpet. Emotionally, though, it's as realistic as it gets.
On a simple-but-spot-on retro set the members of theatre collective The Wardrobe Ensemble explore sex in the '70s via a series of interwoven scenes. It's the age of the Pill, an excitable announcer tells us. Of groovy chicks and free-thinking dudes. Young people are doing it here, there and everywhere, in all manner of interesting ways. But the ones lined up on the stage look petrified. Turns out sex in the '70s is a lot like it is in every other era: awkward, joyous, scary, sweet, messy and, above all, ordinary.
The Wardrobe Ensemble devises and writes its productions as a group, and it shows. The performance seamlessly transitions between past and present, in scenes that are by turns boisterous and poignant. A chance meeting in the Bowie section of a record store leads to an exhilarating romance. A lecturer seduces a student. A young man applies bright red lipstick but dares not wear it outside his bedroom. As live music plays, the cast dash on and off the stage with effervescent enthusiasm, swapping from lead role in one scene to inner voice or narrator in the next.
The script is strewn with clever historical references, from feminist pioneer Mary Wollstonecraft to the UK's first gay pride rally in 1972. But the emphasis is on the personal – on 'all the little earthquakes' that change the world for individuals as history shifts around them.
Details
Users say