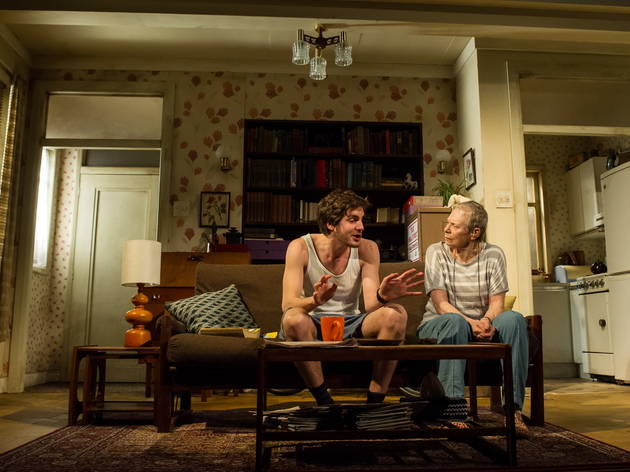 Most people will be able to remember a time growing-up when they needed something – support? Encouragement? A hug? – but weren't quite sure what that something was. In Amy Herzog's new play – a transfer from Bath's influential Ustinov Studio – this is precisely what 21-year-old Leo (Daniel Boyd) is feeling when he turns up on the doorstep of his 91-year-old grandmother at three in the morning.
It's a fork in the road for both of them. Vera (Sara Kestelman) has been struggling around her home alone, forgetting words and worrying about who might find her if she suddenly 'turns up her toes', while Leo's life has been changed irrevocably after embarking on a 4000 mile cycle ride where he witnessed the death of his best friend in a horrible traffic accident.
Herzog's script is laced with humour and poignancy. Vera's constant 'whaddayacallits' are symbolic of an active mind hampered by a body's limitations. It's both depressing and uplifting: Vera, the once feisty political activist, is nearing the end of a long life, but still her imagination kickstarts surprisingly candid conversations about sex, death, marriage and drugs.
Leo has a lot to learn, but so does Vera and it's this dynamic which makes the play work. Herzog's characters are realistic and never sentimental and over Leo's three-week stay the two don't resolve their issues, but they do become friends.
James Dacre's simple but effective production, set entirely in Vera's fading Manhattan apartment, has an excellent sound design by Adrienne Quartly, evoking a bike ride through a busy city. Kestelman as Vera is very good, she's all slow shuffles and groans perpetuated by flickers of energy and sharp humour. Despite other strong turns, she outshines the rest.
By Daisy Bowie-Sell