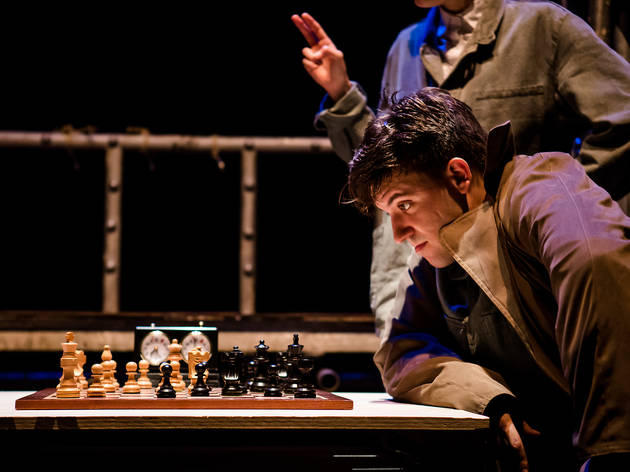 Time Out says
A fresh physical theatre piece from company Rhum and Clay.
This review is of the Edinburgh Fringe Festival run in August 2015.
You may think chess isn't the most exciting thing to construct a show around. But in the hands of physical theatre company Rhum and Clay it is a thrilling game of slow reveal. The company use chess as a way of expertly and subtly exposing the moments experienced and choices made in the life of one man. He makes his moves, step by step, until it's checkmate.
Inspired by Stefan Zweig's 'The Royal Game', '64 Squares' is about a man suffering from amnesia, who is piecing together his life before he dies. The chess-player protagonist – called just B – works backwards through the specific moments that changed his fate. His memory is hazy as he tries to make sense of his life in Vienna in the lead up to war, as the Nazis come to power and how he has made his way onto a huge cruise liner, where the world chess champion plays in his room below deck.
The four performers onstage in '64 Squares' are all B. They are the inner workings of his fractured mind as it jumps and twists, scrabbling for lost memories. Fred McLaren provides the live music – a wonderful jazzy, snazzy score that heightens the work on stage – while the other three work as an ensemble replaying B's life moments. The company, who trained at the very physical Jacques Lecoq, are energetic, ingenious with their movement, funny and the story is told with a fresh vigour.
The performers are dedicated and engaging and the set and props all work to give the piece an endearingly makeshift, but charming feel. It's a sweet, short gem.
Details
Best selling Time Out Offers