1/5
© Mark Douet
'A Boy and His Soul'
2/5
© Mark Douet
'A Boy and His Soul'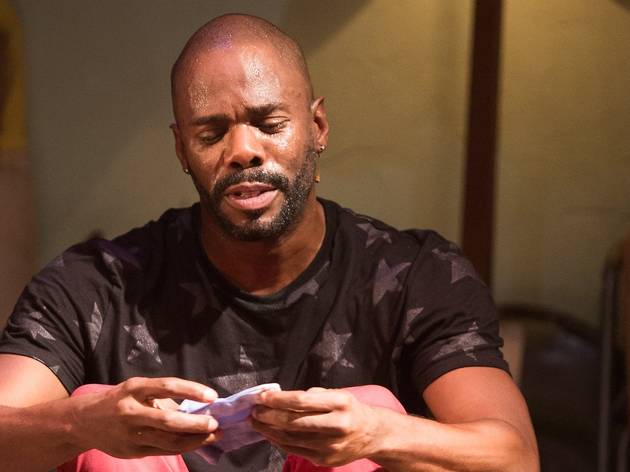 3/5
© Mark Douet
'A Boy and His Soul'
4/5
A Boy and His Soul by Colman Domingo at The Tricycle Theatre. Director Titas Halder Designer Richard Kent Lighting Designer Oliver Fenwick Sound Designer Mike Thacker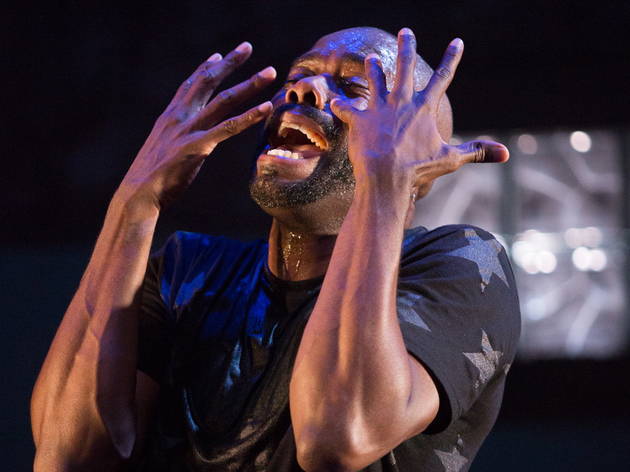 5/5
© Mark Douet
'A Boy and His Soul'
This one-man show, written and performed by American actor Colman Domingo, tells a familiar story: man in his mid-thirties revisits the childhood home that his parents are selling, and sets off the timebomb of memories contained therein.
Our setting is the rundown basement of an old West Philadelphia house: here, among dusty garden chairs and discarded toys, Domingo – or his fictional alter ego, though a glance at the script seems to indicate that he is talking about real places and people – finds boxes of soul records. This is the music that he grew up with: the soundtrack to backyard barbecues, block parties and his own journey to adulthood.
Snatches of music from these LPs – Diana Ross, Stevie Wonder, The Isley Brothers, Aretha Franklin -– punctuate Domingo's performance, which is not subtle: this is acting turned up to 11, with lots of eye-rolling and exaggerated enunciation, and could do with a little toning down.
But it's impossible not to be carried away by his exuberant impersonations of the various members of his family: his crotch-grabbing brother Rick; his ghetto-girl sister Averie; his mother Edie, quietly consoling herself for her lost dreams with the soul music she loves. And his writing contains some beautiful lyrical passages, and some tearjerking moments – just like any good soul record.
By Laura Barnett
Rating Breakdown
5 star:

2

4 star:

0

3 star:

0

2 star:

0

1 star:

0
An amazing and unexpected night. Moving, funny and enlivening in equal parts. We wanted and did feel more, think more, move more as Colman Domingo transitioned through layers of character and story. Colman's performance was, yes, a real tour-de-force. A term that's over used but in this case is superbly suited to a stunning performance and a piece that takes you under it's wing at it's first beat. A show carried easily by Colman Domingo who savoured the chance to show off his acting and writing chops with what appears to be total ease and delight and presence. The man has presence. Well worth time spent schlepping over to this part of town. It's a lovely theatre space as well - with yummy food to chump on if you give yourself enough time to savour it. Enjoyyy!
A terrific performance. Toning it down would not do it justice - you just go along with it and appreciate, that is how it is... And that is exactly what he did! Going in there with no clue of what to expect, and no idea of what the reviews have said, I was blown away by this take-me-back fantasy. He made me realise that I must bring my Mum's Soul music collection out and do the same. I chuckled even more when being able to see my own friends' and family's characteristics that I could relate to, which enlightened me to think how culture similarities can spread even across waters. This was a great piece indeed and deserves all the credit it can get for the energy, emotion and quality delivered from the offset and throughout. Captivating and engaging the audience with wit, charm and music, does this performance the purpose that he intended. One week left, so please go and see!