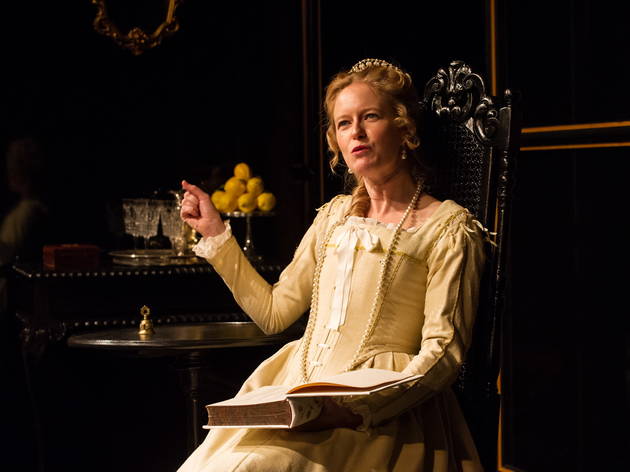 1/5
© Jane Hobson
2/5
© Jane Hobson
3/5
© Jane Hobson
4/5
© Jane Hobson
5/5
© Jane Hobson
Back in the dark days of dowries, it must have been a nightmare having daughters. And this mischievous comedy by Shakespeare's contemporary Lope de Vega proves it. In 'A Lady of Little Sense' not only does poor Octavio have two, but one's too brainy and one's too dumb and as a result, he can't find anyone to take them off his hands.

Once you've recovered from the step backwards on the road to gender equality, Vega's play is really very funny. When simple and skint country squire Liseo arrives at Octavio's to marry Finea, he quickly discovers to his dismay why the dim lass's father's been so generous with her dowry. Laurencio, on the other hand, who had hitherto wooed the brainy Nise, realises the merits of money and so swaps his affections to Finea. It's a naughty homage to harassed fathers, fickle love and irritating daughters.

David Johnston's new translation is feisty, bringing great word play, a touch of the modern and language oddities (flibbertigibbet, for instance) to 400-year-old characters. There are a couple of gaping holes in the plot – why, if she's so clever, does Nise not notice Laurencio's lying ways? – and it's a pity the men don't learn a lesson like the women. Nevertheless, Laurence Boswell's boisterous production, the third in his Spanish Golden Age season transferred from Bath, is light on its feet with lots of slapstick energy.

Katie Lightfoot as Nise is perfectly measured, while Frances McNamee plays Finea as a kind of rough fairy-cum-woodland animal who makes a miraculous, just about believable transformation into the perfect woman. The rest of the ensemble cast are also very good and several excellent comic moments are provided by Simon Scardifield as Liseo and Hedydd Dylan as the servant girl Clara.

This may not be feminism in action, but it's an awful lot of fun.