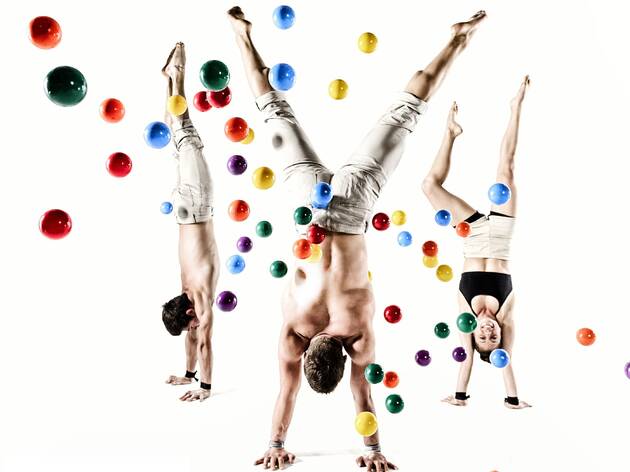 1/3
© CHRIS HERZFELD
'A Simple Space'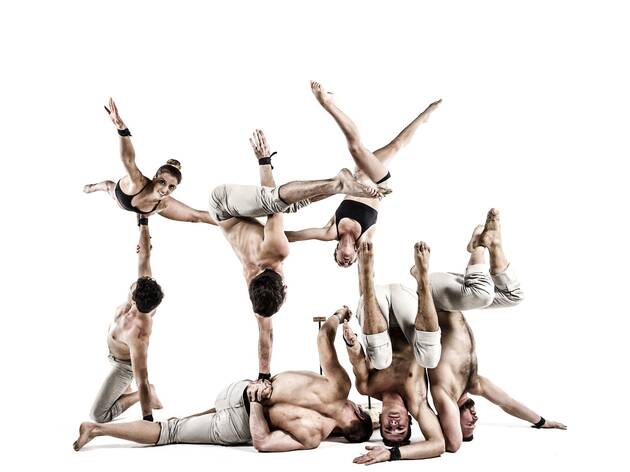 2/3
© CHRIS HERZFELD
'A Simple Space'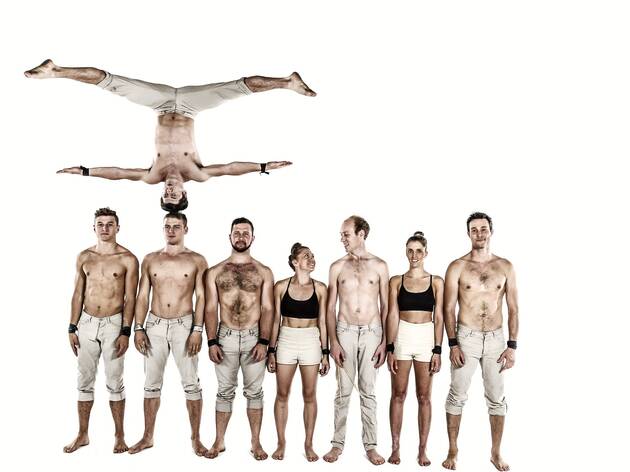 3/3
© CHRIS HERZFELD
'A Simple Space'
'A Simple Space' returns to London in April 2015. This review is of the show's 2014 run.
You probably don't go to the circus expecting stripping, but that's (part of) what you get in this Australian acrobatic show: after shedding item after item of clothing, a hairy, tree-trunk-thighed man then skips around a lot while in the buff. That image may fill you with terror, but it's just one of the witty, family-friendly (I promise) moments in this imaginatively no-frills circus from Down Under.

In 'A Simple Space', five men and two women acrobats try to be the last one standing in everything from skipping to balloon modelling to holding their breath. It brings an element of traditional clowning to Gravity & Other Myths's show, which is about as lo-fi as they come.

The company rely purely on physical strength and cheeky grins to win us over. This down-to-earth bunch want us to gasp at their brawn and bravura. Everything is done on a completely bare stage with no wires or props, accompanied by excellent musician Elliot Zoerner (who at one point becomes an amazing human drum machine). The show starts with a high-energy race: performers shout 'Falling!' and someone runs to catch them before they hit the ground. It's so loose and spontaneous, it feels like the cast are improvising.

They aren't, of course, and some of the stunts – Daniel Liddiard balancing on his head while solving a Rubik's cube, Rhiannon Cave-Walker being thrown across the stage like a rag doll, three performers balancing on each other's shoulders – are incredible. But the piece's real charm comes from the feeling that you could probably also enjoy a beer with this lot down the pub afterwards.


Rating Breakdown
5 star:

3

4 star:

0

3 star:

0

2 star:

0

1 star:

0
BRILLIANT! Everyone must go see this. Only £11 on Timeout and the 1 hour act was worth every penny. Brilliant! :)
Fantastic evening out, best £11 I have spent in London. Original, fast and the whole audience was gripped from start to finish. Lovely group of exceptionally talented young people. Went with friends from work but taking the whole family at the w/e.
Don't miss out! A thoroughly entertaining, funny and impressive act.