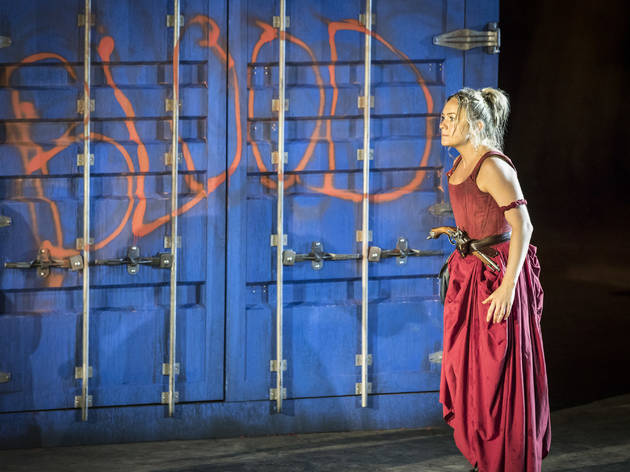 1/5
© Johan Persson
Claire-Louise Cordwell as Mdm Defarge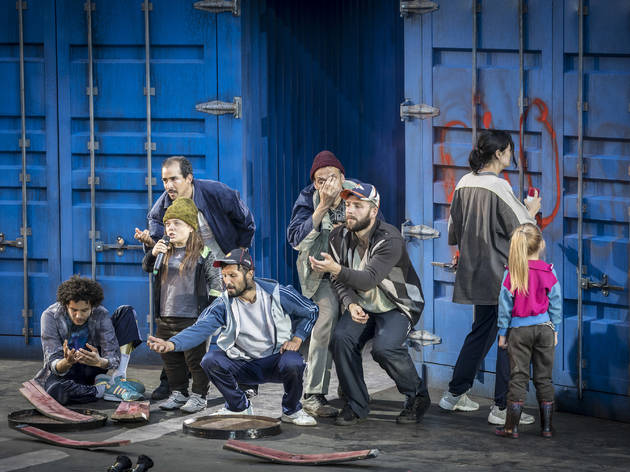 2/5
© Johan Persson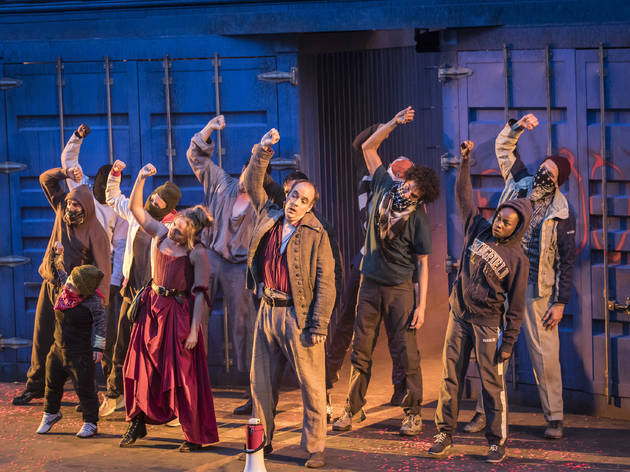 3/5
© Johan Persson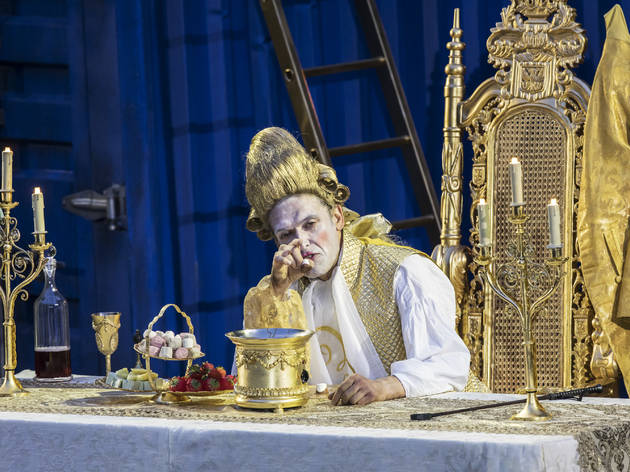 4/5
© Johan Persson
Nicholas Khan as Monseigneur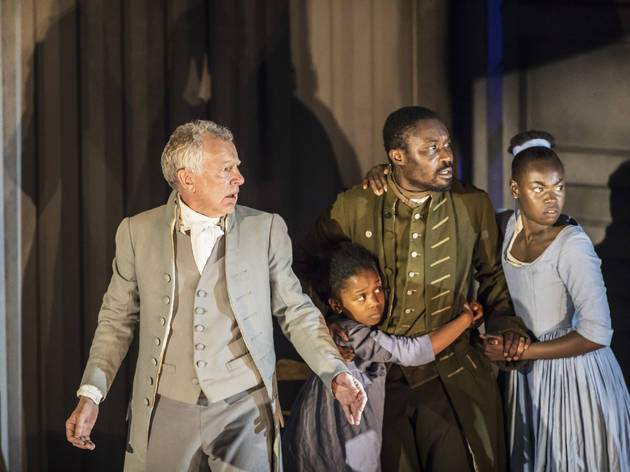 5/5
© Johan Persson
Patrick Driver (Manette), Foyinsola Ighodalo (Little Lucie), Jude Owusu (Darnay) and Marième Diouf (Lucie)
Misguided attempt to stage Dickens's epic novel
In an article cunningly titled 'A Tale of Two Titties', highbrow journal The Sun recently reported on the troubled previews of the Regent's Park Open Air Theatre's adaptation of Dickens's 'A Tale of Two Cities'. Allegedly there were mass walkouts from attendees who'd assumed it would be a family-friendly show, and were shocked at the copious swearing – plus a sex scene! – in Matthew Dunster's sprawling stage version.
It gives me no pleasure to report that there were still mass interval walkouts from the show on press night – this despite the fact that the offending sex scene and (it would appear) almost all of the swearing had been removed.
In fact a bit of gratuituous raunch might have given Dunster's adaptation a fig leaf to cover its deeper flaws. Instead we're left with a sincere but doomed attempt to telescope a Dickens novel into a three-hour stage play, in a version that unduly complicates things by half attempting to set it in the present day.
On Fly Davis's impressive but somewhat monotonous cargo container set – one of several underexplored nods to the Syrian refugee crisis in Timothy Sheader's production – a lengthy series of short, punky scenes attempt to tell the story. In a literal sense Dunster does manage to squeeze in most of the narrative, but fatally it comes at the expense of characterisation. If you've not read 'A Tale of Two Cities' I'm not really going to be able to sum up the plot in a couple of sentences, but it's set in revolutionary France (and London in the same period) and is an epic tale of redemption, family and sacrifice. But Dunster would have surely been advised to trim it: there's so much going on that it's nigh on impossible to get emotionally caught up in the sketched-out adventures of unjustly jailed Frenchman Dr. Manette and his extended family. It's only in the last section, as bitter barrister Sydney Carton prepares himself to make the ultimate sacrifice for Manette's son-in-law Charles Darnay, that the narrative zooms in close enough to feel genuinely moving, and by then it's too late.
And all this before you consider the muddled modern setting (confusingly many of the cast are in fact in period dress). It seemed like the least of the show's problems – though I don't think Dickens's parable about the dangers of social inequality needs much underscoring – but that plus the impressively diverse casting often made it feel like more energy had been expended on wokeness than storytelling.
There are reasons why most Dickens novels are considered unstageable, and this is a handy primer for most of them. Not quite the worst of times, but not far off.
Average User Rating
1.8 / 5
Rating Breakdown
5 star:

0

4 star:

2

3 star:

1

2 star:

1

1 star:

8
I couldn't follow the story at all. There was so much pointless use of the f-bomb and nudity. It was very distracting watching all the children and parents have to drop out during the show. We couldn't stay for the second half. Very clever stage set and lots of potential if the script was re-written.
A very disappointing end to a wonderful day. Totally inappropriate language and graphic scenes which were embarrassing and unpleasant to watch and spoiled the pleasure of looking forward to seeing a play on one of Dickens'most celebrated novels. It was sad, but not surprising, to see so many people leave before the interval. I am sure many parents brought their children to introduce them to a classic. There was absolutely no indicators of the obscenities that we were subjected to. Timothy Shearer - shame on you, please don't ruin another classic. If you wish to use obscenities write your own play and make sure it's advertised as such.
This is an awful production. Neither audience not cast can follow the story. Disjointed sequences; possibly written by a committee of drama students rolling a dice to decide which trope comes next. This includes swearing that a school child who had just discovered the words would be ashamed of, and a brief sex scene as crass as it is pointless. Not a midsummer night's dream. Don't take your children, or yourself for that matter. One star more than it deserves but the least that can be applied.
Sad to say this an truly appalling play and, incidentally, wholly inappropriate for children.
I'll be interested to hear what others most disliked about this execrable effort but my major issue, amongst very many, was the depiction of the execution of a jailer dressed like a London policeman. To offer that, just now, is crass.
What was the 2nd half like? I went to the pub, which was a blessed relief.
PS I cant post this with zero stars but let me assure you - I want to.
My daughter's best friend flew in for her first visit to London. We had been planning it for over a year. I bought tickets because I've always loved going to the Regent's Park Open Air Theatre. Had seen A Midsummer's Night Dream, To Kill a Mockingbird, Sound of Music, etc., over the years. I had a total of 3 children with me. The F-bomb didn't bother me. But that really was the least of it. There was a description of being drawn and quartered for gratuitous shock value. Plus the flashing of images of ISIS beheadings and other "oooh let's assault the senses of the bourgeois theatre-going public" visuals with the C-word, the F-word, and others superimposed.
Then there was the rear-entry violent sex scene. That's when I saw the parents with small children run out of there like bats out of hell. I read in the Sun that the theatre offered refunds to parents with children at the gate. They did NOT offer us this deal and clearly missed others. But the main thing is, WHY wait until people are at the entrance to warn them?
Yes indeed. There were no warning on their website. I checked the moment we went home to see if I missed something. It wasn't until later that they added something about "very strong language" and then later still that they added something about "violence". The fact is, it was "UNSUITABLE FOR CHILDREN" and they should have blasted that all over their web page.
We left at intermission and noted that many people who didn't have children were leaving too. (The ones with children ran out much sooner.) So it was believable when I told the kids that was the end, not the intermission.
It didn't matter because they didn't understand what the story was about anyway. It was utterly incomprehensible—sex and swearing aside. A lot of shouting and angst and spit-filled harangues. Like a farce posing as a witty piece.
This was the only play we planned for our dear friend's first trip to London, and I so regret not buying tickets for "School of Rock" or something else. What a shame. A shame on the theatre, too, for its incompetent management.
This is my favorite Theatre and we have been going to most productions for approaching 10 years - have seen many fantastic productions - never a dud until this.
Firstly I have no issue with plays pushing boundaries but in this instance my main problem is with the theatre management - there was no warning that the content was not suitable for young people.
We attended the Saturday night performance and had we not had booked pre dinner at the theatre we would have left early in to the first half, but the thought of my dessert kept us in the auditorium for the first half.
The use of the C word in never acceptable in my book and the gratuitous use of the f word is quite frankly juvenile and the "identical twin" plot which is essential is difficult to accept when the characters are of different ethnic backgrounds.
The gratuitous sex scene was just ridiculous and just added for the shock value.
Mr Dickens must surely be spinning in his grave, this as one other person has said was no Midsummer - a truly brilliant production from a few years ago.
Disappointed.
I was really disappointed leaving the theatre last night, having spent significant sums to just come up to London to see this show. If others are not sure if they want to see this performance - it is not a period drama, this is definitely a modern take on the book, suitable only for adults.
It was a show that tried to do too much, making it confused and disjointed and often abruptly threw the audience out of suspended disbelief. A few very good performances were in the mix, but the overall setting and tone of the show did not work for me and left me very disappointed.
The show fuses a modern and historic setting of A Tale of Two Cities, bringing the current tensions of people migrating to the UK via Calais a backdrop to the Dickens story. Rather than challenge the viewer to look at the situation in a new light, it was preachy and left you in no doubt as to how the show felt that you should view the situation.
The casting was confusing. I understand that this company likes to bend gender roles - great, particularly when the gender is not key to the role; however in this show they mixed ethnic heritages within a genetic line to such an extent that it made following who each of the character were confusing and again threw you out of your suspended disbelief because there were no way certain people could ever have been of the same blood. More fundamentally, two characters who were meant to look almost identical (a key element to this story, if you know it) look nothing like each other; the casting team seemed to be daring you to challenge their choice. The result was jarring; it felt like an amateur dramatic society who had cast the two best performers in the village, which unfortunately looked nothing like each other, and then did nothing to try to at least make them look similar.
There were a few impressive performances; Patric Driver managed the role of the conflicted Doctor masterfully, Sean Cernow was dynamic and suitably blood-chilling as a wood-cutter and Claire-Louise Cordwell was punchy as Madame Defarge. I also agree with the reviewer below that Francesca Mill's performance was very good.
I saw the show on the 10th June and they may have made some changes since the earlier reviews, for example I didn't see any sex scene, (though I may have missed it as I was not sat centrally). There was bad language (in French as well as English), though again, perhaps less than in earlier runs of the show. Nevertheless, many in the audience had left before and during half time. This is definitely not a family show.
Let me position myself as a reviewer of this play: around 50; with my Wife, celebrating her birthday; first time at this theatre – the reason for being there was the theatre, not the particular production; never seen ToTC before; unaware of the story before reading the synopsis in the programme; never seen any Dickens before (we saw Bat Out of Hell 3 days earlier!); open minded with no expectations (which I now think was important – and perhaps is what spoiled other reviewer's experiences).
Did we enjoy it? Yes. Would we recommend it? Yes, with caveats. It's not for children, and this really should be made clear anywhere selling tickets. For a start, it's a little complicated to follow at times (second half – and remember I didn't know the story beforehand); there is a single, very short sex scene (consensual with no nudity) – which I feel wasn't really necessary (despite another review, there was no nudity at all). And, yes, the F-word is used a dozen times, BUT the C-word appears on screen (not spoken) which was totally unnecessary. And the production is long – in total, (excluding a 5 minute break for an unfortunate prop malfunction), it lasted about 3 and a quarter hours.
All that said – I really enjoyed the production: the staging and its use were brilliant and very innovative, allowing for the provision of multiple 'sets'; I liked the use of the monitors to announce scene title, and to add some complimentary graphics to some scenes; the acting was passionate and the stage direction was good too. This is not a typical Dickens production – so stay away if that's what you want. It's not even a conventional modern adaptation. But, if you want a thought provoking and surprising and engaging play – I have seen far, far worse.
I very much enjoyed this performance. Although it was not child-friendly I think that this was expected given that Dickens' novel carries a theme of violence and death throughout. The middle/end was very powerful and the parts that were unclear at the start began to come together here. The use of the stage set was fantastic, as were the costumes.
I think the previous reviews are quite harsh .. but accurate in the sense that this adaptation is not suitable for children. This is a very hard hitting play portraying the huge disparity in our society between the haves and the have nots. The book was written a long time ago, but the themes ring true today. The play was complicated… and at times some of the relationships were not fully explored (at what point did Sydney Carter develop such a deep love for Lucie Mannette.. enough so for him to sacrifice himself?) . I thought the announcement/introduction of the scenes 'Knitting' …. 'Still Knitting' was a bit unusual … but overall, we really enjoyed the performances which were passionate and authentic and would recommend this play.
After seeing this play, I shall avoid any production that bears Matthew Dunster's name in the future. Families, along with adult pairs/couples, trickled out of the theatre during the first half of the performance. The crass and vulgar language, along with the explicit sex scene with a prostitute, did nothing to enhance the relevance of Dickens's novel to today's political situation or to today's audience. On the contrary, it felt as if Dickens's masterpiece had been defiled.
The two redeeming factors of the production were the fine casting - with Francesca Mills being particularly talented as an actor and dancer - and the moving stage with its minimalist, yet versatile, props.
I hope families whose children were submitted to visual and aural obscenities will be reimbursed.