'A Very Very Very Dark Matter' review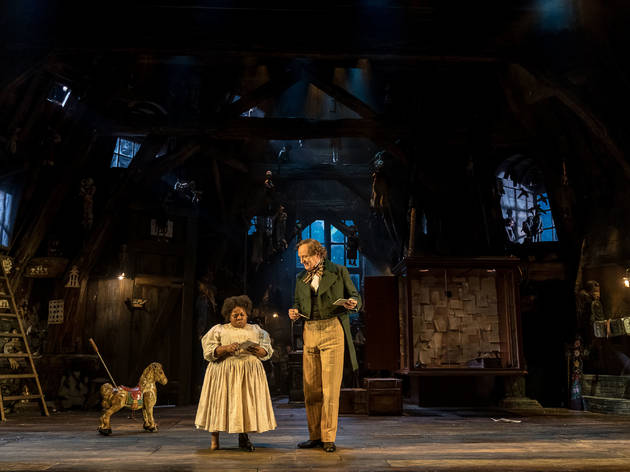 1/9
© Manuel Harlan
Johnetta Eula'Mae Ackles (Marjory) and Jim Broadbent (Hans)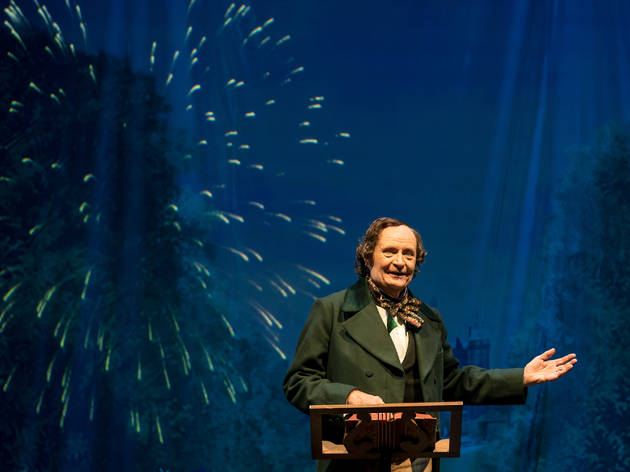 2/9
© Manuel Harlan
Jim Broadbent (Hans)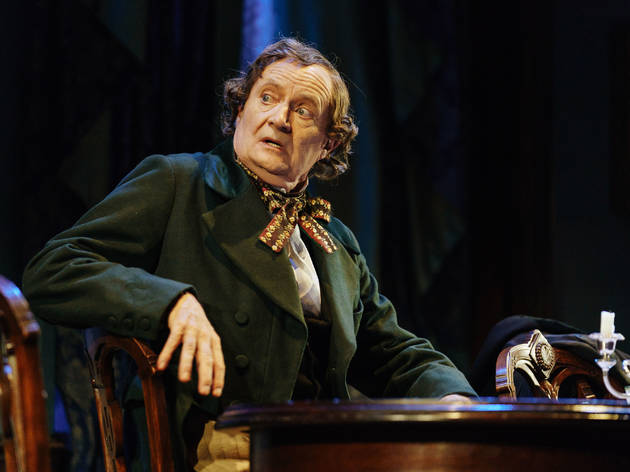 3/9
© Manuel Harlan
Jim Broadbent (Hans)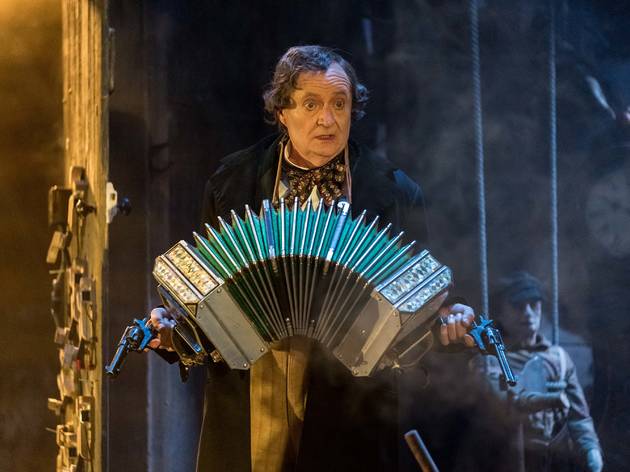 4/9
© Manuel Harlan
Jim Broadbent (Hans)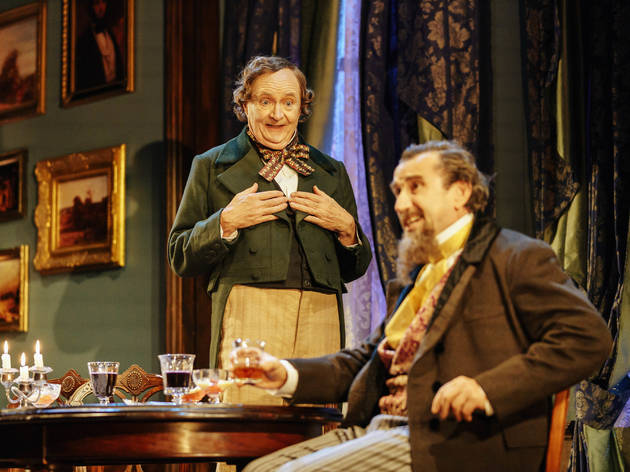 5/9
© Manuel Harlan
Jim Broadbent (Hans) and Phil Daniels (Dickens)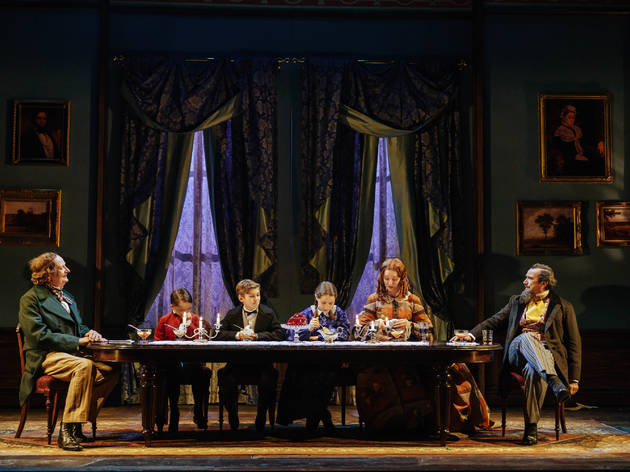 6/9
© Manuel Harlan
Jim Broadbent (Hans) James Roberts (Charles Jr) Regan Garcia (Walter) Audrey Hayhurst (Kate) Elizabeth Berrington (Catherine) & Phil Daniels (Dickens)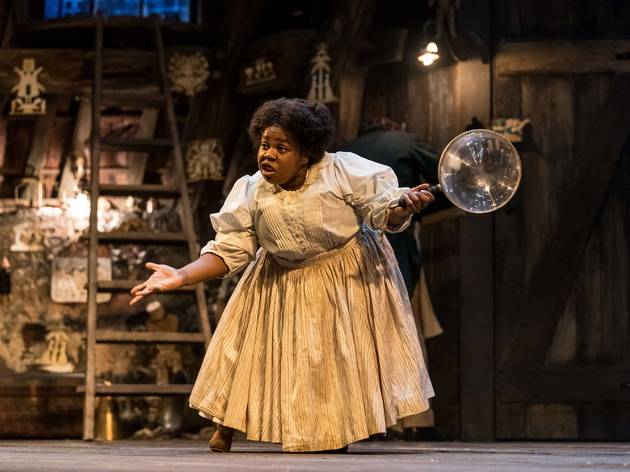 7/9
© Manuel Harlan
Johnetta Eula'Mae Ackles (Marjory)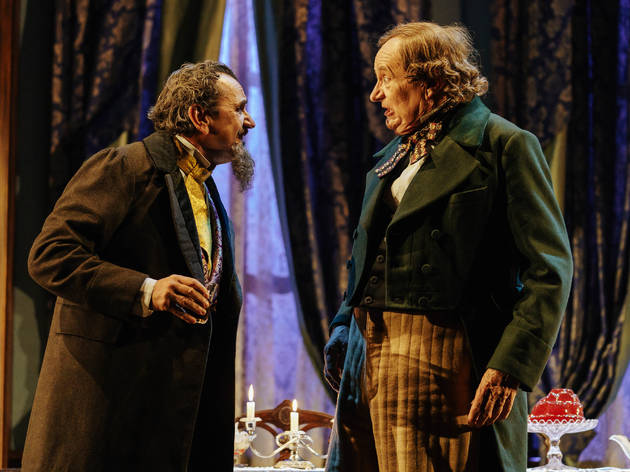 8/9
© Manuel Harlan
Phil Daniels (Dickens) and Jim Broadbent (Hans)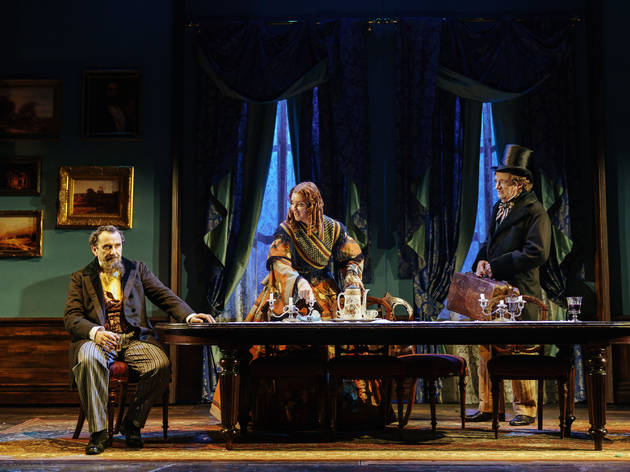 9/9
© Manuel Harlan
Phil Daniels (Dickens), Elizabeth Berrington (Catherine) and Jim Broadbent (Hans)
Time Out says
Martin McDonagh returns with a bizarre postcolonial parable about the secrets in Hans Christian Andersen's attic
Still fresh-ish from his biggest mainstream success to date with 'Three Billboards Outside Ebbing, Missouri', Martin McDonagh returns in his playwright guise with what is comfortably the most WTF thing he's ever done.
'A Very Very Very Dark Matter' is, I guess, a sort of lurid postcolonial parable, in which Jim Broadbent's excitable, childish Hans Christian Andersen is revealed to have had all his iconic stories written for him by Marjory (striking young US newcomer Johnetta Eula'Mae Ackles), a diminutive Congolese woman he keeps imprisoned in a box in his creepy, puppet-filled attic.
It is difficult to entirely understand why McDonagh, whose plays have hitherto been largely concerned with fictitious English and Irish characters, decided that Andersen would be the best central figure for what I am calling a savage but cryptic allegory for the means by which Western culture is built upon the back of colonial plunder. I suppose it's because his stories so successfully became part of the Western consciousness at the height of a colonial era which they make no allusion to.
I'm aware of people who've seen it who felt it was gratuitously offensive and/or racist. I mean, sure, there's a lot of swearing, but I honestly think it's sincere about the evils of colonialism and, in particular, the horrors of the Belgian-instigated genocide in the Congo. And I think McDonagh is sincere about pointing out that all this was wilfully ignored by the great Victorian storytellers who did so much to shape Western self-image. But I'd be lying if I said all this was crystal clear: the play is indulgent, opaque and messy, and risks coming across as more offensive than it probably is simply because its intent isn't all that clear. It's difficult to imagine that a playwright of less standing than McDonagh would possibly be able to get something as weird as this off the ground in a theatre the size of the Bridge.
All this accepted I kind of enjoyed 'A Very Very Very Dark Matter': in part because of the Grand Guignol lunacy of Matthew Dunster's production and Anna Fleischle's gothic set, in part because Broadbent's Andersen is kind of brilliant, a feckless, infantile buffoon with a hysterical sense of entitlement (considering his entire career is based upon an enormous lie) who is, nonetheless, perversely loveable in his sweetly naive complacency. Particularly funny is the sequence where he goes to stay with Phil Daniels's baleful Charles Dickens, who clearly detests him, though Andersen is completely oblivious and blithely outstays his welcome.
Did I mention the ghost Belgians? Or the time travelling? Or the haunted accordion? Or the rambling voiceover from the actual Tom Waits? And that all this happens in just an hour and 20 minutes? 'A Very Very Very Dark Matter' is a car crash in many respects, but the actual production has a sort of malevolent brio that lingers long after you've given up trying to figure out what McDonagh was on when he wrote it.
Details
Average User Rating
2.8 / 5
Rating Breakdown
5 star:

3

4 star:

8

3 star:

10

2 star:

7

1 star:

7
The worst play I have ever watched. This took offensive middle aged white guys to a whole new level. I can't believe a play was created simply for a bunch of whites to get together and create a safe haven where they can laugh at what racist, sexist, xenophobic scum they all are. It is not funny to laugh about cutting off the hands and feet of millions of Africans. It is not funny to laugh about the European rape of Africa. It is not funny for English people to sit there laughing about the Irish Famine, the famine their English ancestors caused. I cannot imagine a group of Germans sitting there laughing about killing Jews. So how is it even Remotely acceptable for a group of majority Englsih to sit there laughing about all the disgusting things their own ancestors took part in? This play was turned down by the Royal Court Theatre for being offensive. The Bridge Theatre taking up a play that was rejected for being too vile doesn't make them a good theatre it makes them a group of old, out dated white men that refuse to understand that they and their disgusting thoughts have no place anymore. Just becuase the playwright is famous doesn't mean they can be as vile, and racist as they like. Truly horrible.

If you want to see a room full of middle-aged and elderly British people laughing at racist and chauvinist jokes, as well as hear lots of swearing, this is your play. The most bizarre thing I have ever seen.
This was unbelievably bad. Political incorrectness is fine and needed, but there has to be at least some wit or interesting dialogue in delivering it. Adding the F or C word does not make an unfunny line funny. Might as well go listen to Frankie Boyle if this is what you like. Dreadful acting (Broadbent included) and ridiculous plot - if it could be called that. Be warned - no interval, so no early escape without making a fuss. Zero stars.

Frankly quite shocked to hear so many bad reviews, and there was audible grumblings as we left the theatre. It was certainly incredibly bizarre but from my perspective there was very little not to like.
I actually think the script was the best thing about it. Yes the content was gross and disturbing, but hands up who didn't learn a thing or three about how awful the Belgians were in Africa? In an age where I can turn on my TV and hear vox pops of people saying I voted for Brexit, we need to bring back the empire, I actually think the content is quite timely. Western nations were built on blood shed of millions - having that presented in a comedic and unflinching manner - and to the muddling middle classes is no bad thing in my book. To be fair I saw it in previews, but it was very clunky and unready performance wise. The set was great, but so much clumsy prop work....it was distracting. Phil Daniels was amazing - the whole thing lifted when he was on stage. The dead Belgians were good. Jim B wasn't quite script perfect, but I did love what he was doing with the character. Newcomer Johnetta Ackles can certainly land a comedic line - it's a huge part for her to carry and she did well overall, but it needed work. If you're going - go later in the run I say.
As to it being a room full of white people laughing - well, that's the Bridge Theatre for you. I've seen everything there since it opened, and have never been able to count more than a handful of other black faces in the audience. Diverse audiences are not their thing.
Absolutely dreadful. Gratuitous swearing played for laughs for an hour and a half without any sort of context or actual wit to justify its place. As a natural sceptic of political correctness and boundaries on comedy, I was surprised that I found the racial politics of it in such extremely poor taste. The problem wasn't that it was offensive per se, but the subject matter of its humour seemed callous and malicious. It wasn't so much sending up prejudice as providing a safe space for its largely privileged audience to laugh at the expense of historical and present racial hierarchies.
That aside, the jokes were juvenile and very on the nose - lots of swearing, loud voices, unsubtle modern references and self-congratulatory revelling in the attitudes and sensibilities of the middle class. It's not often I don't enjoy the theatre as sometimes the most mediocre show can be elevated by the medium and the simple joy of being present, but I spent the entirety of this show squirming at the show (and the reaction of its audience) willing it to end.