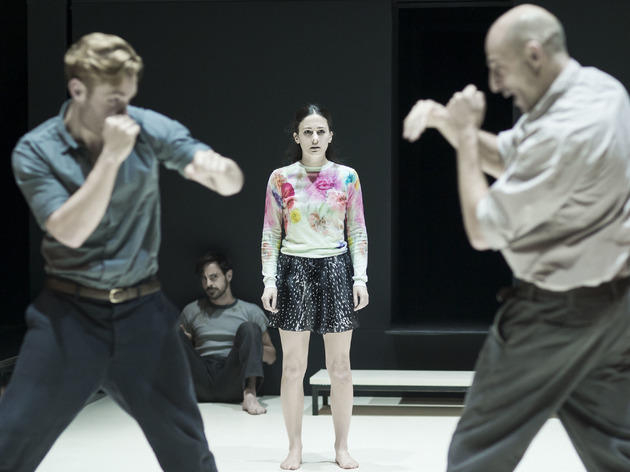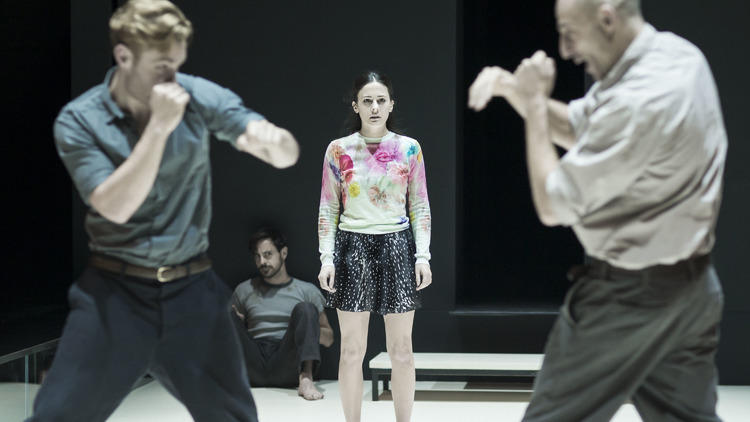 1/9
© Jan Versweyveld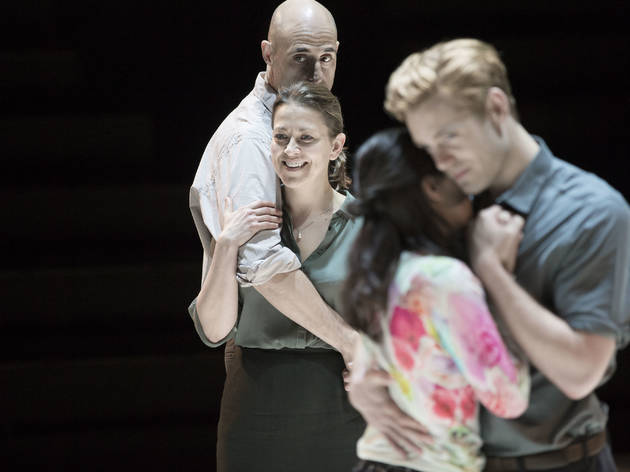 2/9
© Jan Versweyveld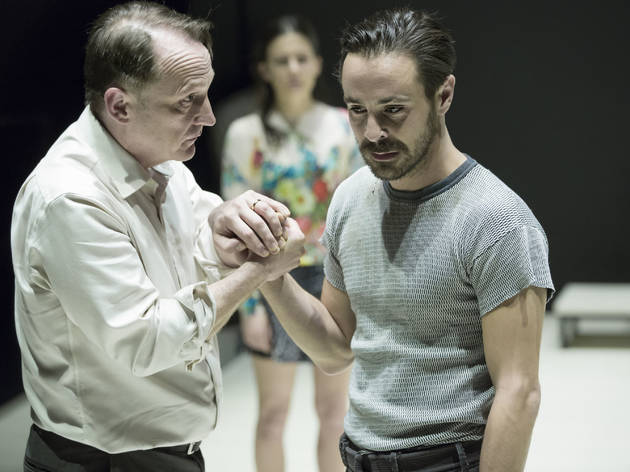 3/9
© Jan Versweyveld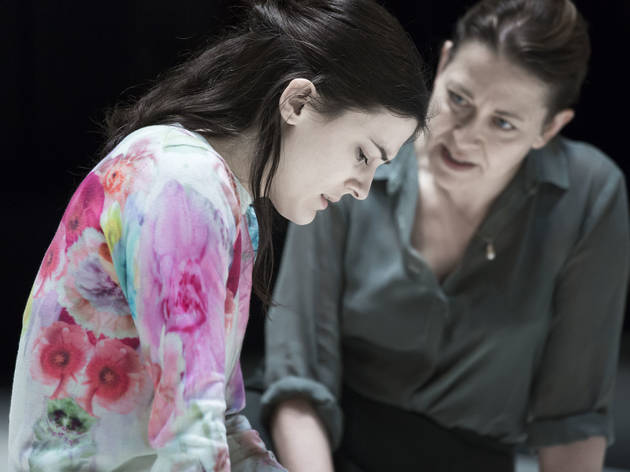 4/9
© Jan Versweyveld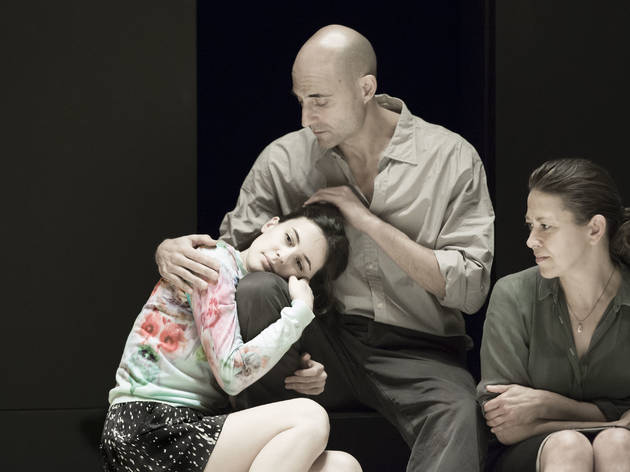 5/9
© Jan Versweyveld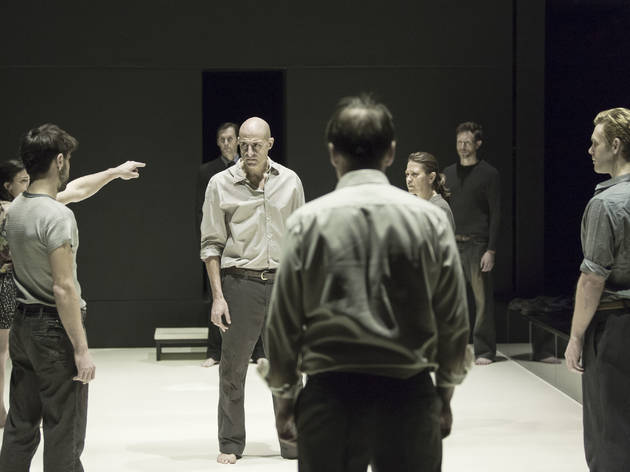 6/9
© Jan Versweyveld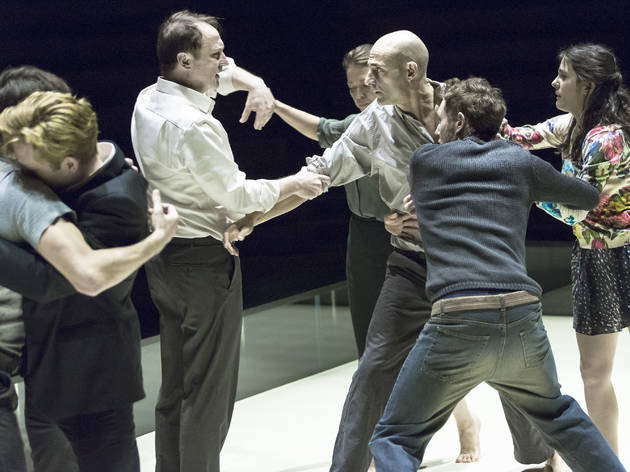 7/9
© Jan Versweyveld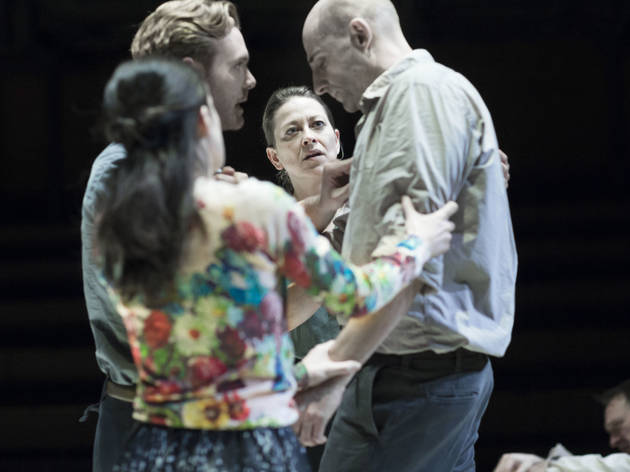 8/9
© Jan Versweyveld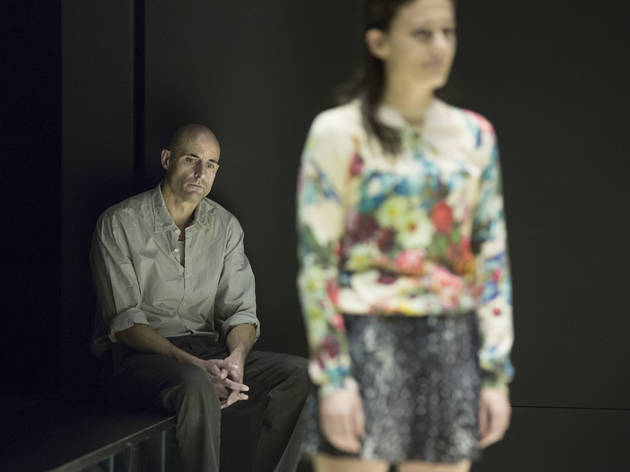 9/9
© Jan Versweyveld
Belgian director Ivo van Hove's phenomenal production of Arthur Miller's tragedy transfers to the West End with Mark Strong leading a great cast.
To say visionary Belgium director Ivo van Hove's production of 'A View from the Bridge' is the best show in the West End at the moment is like saying Stonehenge is the current best rock arrangement in Wiltshire: it almost feels silly to compare this pure, primal, colossal thing with anything else in Theatreland.

After selling out its run at the Young Vic last year, a transfer for Van Hove's Arthur Miller revival seemed inevitable just as soon as star Mark Strong and the rest of the cast could be reconvened. The main worry, I suppose, is that the staging – wherein all the action takes place in a huge, tank-like box surrounded on three sides by the audience – would be compromised by the restrictions of Wyndham's Victorian stage.

But Van Hove has done a neat fudge, putting two small banks of audience seating on stage, on either side of the set. This is important not so much because they're good seats (though I guess they are) but because the rest of us can see the audience sitting in them.

The play takes its name from Miller noting that to most well-heeled New Yorkers, the working-class neighbourhood of Red Hook was just a view from the Brooklyn Bridge. By making the tragedy of Eddie Carbone (Strong) – the honourable Brooklynite longshoreman with the dishonourable love for his niece Catherine (Phoebe Fox) – look like it's being played out in a giant tank, accompanied by constant, rarefied music, perma-dazzling lights and a total lack of props or set, Van Hove both stresses and sanctifies the yawning distance between their lives and ours: he makes the downfall of one, regular guy seem astonishing.

'Something perversely pure calls to me from his memory,' says Michael Gould's narrator Alfieri of Eddy, and we know exactly what he means: a guileless granite pillar of muscle and instinct, Strong's stupendous Eddy is a force of nature. His tragedy is apparent from the beginning – like a shark, he can only move one way, and in the very first scene the unconsciously inappropriate way he touches the excellent Fox's gawky Catherine marks out exactly what will lead to his downfall.

What is extraordinary is the way in which Van Hove and his tightly-wound cast make his unravelling unfold: Miller's terse text is turned into some fantastic hybrid of British naturalism, Greek tragedy, lab experiment and religious ritual, that begins with angelic music and light and ends in an all-consuming fountain of blood.
Rating Breakdown
5 star:

3

4 star:

0

3 star:

0

2 star:

0

1 star:

1
I have say I completely disagree with the below review. This production of View from the Bridge is quite simply one of the best things I have ever seen in the theatre. I was sitting in the circle and could hear every word. The extraordinary Mark Strong was completely believable as a careworn longshoreman who thinks he is doing the right thing. He was heartbreaking in his intensity and his love for his niece. The staging is bold and original and makes the play seem totally relevant rather than a period piece. Nicola Walker is brilliant. In fact all the cast are superb. I urge anyone who can to get a ticket – you won't be disappointed! This is a brilliant production and the Time Out review is spot on. 5 stars.
For me this was far too stylized and weak. It might have been audible in the first half dozen rows but in row M of Wyndhams, 12 rows back, a good proportion of the dialogue was inaudible. The attempted US accents didn't help (neither did the cold and flu epidemic behind us to be fair).
The play is renowned for having sparsely drawn characters and this was fully evident - where were the warm and emotional relationships of Italian families? None of them were built up or believable, it was a stylized depiction of cultural stereotypes and as such I felt that the script was too bare for the minimal running time. I found myself looking at my watch wondering how they could spin it out for the allotted time.
The applauded use of music and the persistent drum were, frankly, nothing but annoying and intrusive. They came across as a cheap and almost childish way of saying 'there is tension here' when it should have been built up with the performances and their depiction of the tensions in the relationships.
No one shone out with their performance. Mark Strong did not give the impression of having any emotional depth that drove his attitudes - he was just playing a part of a bigot with supposed, but frankly not really believable, lust for his niece without any plausible reason behind it. His relationship with Beatrice was not, as it should have been, based on a deep Caltholic love stressed by indifference and his feelings for Catherine, but just that of a tired marriage in its argumentative and frustrated phase.
The lauded kissing scene failed completely to properly convey the attempt by Eddie him to elicit positive responses from Catherine and Roldolfo, proving their sexual responsiveness to him, it merely came across as shocking, gaining a gasp from the audience instead of a deep emotional response. If that was what the Director intended then he missed the point entirely.
In all it was in one way very Italian - a classic example of form over function. Never mind the play just look how stylish I can make it look!
Still the performance stays with me. The horror of Eddie 's betrayal is heartbreaking, the performances of the cast are immense. An outstanding production.