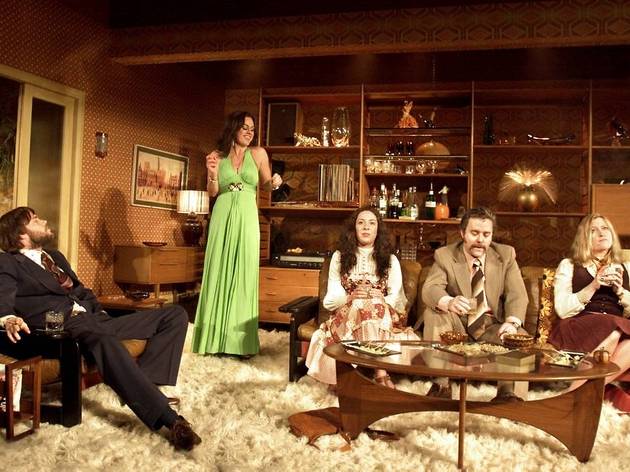 Watched by some 16 million viewers when screened as a BBC 'Play for Today' back in 1977, Mike Leigh's original version of 'Abigail's Party' is presumably the single most famous production of a play in this country, ever.
Alison Steadman's borderline sociopathic dinner party hostess Beverly is indelibly stamped on our nation's psyche, the chintzy awfulness of her and husband Laurence's suburban home is not open to negotiation and any revival must surely come with a whiff of nostalgia.
This accepted, Lindsay Posner's new production is a hoot. As with his West End-bound Old Vic production of 'Noises Off', Posner doesn't impose himself on a text that demands fidelity, yet the odd tweak is thoughtfully applied.
The biggest deviation is in Natalie Carey's interpretation of Beverly and Laurence's neighbour and party guest Angela: where Janine Duvitski brought a mousey sweetness to the role, Casey's blank delivery is suggestive of mild autism, lending Angela's faux pas-laden utterances a touch more credibility.
If Jill Halfpenny's Beverly draws from the well of Steadman, she does so superbly, with that bizarre estuary drawl down pat. And where Steadman's Beverly seemed to lack self-awareness, there's a palpable note of self-loathing to Halfpenny.
So it's a good production. Mike Britton's puce monstrosity of a living room set is pretty funny in itself. And the quality of the play goes without saying: Leigh's agonisingly hilarious skewering of petty social aspirations remains razor sharp and endlessly quotable.
Yet I still couldn't quite get my head around the point of the whole enterprise: 'Abigail's Party' is a period piece only open to the gentlest tampering, and when you can watch the original production at the click of a button, it's hard to see there's any real artistic need to bring it back to the stage. Other, of course, than because it's great, savage fun – which this production certainly is.