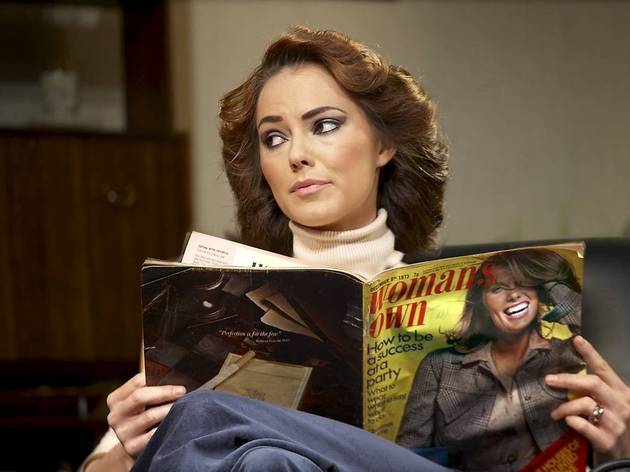 After 50 years of writing and more than 40 West End hits, I still can't decide whether the prolific Alan Ayckbourn is a suburban entertainer or the Scarborough Chekhov.
This 1974 portrait of a desperate hostess, her mean husband and their so-called friends is played out (like its younger, more monstrous sibling, Mike Leigh's 1977 'Abigail's Party') in agonising real time. It begins as kitsch sitcom. But its precision, understanding and deepening awfulness help it erupt emotionally beyond its genre boundaries, mingling laughter and tears.
An exceptional cast makes the tragedy and comedy equally visible, in a grimly polished '70s lounge-play that's a bit like a theatrical version of 'shag, marry or kill' – in that the married couples want to kill each other and have sex with everyone else, and the happiest person in the room is Reece Shearsmith's Colin, who has only been invited to tea out of sympathy because his fiancée recently dropped dead.
Two of the men (Steffan Rhodri's shagging, bullying Paul and David Armand's fidgety, unscrupulous John) are so repulsive that you want to rush onstage with pepper spray. Paul's wife Diana, the outstanding Katherine Parkinson, does her best with a jug of cream – but all the cows in England couldn't quench the swelling suffering of a woman whose children have been deported against her will to boarding school and who suspects, correctly, that her husband has been at it with her beautiful young guest Evelyn (played splendidly with zero empathy by Kara Tointon).
Parkinson, a profound comic actress who riffs on self-pity like a jazz-singer, is central, tragic and very moving. In a night of ridiculously detailed flair, Shearsmith's Colin, a Candide in knitting-pattern clothing, takes the comedy prize, with special mention to Elizabeth Berrington's Marge, forever on the phone to her obese hypochondriac husband.
Time presides over all, in the brazen sun-like shape of an over-mantel clock. It is a cruel and apt god for these characters, whose youthful hope has ticked into middle-aged despair, and whose timing is both horribly wrong and horribly right. If only they could break out of their misogynist/victim dialectic, they and their creator would be the better for it.
But Jeremy Herrin's intelligent, sensitive production rounds them all out. It achieves the feat of taking Ayckbourn's female characters seriously without losing the fun. Yet the image of the three of them – faded, fifty-ish caregiver Marge; overflowing, abandoned Di; and angry young mother, Evelyn – sitting on the settee, staring stonily into thin air like the three Fates of 1970s woman, is hard to endure and harder to forget.