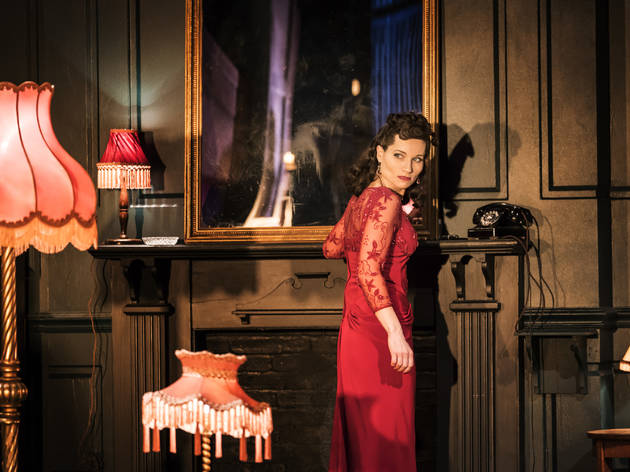 1/12
© Johan Persson
Kate Fleetwood as Christine
2/12
© Johan Persson
Rachel Dale as Fifi and Lloyd Hutchinson as Michael Crowley
3/12
© Johan Persson
4/12
© Johan Persson
Eileen Walsh as Madge
5/12
© Johan Persson
Joanna David as Mrs Mariner
6/12
© Johan Persson
Sinéad Matthews as Elizabeth Collier
7/12
© Johan Persson
Kate Fleetwood as Christine
8/12
© Johan Persson
9/12
© Johan Persson
Patricia England as Julia
10/12
© Johan Persson
11/12
© Johan Persson
Aaron Heffernan as Butch and Kate Fleetwood as Christine
12/12
© Johan Persson
Charles Edwards as Hugh Marriner and Jonathan Slinger as Maurice Hussey
Grandiose revival for Roddy Ackland's provocative study of '40s Soho nightlife
Playwright Rodney Ackland's depiction of vibrant, seedy, tragic Soho at the fag end of WW2 effectively ended the playwright's career when it premiered in 1952 under its original title, 'The Pink Room'. Society wasn't up for its unflinching vision of queer, queasy London. By 1988, when Ackland rewrote it into 'Absolute Hell', the author was dying of leukaemia, and never saw it make the leap to the National Theatre in 1995, when Judi Dench starred.
Almost quarter of a century on and director-slash-provocateur Joe Hill-Gibbins has dusted Ackland's play off for a no-expense-spared, fantasy production in the Lyttelton that inches it closer to the British canon.
You can tell it's a project close to the director's heart because his usual extreme irreverence is largely shelved. There are a few ostentatious flourishes: a sex worker who steadily paces the stage in a slow, trance-like loop; an actor purely employed to clack at a typewriter on a distant upper level of Lizzie Clachan's vaulting set; a phantasmagorical tableau of masked, horny GIs at the interval.
But for the most part, Hill-Gibbins's more grandiose impulses are given free rein by the sheer scale of the thing: with a huge ensemble, him and movement director Jenny Ogilvie conjure the ebb and flow of the rude, despairing life that inhabits Soho joint La Vie En Rose, which has a semi-respectable restaurant upstairs and a fairly outrageous drinking den in the basement. As the play starts we see the building flicker into life as proprietor Christine (Kate Fleetwood) opens up early for a brawny young GI she's hoping might keep her company; soon the place is full of sprawling life, from sensitive, gay failed writer Hugh (Charles Edwards) to proper oddballs like Eileen Walsh's Madge, an obsessive advocate for the belief that Jesus was born on Boxing Day.
In a sense, there's not much plot, or rather there are myriad tiny ones that swoop and swirl around the twin vortices of Christine and Hugh. Both Fleetwood and Edwards are superb as desperately lonely souls trying to lose themselves in the boozy bustle of the club. They're kindred spirits, albeit with key differences: she seems to run purely on instinct, with her desperate desire for companionship manifesting itself as an unselfconscious frenzy of neediness. He, on the other hand, is cursed to see exactly what he is: a washed-up nobody, hiding from the promise of his past.
Ackland's play is a strange and lengthy affair that mixes tender empathy and a painterly eye for the mania of life during wartime with some jarringly cruel farcical moments. I'm not sure whether it's an absolute stone-cold classic as a drama but as a historical document of a swirling nocturnal London – now very long gone – it feels vital.
And there is more to it than that: it has something more transcendent to say about the allure of nightlife, the strange bedfellows it breeds, the means by which it exists to alleviate loneliness as much as to facilitate joy. And this is all articulated beautifully in Hill-Gibbins's tenderly atmospheric production, the grandest and most moving work of his career.
Average User Rating
1.8 / 5
Rating Breakdown
5 star:

0

4 star:

0

3 star:

1

2 star:

3

1 star:

2
First night of Absolute Hell - and it is another turkey from the National. This one comes pre-packaged as it is the play that is the problem - the cast do a pretty good job and the production is reasonable. But why does this play justify a replay? Probably because it was so shocking for the 1950s - but that is only of real interest to theatrical historians and, judging from the way the seats emptied during the (two) intervals, I would say there were not too many there tonight. Character development - virtually nil. Number of characters you care about...perhaps Hugh (although he seems angst ridden and torn apart from start to finish...till he decides to go and live with his mum...I wouldn't want to hang around him for long). Perhaps Patricia England the delightfully Alzheimer-y bit part, or perhaps Doris the loyal servant. Christine, the main character, left me cold - the way the part is written she is an incomprehensible mix of sadness, sexiness, party animal, middle age and rheumatism (although, I have a bit of rheumatism and Kate Fleetwood who plays Christine didn't seem to). Fleetwood didn't seem too clear what Christine was about and she is only partly to blame. There is lots of clunky writing and people shouting at each other and being very unpleasant whilst still coming back for more. One scene in particular summed this up for me when Hugh's lover Nigel comes to say he is leaving Hugh. He must have picked up his suitcase a dozen times, each time returning to engage once more with Hugh about how he was leaving and there was nothing Hugh could do about it...the tension rose as we all started taking mental bets as to whether this time Nigel really would leave...(spoiler alert - of course he comes back at the end!)
I always find "symbolism" directing a pain. Here it is in the form of a prostitute who spends most of the play walking round the outside of the stage...okay - fine - we get the idea that this is seedy Soho. But by the full 3 3/4 hours it seemed all too much.
The National generally does a great job in many departments, but it seems to be hampered by its artistic policy. I have seen Salome, Common and Macbeth recently. Fortunately I have also seen Follies and John. Unfortunately AH belongs in the first category.
Made it to the first interval of Saturday's preview. A combination of the heat and sheer desperation at the thought of another two hours of this play led us to make a dash for the cool air and an even cooler beer. Surely it can't be difficult to slash an hour's running time from this play, as very little happens. The cast seemed strong, the set design decent and the atmosphere of a needy clique in a seedy Soho club was conjured up well. If they can get it down to 2 hours including one interval, I'll give it another go.

Same as Jo W. I was there for the 2nd preview and left at the 2nd interval with a whole bunch of others (my mate left at the first interval), and we all had the same problem with it. The actors and director and stage designers did their best, but it just dragged on. Characters that looked interesting during the first act just kept stumbling along, so you stopped caring about them and the plot wasn't interesting enough to keep me in my seat. I get that the characters are supposed to be in some sort of self-made purgatory but don't bloody make the audience feel like they're trapped there too.

Absolute Hell - for who, the audience or the actors?! I have to agree with Jo W. I saw the play last night and left by the interval. Theatre should be something to enjoy, not endure. Maybe with all the content around to gorge on we are insensitive to how much it takes to 'create' as pointed out by the character Hugh, quite rightly, to the snobby critic in the play. But by the interval I thought to myself, if this was a film, I would have switched off by now. There's just too much going on and it's actually quite exhausting to watch and keep up with every character running in to the scene, up the stairs, out the back, in from the back and so on and so on. Goodness knows what it must be like for the actors! This frenetic activity seemed to me a mechanic to keep our interest from the strains of a pretty saggy script. It was all sound and fury, blurring any sense of empathy towards any of the characters, who in many cases seemed more like caricatures. Absolute Hell at the National, indeed it was.