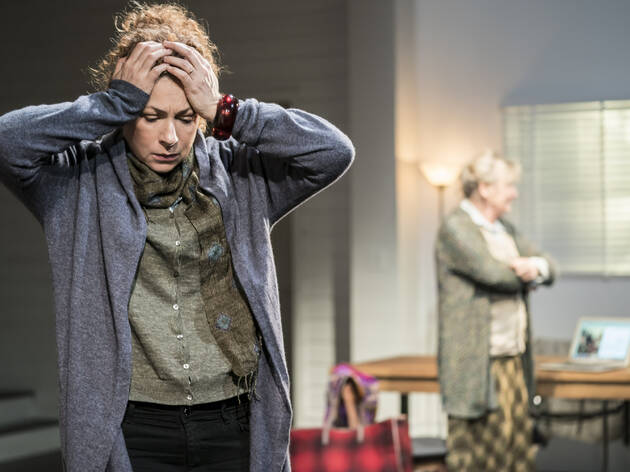 1/8
© Johan Persson
Alex Kingston (Sherri)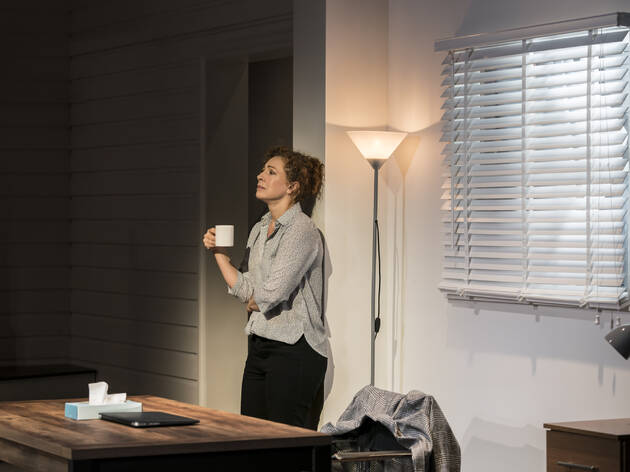 2/8
© Johan Persson
Alex Kingston (Sherri)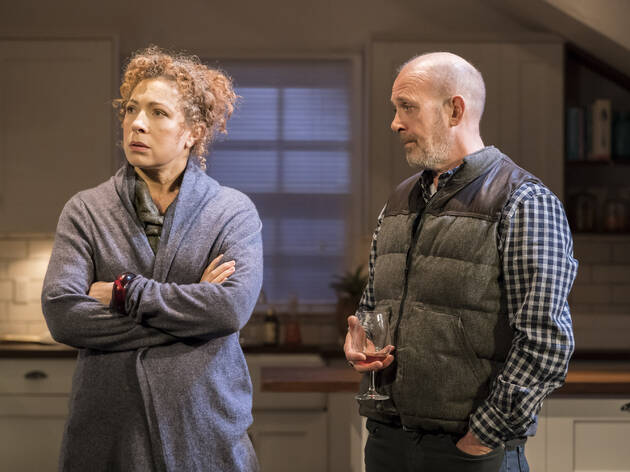 3/8
© Johan Persson
Alex Kingston (Sherri) and Andrew Woodall (Bill)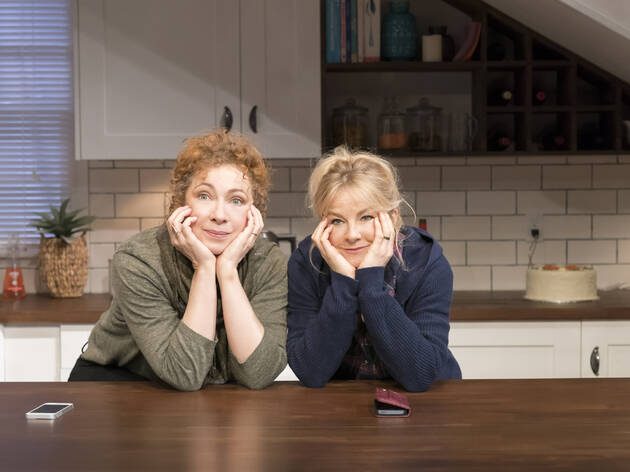 4/8
© Johan Persson
Alex Kingston (Sherri) and Sarah Hadland (Ginnie)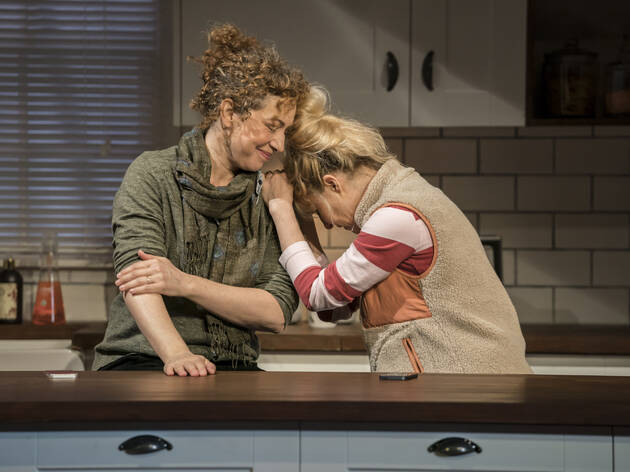 5/8
© Johan Persson
Alex Kingston (Sherri) and Sarah Hadland (Ginnie)
6/8
© Johan Persson
Alex Kingston (Sherri) and Sarah Hadland (Ginnie)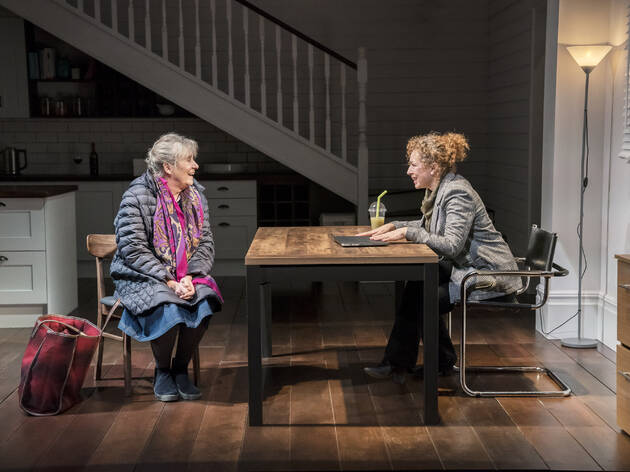 7/8
© Johan Persson
Margot Leicester (Roberta) and Alex Kingston (Sherri)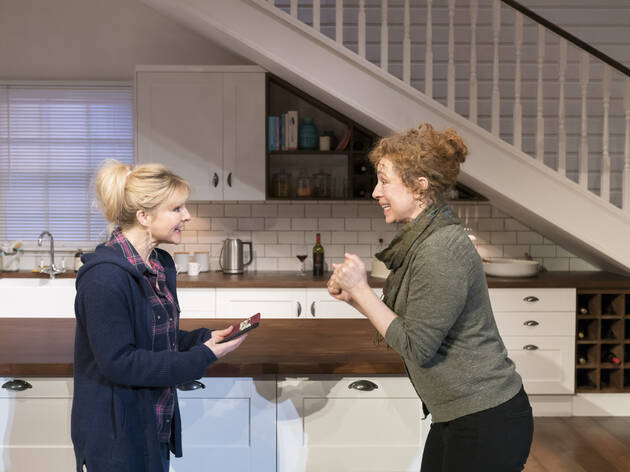 8/8
© Johan Persson
Sarah Hadland (Ginnie) and Alex Kingston (Sherri) 
Time Out says
Alex Kingston stars in this woeful American comedy
While we as a nation have rejected chlorine-washed chicken and hormone-injected beef (for now), it's alarming how few controls there are in place to protect us from this sort of dodgy American import.
'Admissions', by Joshua Harmon, is a really very bad play. Perhaps in America, where Daniel Aukin's production began, it was only quite a bad play. It is, after all, concerned with the mechanics of admission to elite US educational institutions and their relation to affirmative action, things that don't quite tally with their Brit equivalents.
Nonetheless, even in the most forgiving light, you can surely only be so enthusiastic about 'Admissions', which is basically a series of wearying setpiece speeches, heavy with whattaboutery, each desperately daring you to be provoked.
Sherri Rosen-Mason (Alex Kingston) is head of admissions at an apparently spectacularly well-resourced US sixth-form college (or equivalent thereof). She is very hot on diversity, something drilled home in two laborious scenes in which old dear Roberta (Margot Leicester) misconstrues Sherri's perfectly reasonable desire to have the photos in the college admission brochure reflect the ethnic makeup of the college, in a way that's presumably meant to make Sherri look bad, but doesn't, really.
Eventually the plot meanders to the exact spot you expect it to meander to: Sherri's son Charlie (Ben Edelman) is deferred (it's an American thing that's not even that bad) from Yale, and is incensed that his mixed-race best friend has received an offer. In a very long, very unlikely rant he explains to his parents (he also has a dad, Andrew Woodall's bizarrely warmth-free Bill) that this is all because of affirmative action.
I'm not sure of his exact politics, but I don't get the impression Harmon is purely here to own the libs. The basic point that well-off white people are often happy to preach diversity until the point it affects them is not an unfair one (hi British theatre!). But his take is mostly lazy and awful. Everyone talks like they're delivering a (terrible) stand-up set, and the humour is witlessly blunt – reasonable attitudes are cynically conflated with minor hypocrisies, while the worst of the characters' behaviour is so bound up in extreme wealth and privilege that it's impossible to meaningfully relate to.
There's also the question of the diversity of the show itself – is a play which talks so much about the underrepresentation of people of colour being deliberately ironic by having none in its cast or creative team? If so, to what end? A non-white voice in here might have given it all a bit more heft: instead, it's a conversation between white people about the rights and wrongs of admitting people of colour into their world. Somebody like Bruce Norris might have at least turned this to self-lacerating effect; in 'Admissions' it just feels face-palmingly dumb.
Kingston is, of course, a well-known and likeable actor. She is oookay here, and certainly her accent is fine, but her usual hale and hearty charm is smothered in a fretful, surprisingly minor key role that hardly plays to her strengths. Likewise, there's a game supporting cast, but they're straitjacketed by Harmon's laborious speeches.
The eccentricities of US college admissions have just hit the news via the current bribery scandal. 'Admissions' might have felt topical. But it doesn't. Some of America's smartest playwrights – Branden Jacobs-Jenkins, or Jackie Sibblies Drury – have plenty to say about race and privilege. Joshua Harmon does not.
Details
Average User Rating
3.8 / 5
Rating Breakdown
5 star:

6

4 star:

7

3 star:

3

2 star:

2

1 star:

1
Boring boring boring. Just four people shouting at each other in fake American accents. Would have walked out if not in the middle of the row. Truly dreadful. Billed as a comedy, that is a joke in itself
Ignore Time Out's evil review. The play is very funny and believable with an excellent cast.
SOLT has not had this on offer for ages now so that should tell you something.
This interesting play really gave me food for thought! Based in America, we're following this brilliant kid (shout out to the actor who I thought was just amazing) through the whole nightmare of finding/being accepted in a good university as a white kid. During this time the kid will be exposed to the questions of privileges, diversity, equality etc, with this young man trying to find the right thing to do, lost between his parents ideas and contradictions as well as his own ideas and contradictions.
I'd definitely recommend the show!
So cleverly written. Very similar to Get Out in it's tackling an issue the Time Out reviewer clearly doesn't appreciate!
As someone who is non-white, I thought the timeout review is a bit harsh and Admissions do have thought provoking ideas to bring to the table. I love the long monologue/angry rants by the son. It presents good arguments for both sides of affirmative action viewed thru a personal experience. It makes a painful point that we do all want to help until we have to sacrifice something - something we should all introspect in our own lives. The only thing I'm a bit confused about is why this is pitched as a comedy, seems more like a drama to me, one with serious stressful moments that brings back memories of my college admission journey.
Alex Kingston stars as Sherri, an admissions officer of a posh American private school, with her main goal to increase diversity. Her son Charlie doesn't get accepted into Yale, despite being top of his class, but his slightly lower-performing best friend gets accepted and Charlie believes this is because his best friend is mixed race. The play gets stuck in a paradox loop of white guilt and how can someone benefit from their white privilege and their hard work, but also make room at the table for minorities.
The play doesn't really give us anything new, and there is endless back and forth about the ethics of affirmative action and white privilege. The cast do a really good job, but like the real life situation it tackles something that is not easy to solve and it really shows in the play, all while ironically not having a single cast member from a minority.
In my opinion this play is challenging and portrayed "reverse racism" if there is such a term. Alex Kingston played Sherri, the head of admission who tried to increase the numbers of non white students in her private American school. She and her husband (who were both white) promoted diversity strongly and were challenged by their confused teenage son, Charlie. Charlie was deferred from an Ivy League school while his best friend who was a mixed race boy got in. Charlie's best friend was perceived as ticking more boxes at the admission process than Charlie because of his ethnicity. Charlie was angry and confused because of this as Charlie himself was one of the star students at school. This play showed dilemma in diversity and certainly got the audience thinking and talking about it at the end of the play.
Admissions is a great hard hitting, thought provoking play, tackling the issue of discrimination perfectly. It was really interesting to see different views on the topic, all played out within a family and their friends and colleagues. Although the play was very intense considering the topic, there were also some laugh out loud moments, blended in with great acting. There was no interval which meant you could really get into it 100% with no distractions. Highly recommend seeing this before it ends!
A stand out play; each one of the only five cast members brings their own characteristic element to the stage and Alex Kingston is the glue holding it all together.

A real joy to watch, she is on stage non-stop throughout the play that engages with the precarious state of race relations in colleges within the United States in a year where Obama was still president (2015).
The cries of "I would have voted for Obama for third term if I could have" ring very true and are more than just a whisper here; Admissions's attempts to tackle those said cries fall somewhat short and are left for the viewers to make up their own judgement.
Would highly recommend seeing Admissions in Trafalgar Studios and cannot rate this any higher. Five stars from me.
When a play is really good, it is a joy to watch. This is one of those plays and the only reason it hasn't got five stars is because none of the actors were miked and, at times, I was struggling to hear especially when they were sitting sideways on to the stage. It is so well written (Joshua Harmon), that I found myself trying to hang onto each and every word - hair pushed away from ears and leaning forward to get millimetres closer to the sound. I don't really understand the fashion for un-miked plays. This is certainly not the first time the sound has been on the low side. The acting was fabulous with Alex Kingston playing the Admissions Officer desperately trying to increase ethnic quotas for the intake at her husband's rather elite school. Their son, after being rejected by Yale, decides to take himself out of the running for top universities rather considering a community college. Ben Edelman has huge chunks of narrative which really deserve separate applause. An all round great play.
A brilliant play treating of a delicate subject the best way possible!
What is discrimination?
Do we actually have to discriminate positively to fight the negative discrimination and how can one individual have a positive impact on a society of privileges?
I recommend you go watch it if you get the chance. The play is treating different point of view, with an equal respect and in a really smart way.
Set in Hillview school, this is the story of a family reflecting on diversity and positive discrimination. The cast of 5 keep you captivated and laughing through this 1 hour 40 minute play. No interval which means its intense and quick moving. There are brilliant one liners and youll find yourself giggling.
For me, the reason its 5 stars is, its thought provoking and a real discussion point after you see it. Is there really positive discrimination in today's world? Are uni submissions really dependent on ethnicity? Was Charlie really discriminated against getting into Yale?
I thought Sarah Hadland who plays Ginnie does a very convincing American accent and is a world away from Miranda. Great acting.

Would definitely recommend.