Heads up! We're working hard to be accurate – but these are unusual times, so please always check before heading out.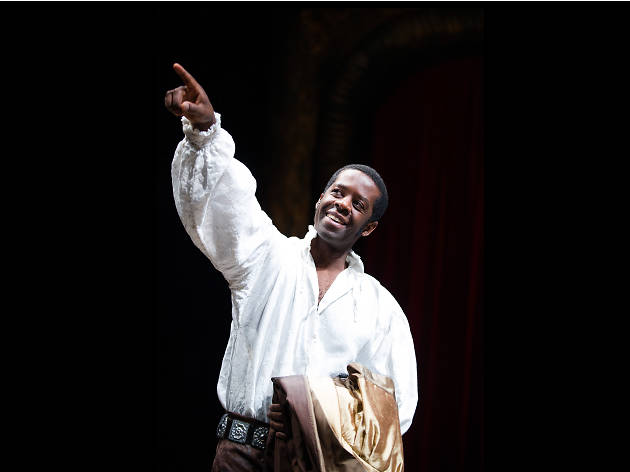 Adrian Lester on the role he just couldn't say no to
As 'Red Velvet' returns to the stage, we speak to Adrian Lester about his mission to restore the memory of Ira Aldridge, the first black West End star
Adrian Lester isn't supposed to be here. Two years ago the multi-award-winning actor – best known for the BBC's 'Hustle' – declared he was done with theatre 'for four, five years'.
But he was overestimating his chances of escaping from the last play he'd been in, 'Red Velvet'. It's not just that his wife, Lolita Chakrabarti, wrote it. Or that it's been a big hit in London and New York. Or even that he and Chakrabarti had effectively become keepers of the flame for its forgotten hero, Ira Aldridge, a brilliant black American actor who moved to London in 1824 to start a career on the nineteeth-century stage, proving a black man could do whatever a white man could.
Nope, the thing Lester hadn't counted on was Kenneth bloody Branagh. Sir Ken had decided that his long-announced, carefully mapped-out five-show season of plays in the West End's Garrick Theatre needed a sixth play, and that it should be 'Red Velvet'.
'It was out of the blue,' recalls the thoughtful, softly spoken Lester. 'We got a phone call. Are we free? Are the rights there? We said yes, he went "Right!" and that afternoon they announced it.' So what about his grand break? Lester laughs ruefully. 'I'd have been too gutted if they gave the role to somebody else!'
'I'd have been too gutted if they gave the role to somebody else!'

'Red Velvet' has been a success because it's a cracking true story, brilliantly acted, about a man who took on the appallingly racist social order of the day to become a major star in England and beyond (delightfully, it's bookended by scenes in Łódź, Poland). And it's restored the name of its hero Ira Aldridge, the first black man to play Othello on the London stage.
'The first time we did it, people hadn't heard of him,' says Lester. 'But then, because it was explained in all the reviews, the knowledge kind of filtered out and the next time people were like "Oh, isn't that the guy who…?" And now, thank God, you go to drama schools and people know exactly who he is.'
He demurs when I suggest this really is theatre changing the world. ('It's only change in the theatre world!') Nonetheless it would have been a tragedy if a man who'd meant so much to so many had been whitewashed from history.
'In Ira's time the working classes were forced to be subservient to the rich,' notes Lester, 'and below them were people of other colours. But somebody like Ira Aldridge who went toe-to-toe with the stage luminaries of the time… for many people who are lower class, he represented the idea that a person's humanity was much more important than their place in society.'
Ira Aldridge was the first black West End star. And now, thanks to Lester, his wife and Sir Ken's call-up, Ira Aldridge is finally coming home to the West End.
'Red Velvet' is playing at the Garrick Theatre Saturday January 23 2016–Saturday February 27 2016.