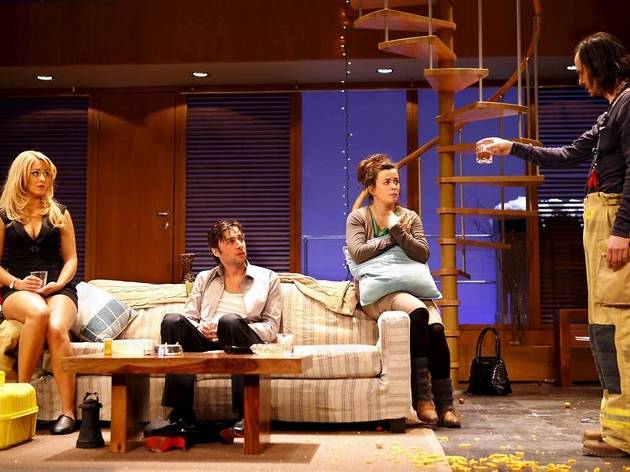 Having spent more hours of my life than I can possibly justify soaking up the gently surreal charms of US medical sitcom 'Scrubs', I have nothing but fondness for the show's erstwhile star Zach Braff, who seems to be a genuine good egg and – on the strength of 2005 indie flick 'Garden State' – a talented screenwriter/director.
So I genuinely wanted to like 'All New People', his debut play – which received fair notices on its off-Broadway premiere –especially now Braff himself has joined its West End cast. Unfortunately, Peter Dubois's production of this clunky play is clumsy, heartless and loud: so very, very loud.
On a leaden winter's day at a luxurious Long Beach Island, NJ, holiday home, Braff's troubled Charlie decides to hang himself with some electrical cord. Fortunately (or not) a series of very noisy, painfully one-dimensional strangers (Eve Myles's impossibly highly strung letting agent, Emma; Paul Hilton's drug-soaked fireman, Myron; Susannah Fielding's ditzy escort, Kim) barge in and attempt to persuade Charlie that life is worth living, etcetera, etcetera.
Hilton wrenches a bit of grizzly pathos out of Myron's unlikely backstory, but there is little nuance in this trio of clamorously turbocharged performances. Meanwhile, gifted comic actor Braff has bizarrely assigned himself the role of moody-guy-who-stands-in-the-background-looking-moody.
Dubois's direction fails to modulate or moderate the tone in any way, and although there are a couple of laughs to be had, there is next to no charm. It feels like a shrill, hysterically over-egged sitcom pilot: by the end I longed for Justin, the imaginary unicorn from 'Scrubs', to appear and restore some dignity to proceedings.