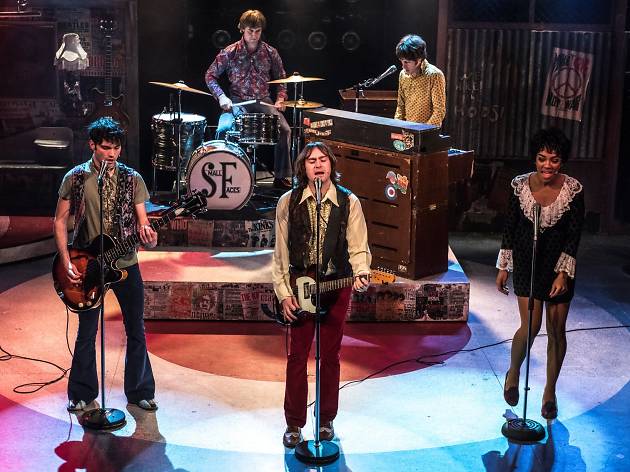 'Eastenders' star Carol Harrison has masterminded this musical about sharp-suited '60s band The Small Faces
Just as the production line of British jukebox musicals seems to be running out of steam, here's a sharp new show inspired by '60s mod culture. Carol Harrison's musical is a peppy journey through the career of 1960s pop group 'The Small Faces', and the East End working class youth culture that surrounded them. These four sharp-suited, Vespa-riding 'faces' became local heroes for their music - and snappy dress sense. But according to Harrison's musical, which is endorsed by several former group members, their ride to stardom was beset by corruption, betrayal and tragedy.
'All or Nothing' is transferring to Ambassador's Theatre after opening at Arts Theatre, following a national tour. It's written by, directed by and stars Carol Harrison (of 'Eastenders' fame), alongside fellow telly regular Chris Simmons.
Average User Rating
3.8 / 5
Rating Breakdown
5 star:

5

4 star:

3

3 star:

4

2 star:

2

1 star:

0
Fantastic night watching The Mod Musical All or Nothing!
As a huge Small Faces fan, I will admit that I was a bit worried how their story and music would work as a musical. But it works wonderfully! The cast were brilliant and were spot on with their performances!
The venue is great and there's a really cool display of Mod memorabilia and vintage music posters that are always so interesting to have a read of!
If this doesn't make it in to the west end then its a crime against musical history!
The 60s are back!
I want to start out by saying I was not familiar with the band Small Faces, and still enjoyed the show and found the songs stuck in my head the next day! If you grew up in the 60s, or are a fan of Small Faces, I am sure you will love show (and if you're like me you'll still enjoy it!).
The band did an amazing job of bringing the band of making the audience feel like they were at a gig. I don't think there was a single person that wasn't tapping their feet, clapping their hands, or dancing by the time the curtain went down.
All or Nothing was a fantastic tribute to the band, and did a great job of not only telling the story of the Mod band but bringing a bit of the 60s alive in the cosy Ambassador theatre.
Went last night FANTASTIC show if you don't go you will regret it a great Venue very well done up with lots to see and a great little bar and lots of seating it was my first time there and i would definitely go there again as it is in a great location as the is so much around it we had something to eat in the fire station (just round the corner) before very reasonable and a 3 minute walk away .....i will be surprised if it dont make it to the BIG stage as it is every bit as good as Sunny Afternoon ....well done people .....ps Got a great T shirt by Tonya
What a good night.
Something a bit special about seeing a show in a tunnel beneath Waterloo
But the trains rumbling overhead only add to the atmosphere of this brutally real telling of Steve Marriott and The Small Faces.
The storyline takes in many highs and serious lows - with a tight script and simply awesome live music.
Just like Sunny Afternoon, this is a must see if you are heading to London and you want a musical that has real heart and not too much sugar.
I loved it
Very impressed by All or Nothing , The Mod Musical.
It feels so authentic at The Vaults tucked beneath Waterloo.
The bar area has a great display of memorabilia , and the theatre space is adorned with posters of gigs I wish I had attended.
The show charts the incredible highs and lows of Steve Marriott and The Small Faces.
Its a jukebox musical but with a real story to tell - and some truly awesome live performances. Its so much better than many shows in the West End. Its a bit raw , but so is its subject. Such a good night out