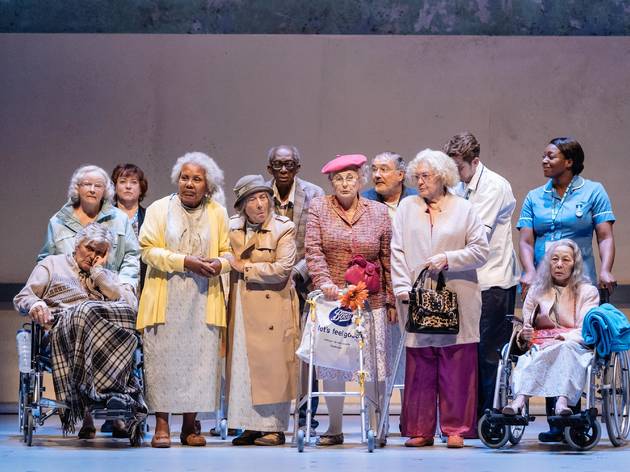 1/16
© Manuel Harlan
2/16
© Manuel Harlan
Samuel Barnett (Colin)
3/16
© Manuel Harlan
Nadine Higgin (Cliff), Gwen Taylor (Lucille), Patricia England (Mavis), Cleo Sylvestre (Cora)
4/16
© Manuel Harlan
Deborah Findlay (Sister Gilchrist) and Gary Wood (Fletcher)
5/16
© Manuel Harlan
Jeff Rawle (Joe) and David Moorst (Andy) 
6/16
© Manuel Harlan
Louis Mahoney (Neville) and Cleo Sylvestre (Cora)
7/16
© Manuel Harlan
Sacha Dhawan (Dr Valentine) and Julia Foster (Mary) 
8/16
© Manuel Harlan
Sacha Dhawan (Dr Valentine) and Samuel Barnett (Colin)
9/16
© Manuel Harlan
Sacha Dhawan (Dr Valentine) and Simon Williams (Ambrose)
10/16
© Manuel Harlan
Simon Williams (Ambrose), Sue Wallace (Hazel), Gwen Taylor (Lucille), Julia Foster (Mary)and Jeff Rawle (Joe)
11/16
© Manuel Harlan
Deborah Findlay (Sister Gilchrist)
12/16
© Manuel Harlan
Patricia England (Mavis), Sacha Dhawan (Dr Valentine), Julia Foster (Mary) 
13/16
© Manuel Harlan
Manish Gandhi (Ramesh) 
14/16
© Manuel Harlan
15/16
© Manuel Harlan
16/16
© Manuel Harlan
Time Out says
Alan Bennett mounts a quietly furious attack on Britain's culture of uncaring
Eighty-four years old and still a walloping commercial draw, all-round National Treasure Alan Bennett is undimmed by the years, but not unconcerned by them.
Set in the geriatric ward of ailing Yorkshire hospital the Bethlehem, 'Allelujah!' is less a play about Bennett's own mortality – he did that in his last one, 'People' – but rather that of his peers. And from gentle beginnings, it's underpinned by an increasing rage about the state of this country – its ailing social care system, and its deteriorating sense of compassion.
It's a slow start, as we're introduced to a large cast of elderly Bethlehem patients – who occasionally burst into faux-whimsical song and dance that partially distracts from the many physical indignities they are made to suffer – surrounded by a more acerbically-drawn array of hospital staff and visitors, including a camera crew notionally out to make a heartwarming documentary about the place.
Bennett tartly touches on a lot of topics, from gentrification to NHS privatisation to London-centricity to the 'hostile environment' policy; above all, Britain's wretched social care – most of these old-timers are still in the Bethlehem because there's nowhere to discharge them to.
You wouldn't necessarily say there was a plot, though: there are simply too many characters, many little more than tart ciphers (see Samuel Barnett's shithead civil servant, Colin). Successfully luring his long-term collaborator Bennett over to his new Bridge Theatre, director Nicholas Hytner's keeps things as coherent as he can, but the first half largely coasts by on the author's towering wit.
Or at least it does until the flat-out brilliant – and extremely funny – scene just before the interval. It suddenly throws 'Allelujah!' into unexpectedly clear focus, with Deborah Findlay's stern Sister Gilchrist emerging as the antagonist, for reasons it's probably best not to divulge.
That twist both pulls the play together and turns it on its head. Any idea that Bennett might be romanticising the Bethlehem is immediately put to rest. And the tone shifts to a more darkly farcical one, swapping the initial gentleness for something tougher and weirder.
In a sense it's difficult to know how to judge late-Bennett work, when the temptation is to simply be delighted he's making work at all. 'Allelujah!' isn't one of his great plays, but it's hopefully not indulging in sentiment to say it is a pretty good one once it gets going. He remains a totally singular voice, and – crucially – extremely funny. As it picks up steam, 'Allelujah!' feels less like a gentle comedy, and more like a quiet curse on the country Bennett has chronicled his entire life.
Details
Average User Rating
3.4 / 5
Rating Breakdown
5 star:

4

4 star:

16

3 star:

16

2 star:

4

1 star:

1
You've got until 29th Sep to go see 'Allelujah!', Allan Bennet's new play at Bridge Theatre and I would recommend you to give it a go and enjoy every bit of it.It's a long play but I never checked the time. It's clever delightful, funny andjoyfully sends a message that needs to be heard. It got also such an amazing cast, production and it is directed by Nicholas Hytner. Not to be missed! Pay attention to this news as well: Allellujah will be on the big screen! NTLive will be broadcasting to cinemas across UK and beyond on 1st November.
While I'm a big fan of Alan Bennett, there's a high probability that this will be his final play but sadly it's not one of his finest. If you're expecting 'The History Boys', you may want to move your finger away from the "Confirm Booking" button right now.
A mish-mash of revue, a smattering of plot, fantasy dance sequences, some utterly dreadful jokes, a lazy predictability (oooh let's have a disinterested young work experience character, who admittedly hits his comedy high point when playing the bass drum) oh and Bennett hits us over the head with a political postscript from one of the characters near the end.
Tonally, it runs the gamut - from the pure-panto of the hospital's chief exec character to some Agatha Christie style action at one point, but what seems strangely lacking is poignancy. 'Allelujah!' is many miles away from what he did with Lady in the Van.
Act 1 really drags in places. Act 2 is pacier. The set does the job but the vast empty space above the sliding flats seems at odds with what is supposed to be a "cosy" hospital and makes the final reveal less impressive.
Entertaining but unsatisfying.