Heads up! We're working hard to be accurate – but these are unusual times, so please always check before heading out.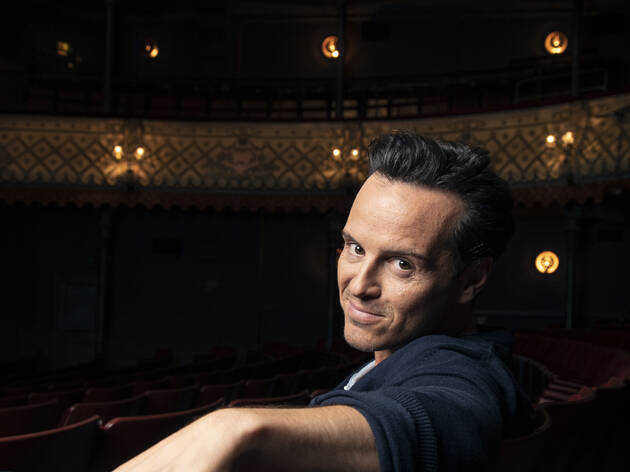 Andrew Scott: the 'Hot Priest' returns to the London stage
Playing the 'Hot Priest' in 'Fleabag' catapulted Andrew Scott from top theatre actor and terrific TV villain to global thirst trap. We talk to him about becoming a heartthrob, returning to the theatre and G&T tinnies
'I think it's important to say that the character is called The Priest,' says Andrew Scott. 'Not The Hot Priest.'
The Dublin-born actor is chatting in the Old Vic theatre, where for the next two months he'll be on stage as Garry Essendine, the promiscuous light entertainer hero of Noël Coward's farce 'Present Laughter'. When Scott signed up for the role, the 42-year-old was probably what you'd call a big-time cult actor: beloved by the fans he'd won through his terrifying performance as criminal mastermind Moriarty in the BBC's 'Sherlock', or perhaps his soulful West End 'Hamlet', but essentially known for playing outsiders and oddballs. Was he at least as good an actor as Benedict Cumberbatch? Absolutely. Was he going to become the same sort of global heartthrob as his 'Sherlock' cast mate? Absolutely not.
Then The Hot Priest happened.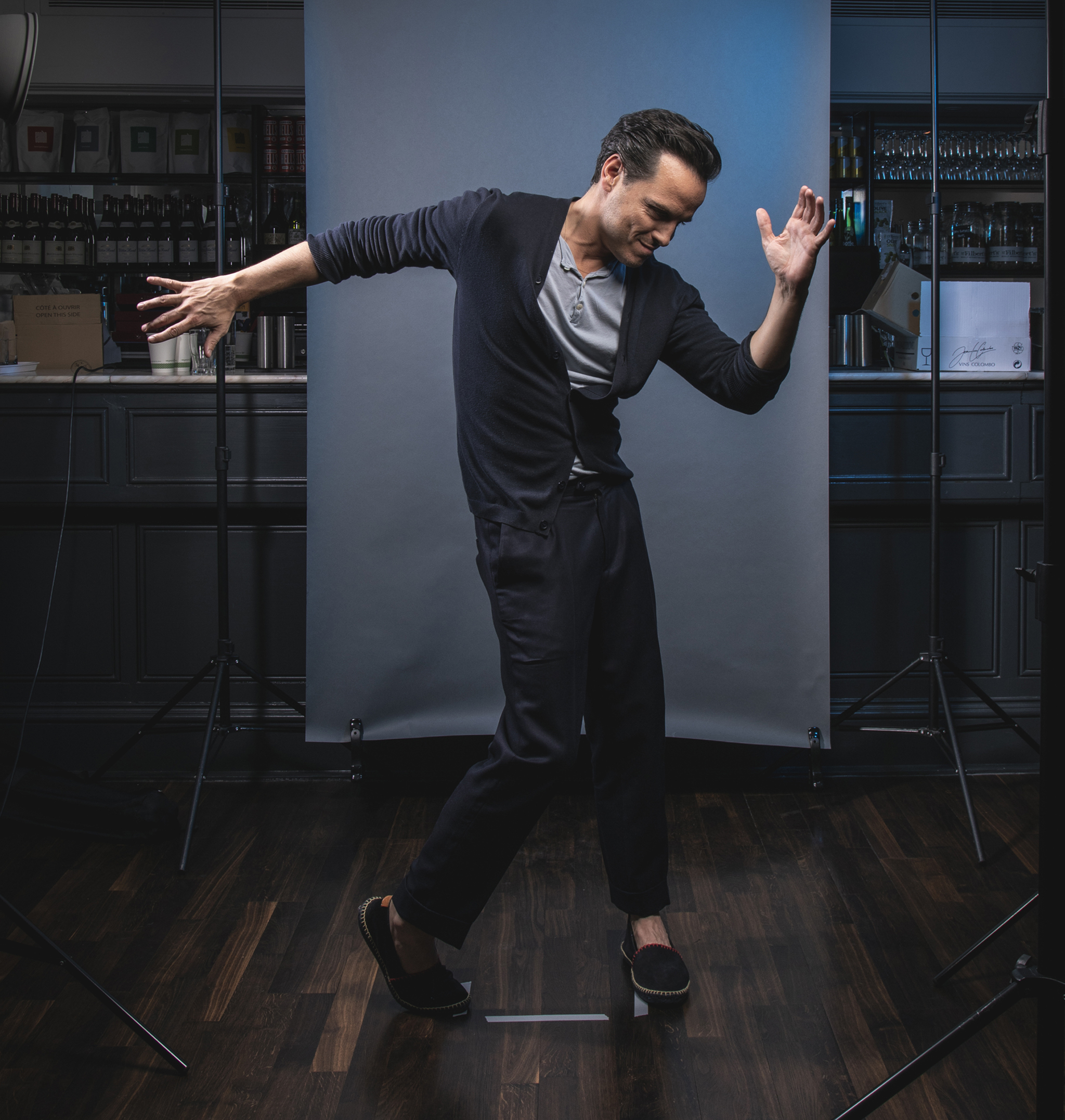 'At one time people thought: Oh my God, your eyes are really scary'
Series two of Phoebe Waller-Bridge's scabrous comedy 'Fleabag' arrived in March and featured Scott as the nameless Catholic priest: a sweary, funny, fox-phobic, gin-in-a-tin-swigging padre who officiates at the wedding of Fleabag's dad. By the end of the first episode, Fleabag and her sister had concurred that he was 'so hot'. By the end of the series, gin-in-a-tin sales had spiked by 24 percent, Google searches on 'priest sex' had soared and Scott had become the most thirsted-after man in the Western hemisphere.
'At one time people thought: Oh my God, your eyes are really scary,' he says. 'Now they're saying my eyes are something completely different. And I've remained the same!'
It has been transformative. Even out of his cassock, though, Scott is having a pretty remarkable 2019. His role in 'Present Laughter', which has been given a smart bisexual overhaul by director Matthew Warchus, is cementing his status as a major theatre leading man. He's the star of 'Smithereens', one of the three new episodes of Charlie Brooker's 'Black Mirror'. And at the end of the year he'll be on the big screen, reuniting with Cumberbatch in Sam Mendes's hotly anticipated WWI film '1917', on which he is sworn to secrecy. ('What can I say? I think stylistically it's going to be extraordinary. It's got great actors in it and, er…')
It's the kind of momentum that usually carries an actor to parts in action movies or blockbuster romcoms. Especially given that Scott has proven to be remarkable in role after role – whether it's playing an out-and-out psychopath (Moriarty), a bureaucratic dipshit (C in 'Spectre'), a rock star ('Birdland') or a grieving father ('Sea Wall'). He's never hammy, just somehow more alive than anybody else on the screen or stage. He's handsome, ageless (he plays a character a decade younger in 'Smithereens') and with 'Fleabag' and 'Present Laughter' he's shown he can do funny and likeable without sacrificing his edge.
But truth to tell, Scott is a palpably reluctant star. He's friendly and open (up to a point) and speaks without a trace of media training. He also pulls a queasy face at the very idea of taking on a role for career purposes only, admits that he'd rather not do interviews ('I'd love to phase it out in the future') and only gets through the attention by reminding himself he's there to sell a project.
So how weird was it for Scott to find himself at the centre of clickbait headlines like 'Why Are We so Goddamn Horny for Fleabag's Hot Priest?' and 'Fleabag's Hot Priest Is the Hottest Man on TV'? 'It's flattering to a certain degree,' he says. 'That's become the story, but the audience isn't required to find the priest hot; they're required to believe that Fleabag finds the priest hot.'
In fact, while Waller-Bridge has described Scott as having 'the charisma of ten people rolled into one', Scott is convinced that fans only thought he was attractive because she told them he was. 'If somebody tells you: "I want you to look at this person through the female gaze and I'm going to tell you they're sexy", you're going to go, "Oh, maybe this guy is sexy." It's extraordinary. We're just big children who are very easily manipulated.'
In real life Scott is a gentler presence than his characters suggest. 'It's weird when people say I'm intense,' he shrugs. 'I suppose it's because of the roles I've played.' (No shit, er, Moriarty!) He addresses my queries about 'Fleabag' thoughtfully and talks about 'Present Laughter' with intelligence. 'Coward was writing as bravely as he could about sexuality,' he tells me of the coded way the playwright was forced to write because of censorship in the 1930s. He explains that because Coward – who was gay – refused to use labels to define Garry Essendine's sexuality, it's extremely easy to make the character bisexual now. 'People will be surprised,' says Scott. 'They'll say: "Did you change that?" Nope! It was already there.'
'

I get starstruck by sports stars or singers but not actors'
The actor is funny and gracious but where many stars are content to share the trivia of their lives yet are reluctant to talk about the big things, Scott is almost the opposite. It's a well-established fact that he's gay. And ironically for a man who has now played not one, but two cool priests (the first in Ken Loach's 2014 film 'Jimmy's Hall'), he has been fairly outspoken about what he sees as the pernicious influence of the Catholic Church in Ireland. But there is very little other information about him out there. The trouble is, he now gets asked about his sexuality almost constantly.
'If the project concerns sexuality, it's good to talk about it,' he says. 'But when I was playing Hamlet it was irrelevant, so having to talk about it all the time felt like a weird tyranny. There's an interest in it, but I think there's a responsibility on the part of the media not to let it become prurient.'
This is not to say Scott is a grumbler. He's just a man who is wary of the celebrity aspect of A-list stardom: when I point out that we don't know anything about him – what music he likes, what food he's into – he simply affirms that he likes it that way. He affably bats away a couple of my more gossipy questions, and I'm not sure every answer he gives me is entirely serious (he probably doesn't actually burgle houses). When I ask if he's had any talks about starring in Marvel films – which have gobbled up his 'Sherlock' peers Cumberbatch and Martin Freeman – he says he's had conversations about them but none has appealed so far. 'I suppose what's interesting is what the character is. And as yet I haven't seen a character that has felt like a new thing to do.'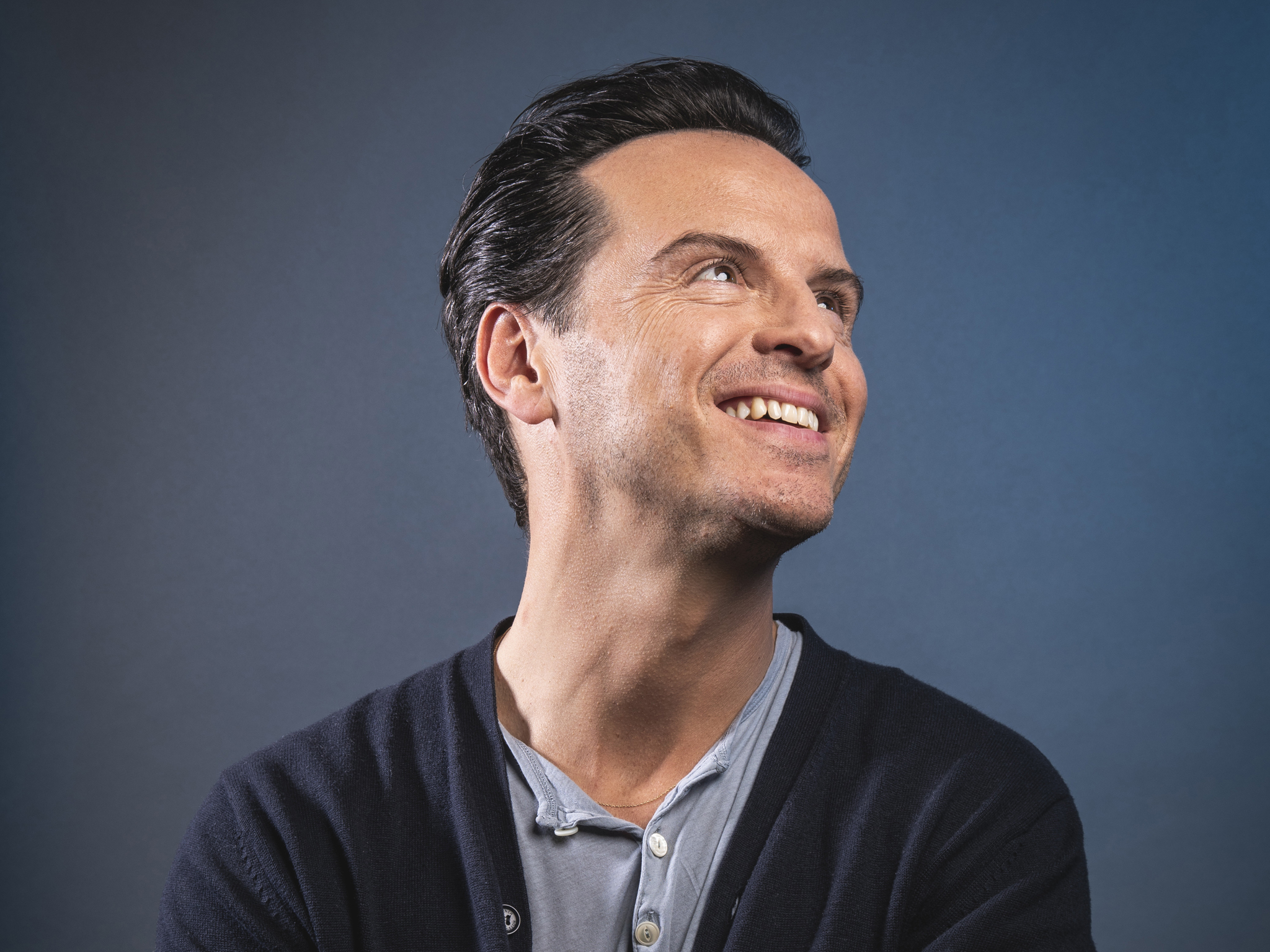 In other words, Scott just does what interests him. 'One of the nice things about success is that I have a degree of choice as to what job I might get, and that's a real luxury for an actor,' he says. That seems to be it for him, and it makes his career a genuinely, thrillingly impossible one to predict.
Since Moriarty made his name, there's not been an ounce of filler on Scott's CV. Maybe he'll end up a semi-famous indie star; maybe that perfect superhero role will come along after all. But in 2019, the stars have aligned for one of the best actors we have to suddenly be everywhere. And we should all crack open a gin-in-a-tin to that.
Quickfire confessional
Andrew Scott answers our silliest burning questions
Gin in a tin or a beer?
'Gin in a tin. Gotta have ice, though. Can I decant it?'
Have you ever been starstruck?
'I met Billie Jean King at a play on Broadway. I get starstruck by sports stars or singers but not actors.'
You've got a day off in London – where do you go?
'Walking is my favourite thing to do in London, anything around the parks: St James's Park, Green Park, Hyde Park.'
How do you feel about urban foxes?
'You usually see urban foxes at night, which is why people feel they have a weird mysticism about them. I love them, I think they're beautiful.'
Has anybody shouted 'kneel' at you?
'No, no "kneel". Not in the street, anyway.'
Do you watch 'Love Island'?
'I watched "Love Island" last year. When I was doing "Hamlet" in 2017 that was all anybody was talking about. I was there shouting in the dark and crying for four hours and I thought: Next year, I'm going to watch "Love Island", because I can.'
Do you have any unusual hobbies?
'I do a lot of painting and drawing. And I burgle. I steal things from people's houses.'
'Present Laughter' is at the Old Vic until Aug 10. Tube: Waterloo.
Portraits: Andy Parsons
Support Time Out
We see you're using an ad-blocker. Ad revenue is Time Out's main source of income. The content you're reading is made by independent, expert local journalists.
Support Time Out directly today and help us champion the people and places which make the city tick. Cheers!
Donate now