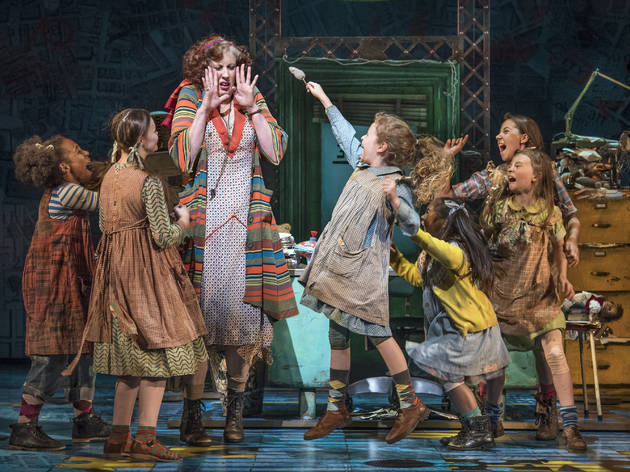 1/8
© Paul Coltas
Miranda Hart (Miss Hannigan)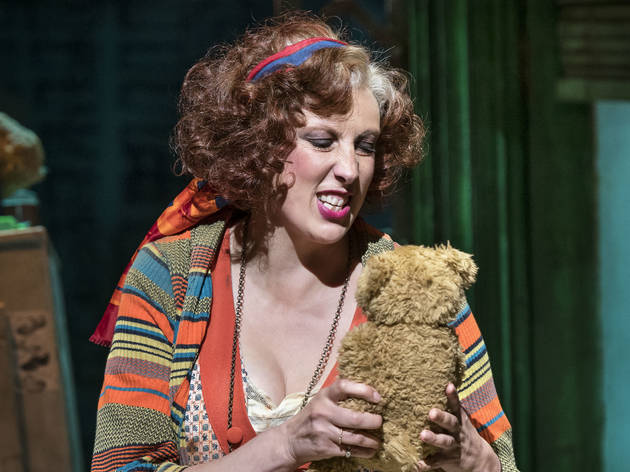 2/8
© Paul Coltas
Miranda Hart (Miss Hannigan)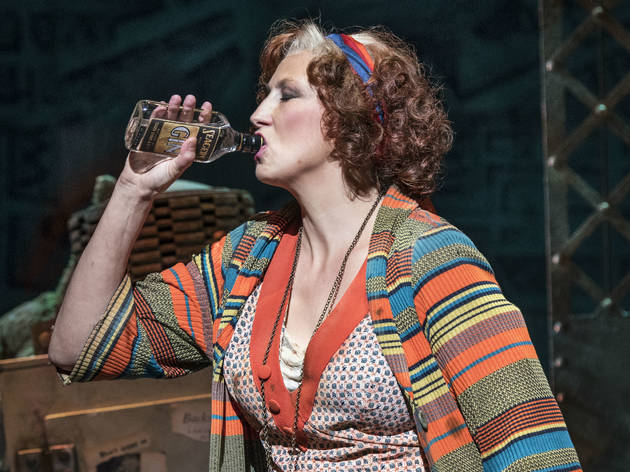 3/8
© Paul Coltas
Miranda Hart (Miss Hannigan)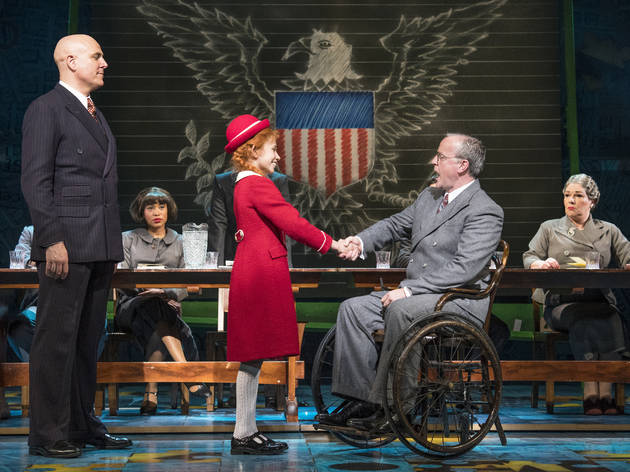 4/8
© Paul Coltas
Alex Bourne (Daddy Warbucks), Ruby Stokes (Annie), Russell Wilcox (Franklin D. Roosevert)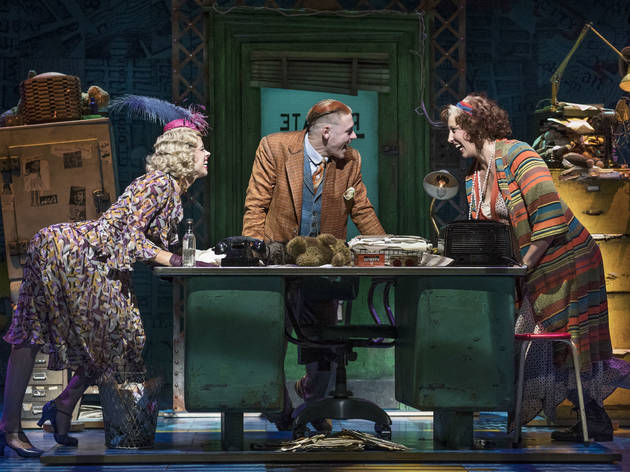 5/8
© Paul Coltas
Djalenga Scott (Lily) Jonny Fines (Rooster) and Miranda Hart (Miss Hannigan)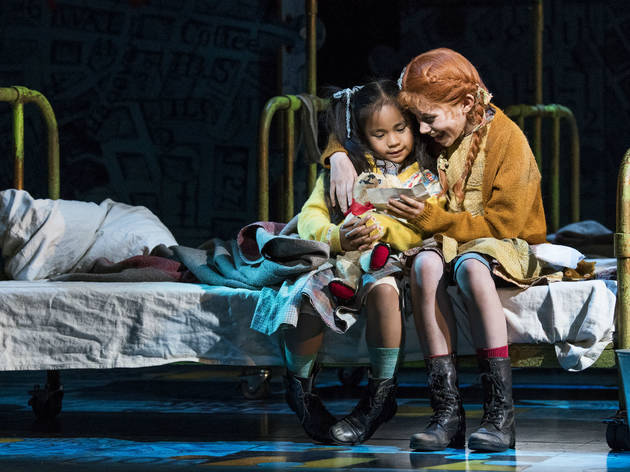 6/8
© Paul Coltas
Nicole Subebe (Molly) and Ruby Stokes (Annie)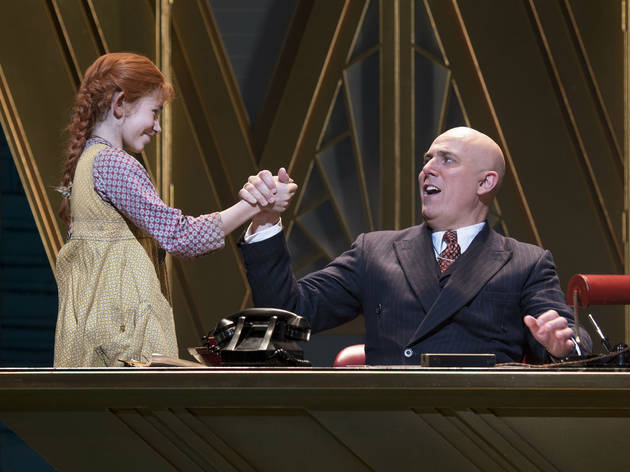 7/8
© Paul Coltas
Ruby Stokes (Annie) and Alex Bourne (Daddy Warbucks)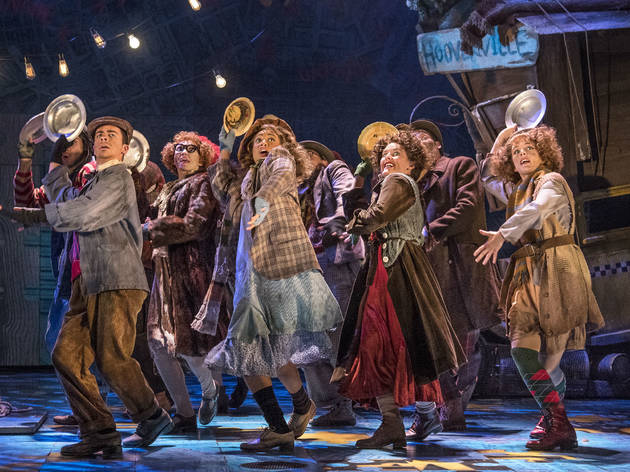 8/8
© Paul Coltas
Comedian Miranda Hart gets the chuckles in this agreeable revival of the beloved American musical
American as apple pie and covfefe, Charles Strouse's all-singing 1977 adaptation of Harold Gray's Depression-era comic strip 'Little Orphan Annie' remains a staple on the touring circuit. But it's been aeons since London last hosted a production, perhaps because it's been so comprehensively overshadowed by Tim Minchin's 'Matilda', another musical about a young female prodigy that's smarter, funnier, darker, weirder and more tuneful.
Still, 'Annie' remains a sturdy slice of feel-good with an agreeable seasoning of irony. And Nikolai Foster's production has a lanky USP in comedian Miranda Hart, making her West End debut as dissolute orphanage boss Miss Hannigan. Her eponymous sitcom was an acquired taste, but she is genuinely, properly funny here. Her accent is terrible and she can't really sing, but she imbues Hannigan with a sort of nihilistic loucheness that lights up the stage, all exasperated rolls of the eye and ginned-up staggers. She barely amounts to a villain, but she is a lot of fun.
Elsewhere the kiddie orphans are a grungy delight, Ruby Stokes (Annie on press night; she will alternate with Madeleine Haynes and Lola Moxom) nails the orphan's knowing peppiness, designer Colin Richmond offers up handsome sets, there is a nice dog, and the show's nostalgia for the '30s remains funny and charming: FDR is, ludicrously, a major character, which certainly made me yearn for decades gone by (with the show opening, as it did, on the day the hate-flinging gibbon in the White House decided to pick on our mayor).
Perhaps the biggest problem is that it doesn't have a particularly gripping plot: sassy-but-stoic Annie is randomly plucked from her grim orphanage to spend Christmas with hard-nosed businessman Oliver Warbucks (a bearish Alex Bourne). She melts his heart, he decides to adopt her permanently (quite right too: what sort of dick gives an orphan two nice weeks then dumps her?), FDR turns up to balance out the pro-capitalist vibes slightly… and that's basically it. The only note of peril is Hannigan's brother Rooster (Jonny Fines, sporting a bewildering alt-right haircut) attempting to pose as Annie's real father and steal her away from Warbucks, but his conspiracy is so negligible and easily foiled he might as well have not bothered.
The songs are likeable, though they never really thrill, perhaps due to a dearth of really strong voices on stage (though 'Hard Knock Life' has a peculiarly entertaining frisson since Jay Z sampled it).
So yeah: see 'Matilda' first. Maybe see it a couple of times. But 'Annie' has its own charms, and though I suspect this production may not survive Hart's departure on September 17, there is definitely more to it than celebrity casting.
Average User Rating
3.3 / 5
Rating Breakdown
5 star:

0

4 star:

5

3 star:

8

2 star:

1

1 star:

0
If you're after a feel-good evening out featuring an amazing soundtrack then this performance of Annie is just the ticket for you. The kids are incredible, little Molly is too cute for words, and they manage to mirror the original movie cast down to a T. Miranda Hart makes Miss Hanigan's role very much her own, which makes for a fun twist, and although she absolutely cannot sing, she does have the audience in stitches at times. Not show-stoppingly brilliant by any means, but this show will without a doubt leave you smiling.
Every iteration of Annie that I'm aware of is a slight but sweet story with some larger than life characters and this production is no different. It does fall a little flat in some areas - Annie feels older than she probably should, Miranda Hart isn't as villainous (or as American) as she could be, and things peak extremely early with 'Hard Knock Life'. That says, there's nothing offensively bad, the kids in the orphanage are all great, and the kids in the audience seemed to enjoy it very much.