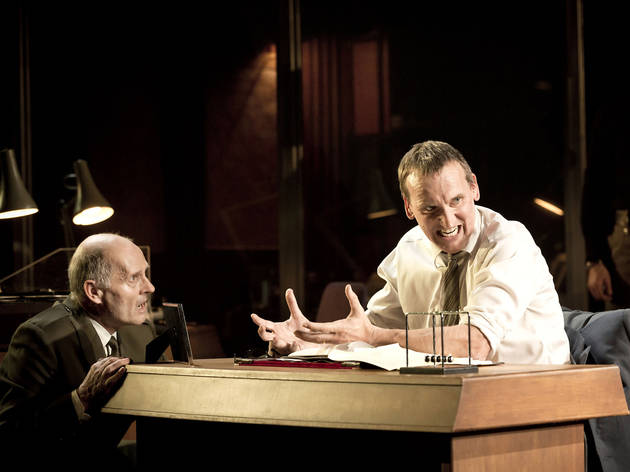 Time Out says
Friendly warning! We're working hard to be accurate. But these are unusual times, so please check that events are still happening.
Twenty-nine-year-old director Polly Findlay makes her Olivier debut with impressive assurance, sweeping a 2,500 year old tragedy (Sophocles's 'Antigone') and a 48-year-old screen star (Christopher Eccleston) into her bold modernisation of an ancient parable of state arrogance. To do so, she has to sweep some of 'Antigone's original context under the carpet, in a move that comes back to trouble this gripping 90-minute production in its final third.
Here, Thebes is a paranoid city evoking several eras of the post-WW2 West. Soutra Gilmour's beige and perspex set and Dan Jones's ticking clock sound-design are brilliant homages to classic Cold War espionage thrillers like 'The Manchurian Candidate'; the freewheeling naturalism of the chorus, who take on the role of political leader Creon's backroom staff, brings something of 'The West Wing'; and the wordless first scene in which Eccleston's Creon watches the battle between brothers Eteocles and Polynices on a monitor audaciously references the photo of Obama, Clinton et al viewing the demise of Bin Laden.
The keynote is Eccleston's channelling of Tony Blair. It's not an impersonation, but his precise, repetitive diction, mannered body language, cool unflappability and, above all, unshakeable belief in the rightness of his deeply unpopular cause – in this case executing his niece Antigone for defying the law by burying her traitorous brother Polynices – unerringly invokes one man's slippery spirit. It is a superb portrait and critique of the scariest sort of politician: one actually driven by ideology.
The blaze of feeling that Jodie Whittaker's bluff northern Antigone brings to Thebes' claustrophobic halls of power is thrilling, even if she gets comparatively little stage-time. That's largely because she doesn't get many lines from Sophocles or Don Taylor's terse, tough 1986 BBC translation. But, like several elements of the original play, her motives and personality feel drowned out by Findlay's vision.
This is exemplified by Jamie Ballard's blind prophet Teiresias, whose tangible mystical powers and daft prosthetic-enhanced appearance are completely at odds with the naturalistic surroundings. It's an interesting portrayal which makes almost no sense here.
The production teeters after Teiresias's late introduction, flailing to regain context. But it pulls it back for the devastating final scene, in which, after a triple tragedy, Creon's spirit is finally broken – not in spite of his unshakeable faith, but because of it.
Details