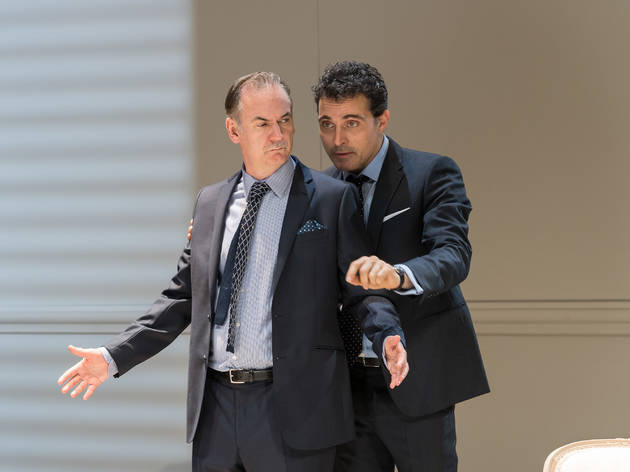 1/2
© Manuel Harlan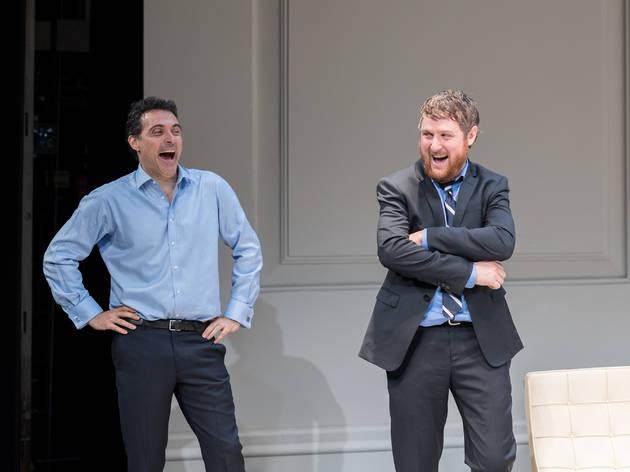 2/2
© Manuel Harlan
Rufus Sewell (Serge) and Tim Key (Yvan)
Time Out says
A twentieth anniversary revival of Matthew Warchus's blockbuster comedy
First time out, Matthew Warchus's 1996 production of Yasmina Reza's comedy 'Art' ran for eight years – longer than either of the world wars, David Cameron's prime ministership or the complete run of 'Breaking Bad'. Why? Dunno, really – perhaps Reza's portrait of three middle-aged male friends having a collective breakdown after suave Serge spunks €100,000 on a completely white painting surfed some sort of YBA-related zeitgest; perhaps it struck a chord with babyboomers, who would have been around the age of Serge and his frenemies Yvan and Marc when 'Art' began its run; perhaps it's just 'one of those things' – the only real common thread between non musicals with long West End runs ('The Woman in Black', 'The 39 Steps', 'The Mousetrap') tends to be low overheads – 'Art' is a short three hander with a simple white set.

Anyhow, Warchus's production is so inextricably linked to the play that it's hard to imagine anyone staging it afresh for decades. So I think it's a canny move of his to bring his old production back for a twentieth anniversary encore, not to the West End but for a limited run at the Old Vic (which he now runs).

And it's still good, I think – only fitfully laugh out loud funny, but certainly a master-crafted study in masculine insecurity and the ennui of middle age. Though the reliably excellent Rufus Sewell's twinkly-eyed but brittle Serge seems to be the one most obviously in the grip of some sort of breakdown – he has just sunk six figures into a painting he's clearly not fanatically in love with – a longer looks shows he is not alone. Yvan (stand-up Tim Key, genuinely poignant) is the former class clown who has hit 40 and resignedly decided to grow up via an inadvisable marriage. And Marc (Paul Ritter) is the erstwhile leader of the group for whom Serge's baffling purchase of the painting represents a waning of his own influence.

Reza, Warchus and the fine cast's skill is to use absurdist humour to portray the midlife crisis in genuinely thoughtful light. 'Art' isn't about art but about three men who've reached their forties and really don't know what they're supposed to do, and who tragically turn on each other rather than try and help each other. I was up for a few more chuckles than it provided, but I'm glad Warchus brought it back one last time so a new generation could see it – it still has something to say, and is, dare I say it, more than just 'Art' for 'Art's sake.
Details
Best selling Time Out Offers