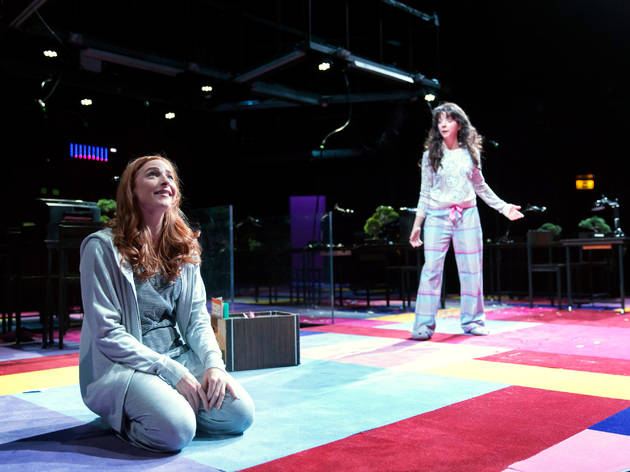 1/13
© Johan Persson
Rosalind Craig (Rosamond), Patsy Ferran (Celia)
2/13
© Johan Persson
Joe Bannister (Orlando), Leon Annor (Charles)
3/13
© Johan Persson
Leon Annor (Charles) and Joe Bannister (Orlando)
4/13
© Johan Persson
Leo Wringer (Duke Frederick)
5/13
© Johan Persson
Paul Chahidi (Jaques)
6/13
© Johan Persson
Rosalie Craig (Rosamond), Alan Williams(Corin)
7/13
© Johan Persson
Philip Arditti(Olivier), Patsy Ferran (Celia)
8/13
© Johan Persson
Joe Bannister (Orlando), Rosalie Craig (Rosalind),
9/13
© Johan Persson
Patsy Ferran (Celia), Rosalind Craig (Rosamond)
10/13
© Johan Persson
Paul Chahidi (Jaques), Joe Bannister (Orlando)
11/13
© Johan Persson
Rosalie Craig (Rosalind), Joe Bannister (Orlando)
12/13
© Johan Persson
Rosalie Craig (Rosalind), Joe Bannister (Orlando)
13/13
© Johan Persson
Siobhan McSweeney (Audrey), Mark Benton (Touchstone)
An endearingly eccentric production of Shakespeare's maddest comedy
Fresh from Damon Albarn's 'wonder.land' musical, Rosalie Craig has stepped down another kind of rabbit hole: Shakespeare's wordiest female role, Rosalind, in one of his weirdest plays. But Polly Findlay's stunning new production turns its surreal charms into a Technicolor wonderland that's full of warmth, as well as nonsense, with Craig as its Queen of Hearts.

Polly Findlay's offering is the first 'As You Like It' at the National for 36 years, and it's easy to see why directors might have been scared off by its idiosyncratic charms. It's been described as the first ever sketch show: snappy, slipping from scene to scene in wild forestland. And it's completely dominated by the proto-feminist powerhouse that is Rosalind, who dresses up as a boy to check her lover is up to scratch.

Craig herself is more than up to the role: warm, masculine without ever resorting to flat-capped, thigh-slapping pantomime, and ready with a wisecrack for every occasion. Patsy Ferran is the perfect comic foil as her cousin Celia: she has the endlessly mobile eyebrows of Mr Bean's granddaughter with none of his indigestible flatulence. Together, the two zip gleefully through their escape from Celia's noble father's repressive court, and into a forest of romantically-inclined political exiles.

Lizzie Clachan's design manages the visual transition from repressive order to wild wood chaos with the most spectacular scene change the National has housed in years. We start in a kind of Wes Anderson-pretty pastel office: only the tiny shades of the desk bonsai trees and leafy screensavers hint at the wild, darker transformation to come.

Such visually witty touches are typical of Findlay's genius for injecting what could be staid historical eccentricity with wit, life and fun. The opening wrestling match is a Lycra-clad, 'Mortal Kombat' style romp. A dull philosophical dialogue with a shepherd is brightened up by a cast of sheep baa-ing in Aran sweaters, one chomping through a love poem. And the whole play is shot through with divine harmonies from a vast chorus, chirping from high branches or whispering like spring breezes.

In a typically perverse move for this weirdest of plays, the biggest speech is given to a melancholy outsider who stands apart from its tangled love games: 'all the world's a stage', laments Jaques, stiff as a Mormon at an orgy. His awkwardness is all the more poignant in a production that's brilliantly natural, fresh, and bang up to date.

Read an interview with Rosalie Craig
RECOMMENDED: More Christmas shows in London
Rating Breakdown
5 star:

4

4 star:

3

3 star:

1

2 star:

0

1 star:

1
This is slightly disconcerting at first but the original setting, and extremely modern staging work quite well, with a staggering change of scenery which is quite a feat. Enough pantomime to make up for the puns and literary jokes a non-native like will have trouble grasping.
Inept - ill conceived - badly acted - sooooooooo bally long! Painfully awful.
Spectacularly Brilliant! Once again the National Theatre has amazed me with the use of their set, setting this historical play in a modern day office I was initially thrown and thought I'd entered the wrong stage! However it was utterly brilliant- a must see!
2 words: Truly Amazing.
I am no Shakespeare aficionado, but my wife is and both she and I were spellbound by all parts of the production.
(I have since read a review in the Telegraph which was scathing and gave a 2 star from 5 rating, which is utter twaddle.)
The natural humour of the script, oddly still relevant today, was enchantingly captured in the excellent performances from all of the actors (major and minor) - although my favourite was from the actress playing Celia.
The set is without doubt one of the most effective and atmospheric that I have seen in some years and the supporting actors, whose animal calls send chills down the spine from beginning to end, were amazingly well executed.
This great production was LOL after LOL after LOL so there Telegraph nerd!
(Congratulations to all).