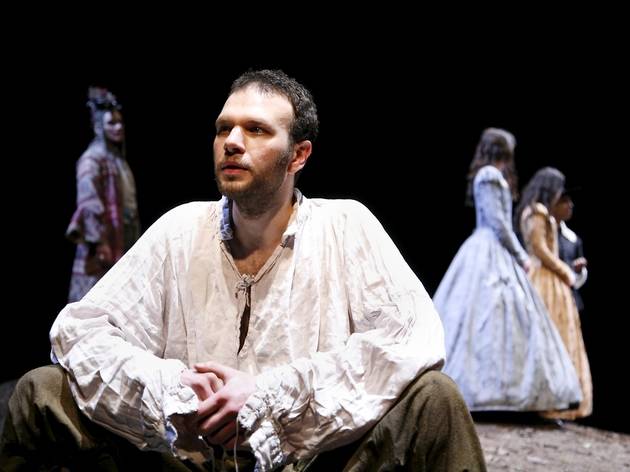 There's nothing especially wrong with Stephen Unwin's production of Shakespeare's pastoral comedy.
Yet it takes so few risks that it succeeds only in being rather ordinary.
Designed by Jonathan Fensom, the staging has a glowing, autumnal feel, with the action played out on a heap of leaf-covered earth, beneath a golden bough and amid fallen apples. There are some nice aural details from sound designer John Leonard, too – distant peacocks in the courtly scenes, baa-ing sheep in the Forest of Arden – though Corin Buckeridge's noodling tin-whistle music can be irksome.
Still, this feels a fruitful environment to nurture young love: Georgina Rich's Rosalind and David Sturzaker's Orlando are sweetly appealing, if not intensely passionate. There's also a witty Celia from Phoebe Fox and an arrestingly pretentious, supercilious Jacques from Adrian Lukis. Michael Feast's fool, Touchstone, though, is infected by the blandness that suffuses the production. It's all nice enough, but none of it seems to matter very much.
Rating Breakdown
5 star:

1

4 star:

0

3 star:

0

2 star:

0

1 star:

0
I've seen As You Like It several times over the years but I have never before heard the story so clearly delivered. It was for me one of those rare occasions in the theatre where I felt that nothing got in the way of the story, nothing came between the audience and the play. I heard lines I had never heard before and felt able to sit back, relax and enjoy the ride without ever having to strain to understand what was being said or what was happening. There was such a strong sense of ensemble, everyone playing their part with such clarity and generosity, and with such a wonderful ease and lightness of touch. There was a real sense of joy in the playing which, especially for a press night, is also a rare thing I think. I had that wonderful experience when you hear a famous piece of text ('All the world's a stage...'), that you know contains an immense power but have never heard it fully released in performance, come alive as if for the first time. I thought everybody gave beautiful, rich, detailed performances and parts that I'd always thought rather perfunctory, such as Oliver, came alive for me as fully rounded human beings, each with their own story. This was a masterclass in acting Shakespeare, where vocal technique, physical ease, precise textual detail and a rich, human inner life were all grounded in the joyful play of an ensemble. A wonderful night of escape to another world.