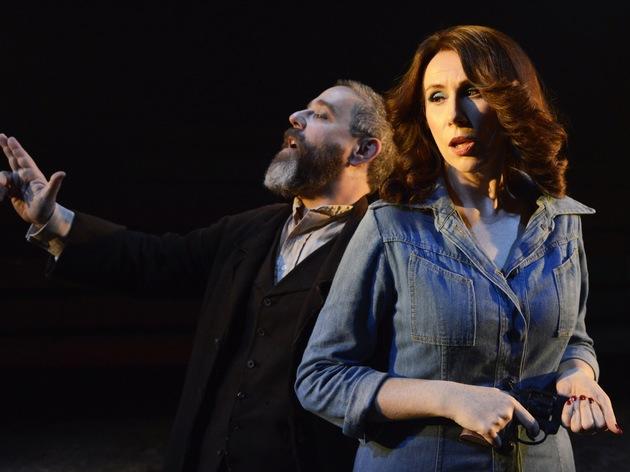 1/6
© Nobby Clark
Andy Nyman (Charles Guiteau), Catherine Tate (Sara Jane Moore)
2/6
© Nobby Clark
3/6
© Nobby Clark
4/6
© Nobby Clark
Andy Nyman (Charles Guiteau), Catherine Tate (Sara Jane Moore)
5/6
© Nobby Clark
Carly Bawden (Lynette 'Squeaky' Fromme), Catherine Tate (Sara Jane Moore)
6/6
© Nobby Clark
Carly Bawden (Lynette 'Squeaky' Fromme), Catherine Tate (Sara Jane Moore)
Catherine Tate stars in current director-of-the-moment Jamie Lloyd's new production of Sondheim's musical about men and women who have tried to kill presidents
There is a delightful photo doing the rounds of 84-year-old musical-theatre legend Stephen Sondheim calling in at a pie shop in Tooting to catch a site-specific fringe revival of his 'Sweeney Todd'. It's good he's happy to see his shows in small spaces: it's still surprising how few bona fide hits he's had. Still, a fistful of smashes, as much critical acclaim as a man can handle and the nickname 'God' is probably some compensation.

'Assassins', from 1990, has never played a London theatre bigger than the 250-seater Donmar, which is a shame, as watching Jamie Lloyd's excellent revival for the even-smaller Menier I couldn't help but think it might be the most important work of Sondheim's career. Still, it's an intimate type of show and the Menier has given it nothing if not a generous run here.

'Assassins' is about the nine men and women who have attempted – with mixed results – to assassinate US Presidents. With an excellent book from long-term Sondheim collaborator John Weidman, it's a blackly humorous and thoroughly disturbing survey of American marginalisation. From the courtly John Wilkes Booth (Aaron Tveit), depressed at the triumph of the Union and the failure of his acting career, right through to poor, weird John Hinckley (Harry Morrison), who planned to kill Reagan to impress Jodie Foster, these are people living outside of society, uncared for and unchecked.

Set in a grungy, carnival-like afterlife – beautifully rendered in a traverse staging by designer Soutra Gilmour – the casting is excellent, with stand-out turns from Tveit as the smouldering, Mephistophelian Booth, Andy Nyman as the disarmingly sweet Charles Guiteau, Catherine Tate as hilarious, laid-back and incompetent Sara Jane Moore and Jamie Parker as a smirking bluegrass balladeer who mocks the assassins before transforming into the most infamous of their number: Lee Harvey Oswald. There's no glamour here, just desperate men and women grubbing about in the ashes of the American Dream.

Though there hasn't been a serious presidential assassination attempt in decades, 'Assassins' is absolutely about the motives of high-school shooters, of Ferguson looters, of domestic terrorists. It's about gun control, about the disconnect between the American Dream and the realities of isolation and poverty – about why systems of support are needed to stop people falling through society's cracks.

It's a bit thesis-like and certainly the finely wrought, sparsely deployed songs are not earworms, but this is a powerful, humane account. The venue may be intimate, but this is one of the truly towering works of musical theatre.