Heads up! We're working hard to be accurate – but these are unusual times, so please always check before heading out.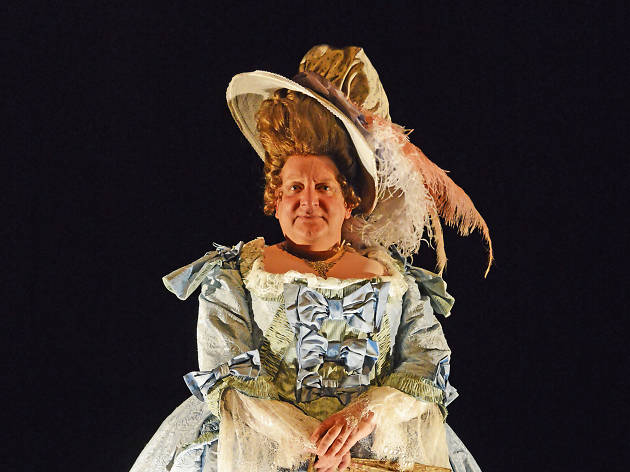 Backstage with Simon Russell Beale
Simon Russell Beale talks about his new role as a cross-dressing Georgian lady in 'Mr Foote's Other Leg'
Olivier Award-winning actor Simon Russell Beale is currently starring in the smash hit 'Mr Foote's Other Leg', which has transferred from Hampstead Theatre to the Theatre Royal Haymarket, where the play's eponymous Georgian actor hero lived and worked.
Do you have any backstage rituals?
'I have a few very silly things like having to put my shoes and socks on in a particular order: first right, then left. And I don't like hearing whistling in the theatre. When I was playing "Hamlet" and "King Lear" I would say all my lines one after another with no pause, alone on stage: it took about an hour. I'd have to hope no one was listening!'
In 'Mr Foote's Other Leg' we see all kinds of accidents, including a character getting impaled through the eye. Have you had any mishaps on stage?
'I've broken a finger on stage in "Timon of Athens" at the National.There there was rubbish all over the floor and I slipped on a bin liner! My fourth finger was a sort of "z" shape. The chap who was understudying me was on in seven minutes. Forget about my finger, they were mostly worried about getting my costume off and onto him as quickly as they could!'
Foote becomes a celebrity in a fame-obsessed age.Was eighteenth-century London as obsessed with celebrity as we are today, in the era of Cumberbatch's 'Hamlet'?
'Oh yes. Sam Foote went on trial for sodomy, and the Duchess [of Kingston, a scandalous socialite satirised by Foote] went on trial for bigamy. Both trials knocked the news of the American Declaration of Independence off the front pages of the newspapers. I find that very telling.'
What's it like bringing the play to Theatre Royal Haymarket, where Mr Foote made his name?
'It's weird, isn't it?They think that [co-star] Dervla Kirwan's dressing room was probably was part of Foote's house, as he moved in to live in his theatre after he lost his leg. Now that is extraordinary, and rather moving, to think he might have actually been there – the man who made this theatre what it is.'
Can you imagine his ghost stalking the corridors?
'Of course there'll be stories that an old theatre like this is haunted. But I imagine that if Sam Foote haunts the building, he's going to be furious about my representation of him, because we do distort history quite a bit!'