Beautiful – The Carole King Musical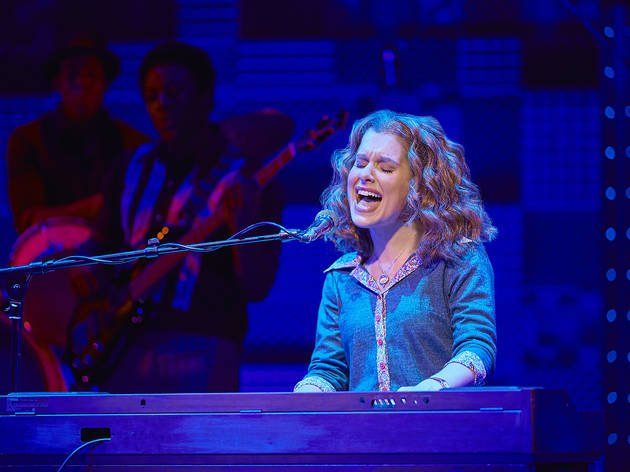 1/5
© Brinkhoff/Moegenburg
Cassidy Janson (Carole King)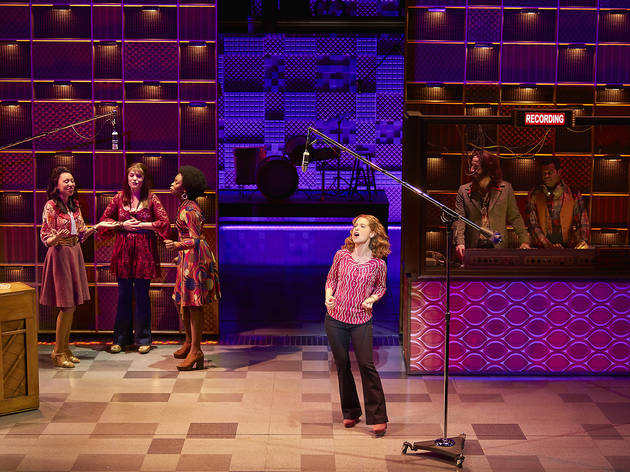 2/5
© Brinkhoff/Moegenburg
Cassidy Janson (Carole King)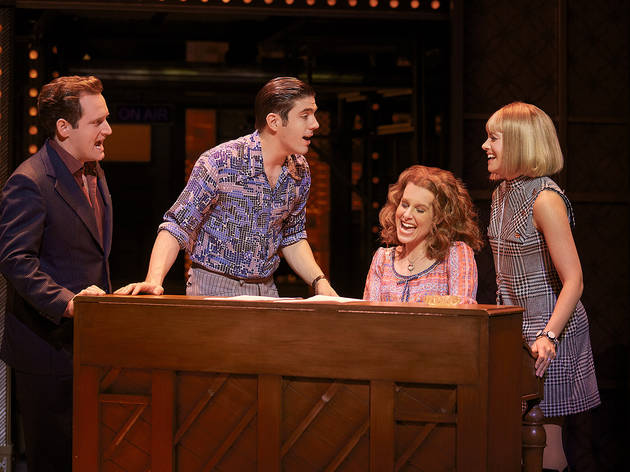 3/5
© Brinkhoff/Moegenburg
Gary Trainor (Don Kirshner), Ian McIntosh (Barry Mann), Cassidy Janson (Carole King), Lorna Want (Cynthia Weil)
4/5
© Brinkhoff/Moegenburg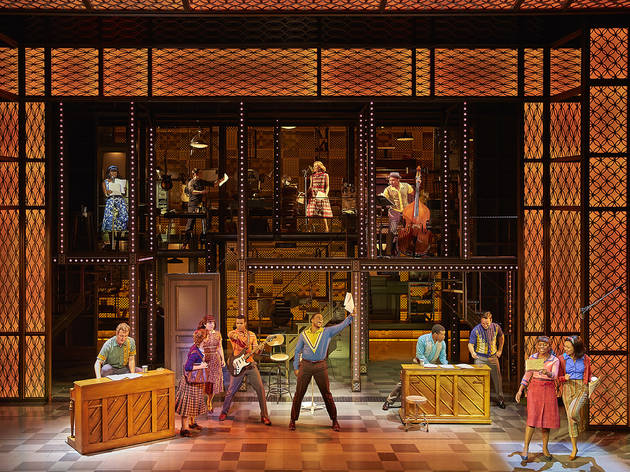 5/5
© Brinkhoff/Moegenburg
Carole King fans might just feel the earth move at this jukebox musical
The Brits love an underdog. The Yanks love a winner. And Carole King was both. So it's no wonder this biographical jukebox musical is shaping up to be a transatlantic smash, having already conquered Broadway.

Hitting the big time aged just 16, gawky, self-effacing Brooklynite King went on to write a string of smashes for other artists during the '50s and '60s, before overcoming shyness and a failed marriage (to her writing partner Gerry Goffin) to strike out on her own with the world-conquering album 'Tapestry'.

It's a heart-warming story, and Katie Brayben is winning in the extreme as the nerdy King. It'll probably run for ever. Except maybe one sliiiight problem: it turns out Carole King's life was really boring.

Not, like, hideously boring. Probably marginally more exciting than, say, my life. But 'Beautiful' would suggest it wasn't that much more interesting. Douglas McGrath's dialogue is charming and Marc Bruni's direction light and zippy. But plot-wise 'Beautiful' is basically two-and-a-half hours of Carole sitting in an office, writing songs, with the occasional cut to her marriage failing apart, poignantly but affably.

King and Goffin's friends and songwriting peers Barry Mann and Cynthia Weil feature too; and certainly Ian McIntosh's neurotic lothario Mann and Lorna Want's spunky Weil add fun and colour. At the end of the day, though, making it a show about two sets of married couples working in an office doesn't double the fun.

Still, those songs, eh? 'Some Kind of Wonderful', 'Take Good Care of My Baby', 'Will You Still Love Me Tomorrow?', 'The Loco-motion', 'You've Lost That Lovin' Feeling'… these are not tunes anyone in their right mind is going to argue with. With cutaways to The Drifters, The Shirelles et al performing them, musically 'Beautiful' serves as an affectionate homage to the febrile high-water mark of rock 'n' roll and teenybopper music in America. And it's not totally toothless – there is some knowing mockery of the more vapid songs of the era (hello, Neil Sedaka).

Brayben is a good actor, a nice singer – maybe a bit more Stevie Nicks than Carole King, but that's fine – and a sweet fulcrum to all the action. It's hard not to root for her, as 'Tapestry' finally lets her quit that office job. But really, there's not a lot here beyond the songs.
This review is from the 2015 London premiere of 'Beautiful'. The cast of 'Beautiful' now includes Cassidy Janson as Carole King, following her roles in West End musicals 'Avenue Q' and 'Wicked'.
How to get cheap tickets: a limited number of day seats for each night's performance will go on sale at the Aldwych Theatre box office every morning from 10.30am, priced £39.50 each. In person only.
Average User Rating
4.4 / 5
Rating Breakdown
5 star:

16

4 star:

18

3 star:

1

2 star:

1

1 star:

0
"There's not a lot here beyond the songs" but that doesn't bother me at all. It's a musical that recognises and celebrates Carole King's music, as well as giving us the history behind it all.
Managed to see the Broadway version, so I was excited to see this company's take on it. It's scary how accurate Brayben's portrayal of King is - there were so many times where I sat there and thought that it was really Carole King on stage - for me, Natural Woman was the real highlight, where Brayben really captured the essence of King to the smallest of details, whether it's the style of singing, the focus and the passion she expresses with the number... Truly impressive!!
Want as Cynthia Weil was brilliant, an absolute joy to watch!! You couldn't help but smile when you see her on stage!!
One minor issue with the production was the sound - sat in the middle of stalls, and i noticed on a few occasions the orchestra were slightly over-powering, covering the vocals, and for people that aren't familiar with the songs, it's easy for the lyrics to become a blur.
Apart from that slight issue, with so many great songs performed by such wonderful actors, you'll find your feet tapping and fingers drumming throughout the whole production!!!
A tired formulaic musical full of juvenile slapstick humour and limited character depth. A must see for die-hard fans (based on the standing ovation it received from the over 60s), but for the rest of us the musical feel rather flat.
As a regular theatre goer, I have to say this is one of the best productions I have seen in a long time. I laughed, I cried and was lost in every word for 2 hours. The cast were outstanding.
I really liked the story of Carol King and her early years. I loved her music and never realised how many songs that she and her first husband actually wrote and made hits from.

It was an absolutely brilliant show, and one I would highly recommend whether your a fan of Carole King or not.
I would definitely go and see this show again.
As a huge fan of Carole King, I would have been perfectly content with seeing, as this review describes, a production which thrived solely because of the music. Personally, however, I found the storyline to be engaging, innovative and beautifully written. Katie Brayben is phenomenally talented and wonderfully captures Carole King's essence without performing an outright imitation. I have been singing this production's praises to anyone who will listen and would my highly recommend it for everything it has to offer including outstanding performances from the whole cast and a touching storyline. A must see for anyone who is a fan of King, Goffin, Mann or Weil or, more generally, music from or the aesthetic of the sixties.
I really didn't expect to love this show as much as I did. Great performances, high energy, well paced. Can't wait to see it again!
This show was outstanding. Great music beautifully performed and built around the story of the making of the song writing and recording career of the wonderful Carole King. So many grewt songs, some we know of and others we never knew she wrote. Recommended to any baby boomer out there who has loved her songs for all these years.
Warning: you will want to sing along - an impulse best resisted!
Visited March 2015
Katie Brayben was fabulous and yes it's a bit formulaic but it is a celebration of great song writing and singing. Will there be a show about One Direction in 40 years time? A thoroughly enjoyable evening!
OK , so I am the target audience. I have a copy of Tapestry on vinyl that carries the scratches of my youth. However, what happened tonight at The Aldwych Theatre seemed to bring the whole place to a remarkable high. Beautiful is a musical so aptly named. In truth it's another juke box storyline, like Jersey Boys or Sunny Afternoon. The difference is the quality of the lead. Katie Brayben- is simply outstanding. She delivers the songs of Carol King with an authenticity that left me breathless. Hers is a five star performance in a three to four star show. The seven star finale tonight saw Carol King take to the stage to thank the whole cast and crew, then lead the audience in a chorus of You've Got a Friend. Carol – you have so many and this show will make you more. Beautiful.
I loved Beautiful. I was so excited we got the Broadway transfer.. I hope we sent them something equally fun! The storyline was great. The song and dance numbers were polished. Do we clap after a big song in the theatre? I just went along with everybody. We had a hummer/singer down the row from us...So that was bad but didn't detract too much. I had a great night. The cheap seats in the upper circle were fine... Just go and see it. It's great! It's my 8th theatre visit in 2015. I think it stands out along with Sunny Afternoon.