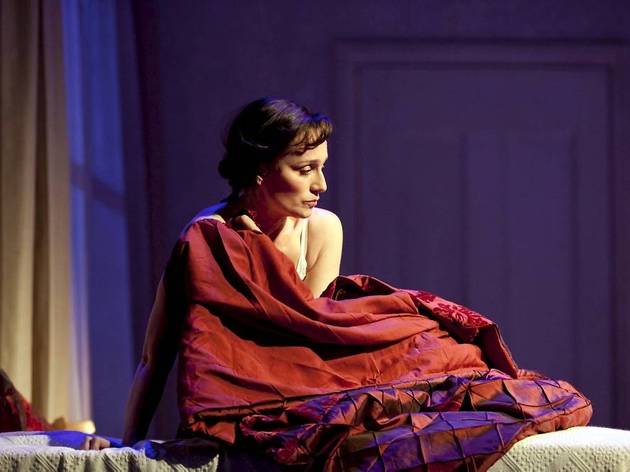 If all affairs had to begin at the bitter end and end at the beginning, it might be the end of adultery. Futility dominates Ian Rickson's production of Harold Pinter's 1978 three-hander, which unravels the affair of a husband, a wife and his best pal – who is her lover – in reverse order.
Kristin Scott Thomas is wonderful as the 38-year-old Emma, her pale, expressive face the tip of an iceberg of frozen feeling. Yet her first (and final) meeting with Douglas Henshall's impulsive, tender Jerry, stirring the embers of long-dead love over swift drinks in a crappy boozer, was the only one which moved me in an admirable, lifeless 90 minutes.
Pinter's play is much applauded, but it is a chilly and, in some ways sentimentalised portrait of love and deceit. When you play this story in flashback, you lose touch with those dramatic – and human – motives of hope and fear that keep us loving and lying in real life or gripped in the theatre.
Rickson's production is impeccably staged. In Jeremy Herberts's insightful design, Emma and Jerry Kilburn love nest is almost always visible – other scenes, each one a nest for another betrayal, fold out of its walls, or are furnished from its table, chairs and ever-present bed. Ben Miles is superb as husband Robert: his physical and intellectual dominance over Jerry and Emma explained with hindsight by the secrets he has kept from them.
It's passion, freshness, fluidity and ultimately sympathy that I missed in this too-careful staging of a play which is contrived from set-pieces. Rickson's finely felt production doesn't dig enough into the envy and anger which surely lurk beneath even silver-tongued literary seductions. That's why the play's best scene (a drunken lunch between Robert, who knows, and Jerry, who does not know he knows) doesn't quite ignite.
Pinter's chamber play suits a smaller setting and younger, more elastic actors, who can slough off their experience and reveal innocence as well as youth in the final scene of the play, their very first betrayal. You're always conscious of quality, especially in Miles's performance. But this story – as old as Eden, despite its meticulous '70s location – never feels like it is happening for the very first time.