Big Fish The Musical review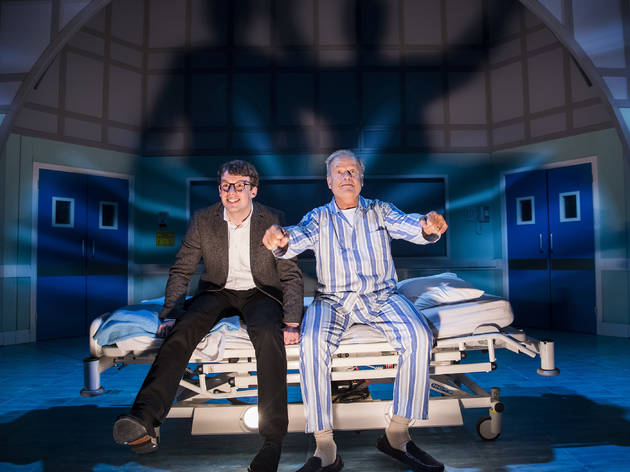 1/3
© Tristram Kenton
Matrhew Seaadon Young (Will Bloom) and Kelsey Grammer (Edward Bloom)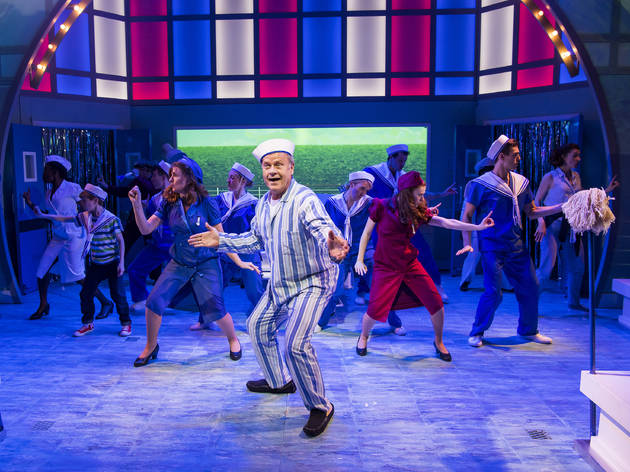 2/3
© Tristram Kenton
Kelsey Grammer (Edward Bloom)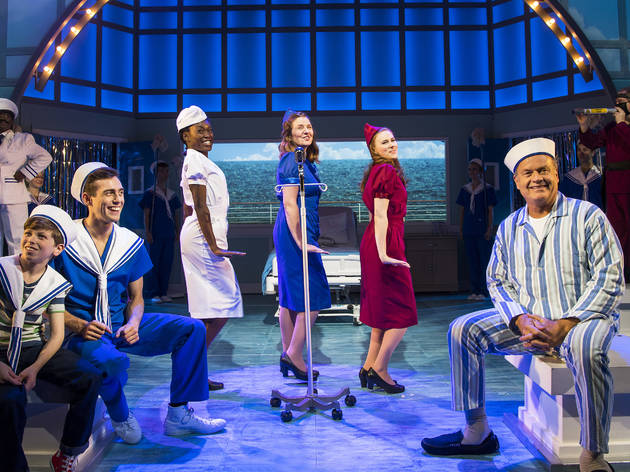 3/3
© Tristram Kenton
Colby Mulgrew (Boy), Jamie Muscato (Story Edward) and Kelsey Grammer (Edward Bloom)
Time Out says
Kelsey Grammer is the big fish in the small pond of this so-so musical adaption of Daniel Wallace's novel
Why is Kelsey Grammer starring in the low key, off-West End UK premiere of flop Broadway musical 'Little Fish'?
That's not a rhetorical question: I'd genuinely love to know. The erstwhile Doctor Frasier Crane may not be Taylor Swift famous these days, but it's hard to imagine that he's doing a two-month-stint at The Other Palace because they made him an offer he couldn't refuse.
Equally difficult to entertain is the idea that he's out here because he's such a fan of the material. He is genuinely very good as Edward Bloom, the tall tale telling protagonist of John August and Andrew Lippa's musical, adapted from Daniel Wallace's novel (which also spawned a middling Tim Burton film). But 'Big Fish', whilst reasonably charming, is really a minnow in the musical theatre ocean.
It starts well. We're in sultry Alabama, and Edward's neurotic son Will (Matthew Seadon-Young) is about to get married. He begs his father not to make a speech at the ceremony – advice Edward cheerfully ignores, launching into a convoluted gag that prompts a shouting match with his son that leads to heart attack and hospital.
Up until this point, Grammer takes centre stage in what is virtually a straight play (it's an age before any actual songs arrive). The clash between his utterly self-assured loveable rogue and Seadon-Young's prissy young fogey is thoroughly entertaining, in part because it seems so tinged with ambiguity, and the suggestion that Edward's gadabout ways have a much darker side than he will ever let on.
Eventually, things go further south than Alabama. The cod-uplifting songs are entirely forgettable and hence not too egregious (though if they'd been bangers it would have have helped). But as it wears on 'Big Fish' becomes increasingly mawkish, and loses itself into a lengthy series of flashback sequences, in which Grammer is replaced by young actor Jamie Muscato. We lose his megawatt charisma (basically the production's whole USP). And though I can imagine spectacle might have compensated in the Broadway production, here the small budget is made apparent, with the fantasy-heavy scenes – among others Edward's encounters with a mermaid, a giant and a werewolf – all underwhelming. The show maintains a ramshackle charm, and Forbes Massons's hammy, PT Barnum-esque Amos is good fun, but there's no real substitute for Grammer's absence when he's off stage.
I'd guess part of the problem is director Nigel Harman: as an actor he's a musical theatre veteran, and he keeps things ticking over efficiently enough, pace-wise. But with sub-West End production values, he and designer Tom Rogers simply can't muster the level of visual pizzazz that might have styled 'Big Fish' out, whereas I would imagine there are more experienced directors who could have managed it. Nonetheless: the problem is the musical, not the budget.
Ultimately if you're here for Kelsey Grammer, you'll leave happy. But to state the clangingly obvious, he's a big fish and this show is a small pond.
Details
Rating Breakdown
5 star:

8

4 star:

0

3 star:

0

2 star:

0

1 star:

0
The reviews for this show are really troubling me. I'm an ex-journalist (turned video producer) and I went with my wife and 10 yo despite the mainstream media's 3star type reviews. What was absolutely clear from the start was that people were enjoying the show. They laughed, they cried. My 10yo thought it was fantastic. So I don't really get what the problem is. It's a thoroughly enjoyable night out - it's better than Wicked if you ask me (that only has 1 - albeit brilliant - song). It's almost as thought the reviewers are punishing the show for not being My Fair Lady rather than praising it for what it is. They make a great use of the space, the performances are very good - Kelsey Grammer is by no means the best thing about this show as the cast is so strong. The music has been much derided in the reviews as traditional etc but for God's sake - it's about looking back on a man's life who was born in the 30s or 40s. You'd have to be an idiot to expect techno pieces.
After reading 5 or 6 reviews I began to wonder if I'd gone mad. I've seen literally hundreds of shows both as journalist and punter and this was one of the loveliest and occasionally moving musicals I've seen. So so so odd. Good job I'm not a conspiracy theorist or I'd have to come up with one to explain the mismatch between the immeidate standing ovation on the night, the feedback I've had from other friends who went on other nights who are also very experienced and the actual reviews I've seen.
I have been a critic and I respect the role of a critic. If some of the reviews had read "I hate traditiional musicals so I wouldn't go see this again but I was the only person who thought like that clearly as everyone else was up on their feet cheering and shouting the second the curtain fell - some still wiping tears from their face." - well then that at least would be honest.
I hope the length of my comment shows you how upset I have been to see the hard work of so many people attached to this show have their work rubbished and no real credit given to what the audience thought. I notice they are all 5 star reviews here at least.
Ignore anything but 4 or 5 star reviews for Big Fish: The Musical. It blows every other theatre production away. I'm very disappointed by many of the professional critics who gave this a 2 or 3 star. If you want passive and massive entertainment and loud and fancy props then this won't be for you. If you want raw and thought-provoking emotion along with touching and familiar humour, and all the nostalgia and fantasy you can muster, this will suit you perfectly. The last theatre production I saw was given a 4-star and it was so wooden and routine that I nearly fell asleep, yet this masterpiece kept me so captivated that I didn't want it to end. The songs and cast were enchanting and you could tell that everyone was emotionally attached to their roles and enjoyed their parts. This musical is an absolute delight and everyone involved deserves nothing but the highest of praises. My only criticism is that I now have the songs stuck in my head.
I had never seen the film so came to this production naive to the storyline. I was utterly captivated from the start. This is such a charming, whimsical & touching show. Brilliant cast headed by the charismatic Kelsey Grammar. The tunes were great, clever staging & brilliant comic touches. Loved the circus ringmaster, he was hilarious & turned this into an immersive event. Lovely look at family dynamics & the central love story was gorgeously romantic. Heart warming & have to admit I was in tears by the end!
Went to this last night with my Mrs and I felt I had to come back on Timeout to write something. After reading the critic's middling 3 star review, I was skeptical about booking tickets. But I am thoroughly glad I ignored it.
From reading the user reviews, it seems I am not alone. This show is absolutely glorious. It's fun,unique, full of emotion. The entire cast does an incredibly job, both in their vocal range, acting and the ability to deal with the small set and choreography.
I won't go into details, but I cannot remember the last time I went to a show and the ENTIRE audience gave a standing ovation as soon as the curtain went down, myself included. This show is gold. Do yourself a favour and see it.
Having booked my tickets long ago, I was apprehensive when I saw the poor reviews. Glad to say that I loved it. The show has a huge charm, maximised by the intimacy of the small theatre. A thoroughly enjoyable piece, played by a cast who are obviously enjoying every minute. Ignore the critics - go and see it and have fun!

Tristram Kenton must have been to a different show or eaten some bad fish. We absolutely loved this show and are so glad we chose it on an all-too brief visit to London. Great performances, great music and at times both funny and very moving. Seeing Kelsey is such a treat. And it looks wonderful (what a lovely theatre - new to us). Highly recommended and worth a second visit next time we're here. Thanks for a perfect evening.
What a great show. Truly a fabulous nights entertainment. The whole cast can sing, the music spot on. Kelsey Grammer heads a superb line-up.