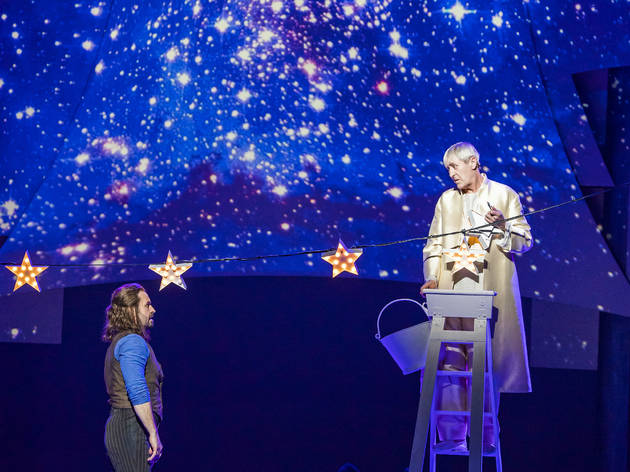 1/11
© Tristram Kenton
Alfie Boe (Billy Bigelow) Nicholas Lyndhurst (Star Keeper)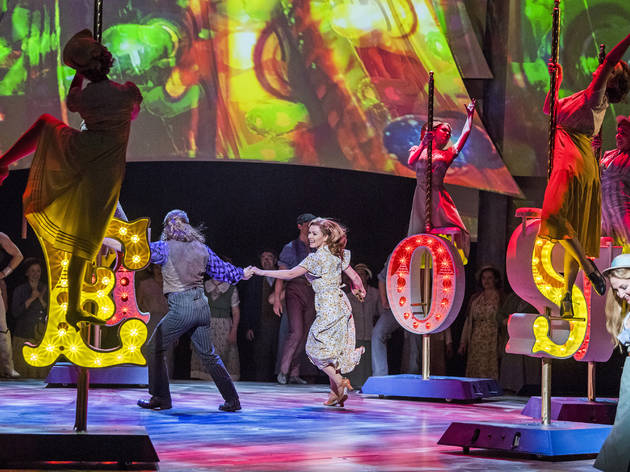 2/11
© Tristram Kenton
Alfie Boe (Billy Bigelow) and Katherine Jenkins (Julie Jordan)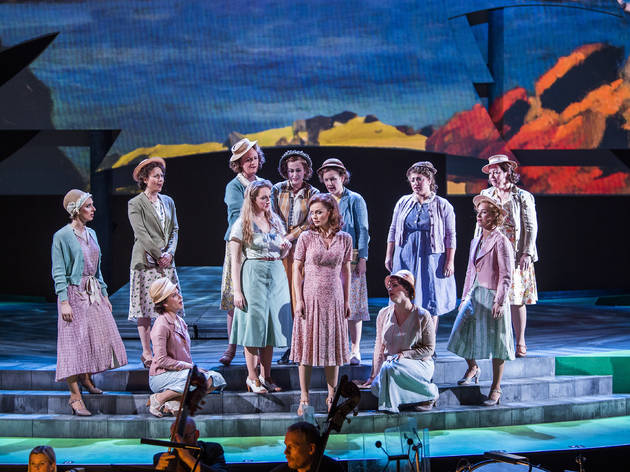 3/11
© Tristram Kenton
Katherine Jenkins (Julie Jordan)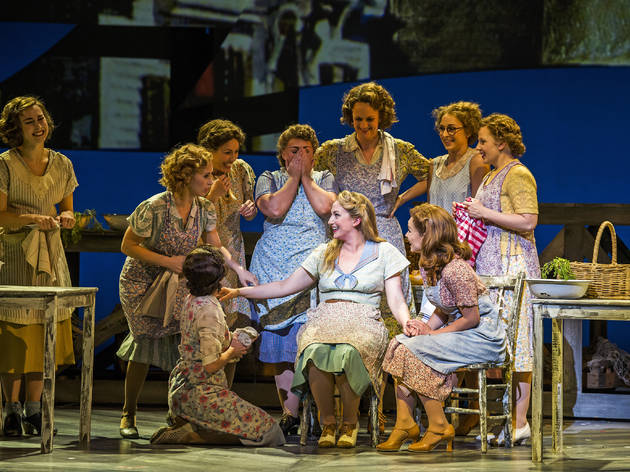 4/11
© Tristram Kenton
Alex Young (Carrie Pipperidge), Katherine Jenkins (Julie Jordan)
5/11
© Tristram Kenton
Alfie Boe (Billy Bigelow)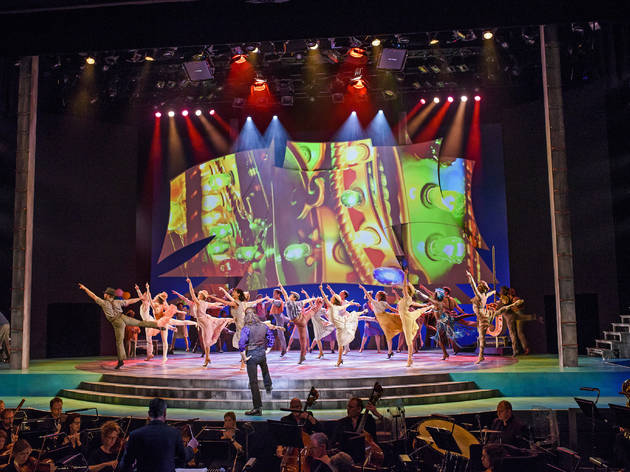 6/11
© Tristram Kenton
Alfie Boe (Billy Bigelow)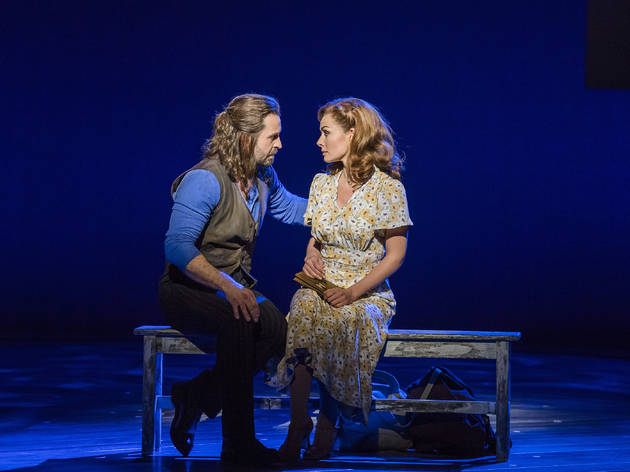 7/11
© Tristram Kenton
Alfie Boe (Billy Bigelow) and Katherine Jenkins (Julie Jordan),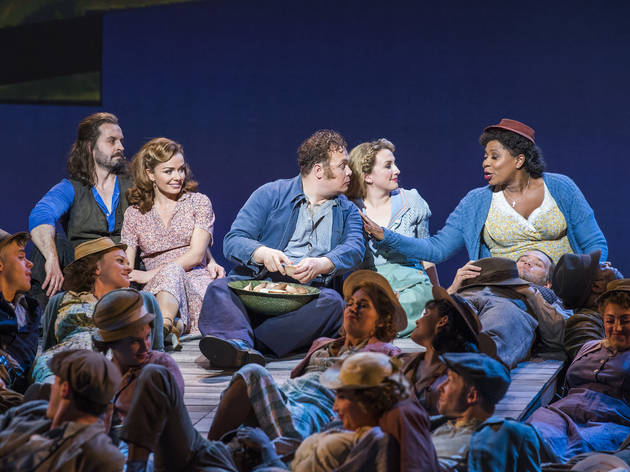 8/11
© Tristram Kenton
Alfie Boe (Billy Bigelow), Katherine Jenkins (Julie Jordan), Gavin Spokes (Mr Snow), Alex Young (Mrs Snow), Brenda Edwards (Nettie Fowler)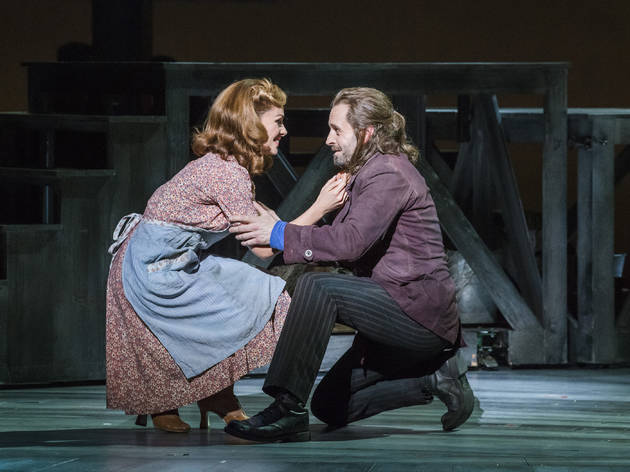 9/11
© Tristram Kenton
Katherine Jenkins (Julie Jordan) and Alfie Boe (Billy Bigelow)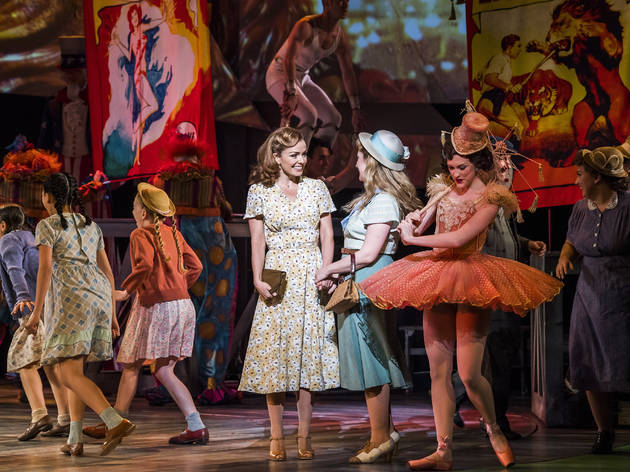 10/11
© Tristram Kenton
Katherine Jenkins (Julie Jordan), Alex Young (Carrie Pipperidge)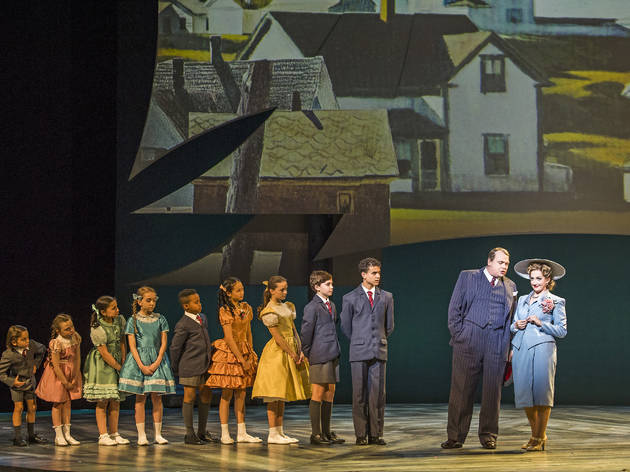 11/11
© Tristram Kenton
The Snow family children, Gavin Spokes (Mr Snow), Alex Young (Mrs Snow)
Musically stunning take on the classic musical, even if leads Alfie Boe and Katherine Jenkins aren't the best actors
So the other night I was at the Olivier Awards and popular tenor Alfie Boe presented a gong and he was funny and gracious and seemed like an all-round decent chap. He has a towering voice, and has done jolly well because of it – he's much in demand for the great vocally heavyweight musical theatre roles (Jean Valjean et al), and also has a tidy million album sales to his name. However: he really cannot act for shit, a fact rammed brutally home by casting him in the lead role of Rodgers & Hammerstein's landmark 'Carousel'. When he sings, it is sublime, a creamy wave that swallows the room whole. When he doesn't… well, his intonation and American accent sounds like a stiffer Yogi Bear, which is funny but obviously a bit of a problem when you're playing Billy Bigelow, the tragic antihero of one of the greatest musicals ever written.
Casting a lead actor who can't act is perhaps an inevitable consequence of the ENO's annual series of 'semi-staged' (more on that later) musical revivals, designed to fill up the troubled company's depleted coffers via unexpected big-name casting. To some extent it happened two years ago when baritone Bryn Terfel played Sweeney Todd – but that show was more suited to his limitations (just as, I'm sure, 'Les Mis' was suited to Boe's), and he was counterbalanced by a 'proper' A-list actor, Emma Thompson. Here, the other big role, that of troubled carnival worker Billy's heart-of-gold love interest Julie Jordan, goes to Katherine Jenkins, another pop-classical performer. Despite having virtually never acted before, she's actually okay in a breathy, slightly tragic-Monroe type way, but it's a fairly low-key turn. Musical theatre regulars Alex Young and Gavin Spokes do great jobs with sub-plot leads Carrie and Enoch, and Nicholas Lyndhurst, of all people, is super in a late cameo as a whimsical celestial being, but they can only do so much with small roles.
It's a strange beast, by far the most awkward of the ENO's musicals series – which have all been directed by Lonny Price – so far. But certainly it is held back from collapse by the tremendous music and singing, even if the lack of acting chops noticeably sells short its most iconic number, 'You'll Never Walk Alone', a song that surely requires emotional weight more than technical proficiency. Still, there is absolutely magnificent work of the ENO chorus and orchestra (big shout-out to suave conductor David Charles Abell, easily the most charismatic man in the room).
It's also worth pointing out that if you were expecting 'semi-staged' to mean the whole thing was going to look budget then, er, no: there is a set, there are projections, there are props, there is choreography. As far as I can tell it is entirely staged, just not with the demented lavishness of most opera productions. Perhaps 'semi-staged' is simply a polite euphemism for the state of Boe's acting.
Rating Breakdown
5 star:

0

4 star:

1

3 star:

2

2 star:

1

1 star:

0
Carousel is supposedly one of Rodgers and Hammerstein's self confessed favourite musicals of theirs. Admittedly it's not a musical I have vast knowledge of in terms of the plot, or even the score, yet the production had me hooked from the beginning. It had the warmth and feel of other classic Rodgers and Hammerstein productions, such as Oklahoma. which gripped me from the start.
The story is based around troubles and torment of fairground barker Billy Bigelow (Alfie Boe) and his relationship with his poor, millworker wife, Julie Jordan (Katherine Jenkins). The dark side of the story touches upon domestic violence and suicide, yet on the contrary, is mixed in with moments of comic relief and bright song and dance numbers.
The production is billed as 'semi-staged'. I wasn't quite sure what to expect and believed this meant the show would be very minimalist, perhaps with an emphasis on the music and less so on the acting, given the casting for the 2 lead roles. However, I was presently surprised. I must admit, I did not have high hopes for Katherine 'voice of and angel' Jenkin's acting skills, yet she outshone Boe in this respect. Her American accent was surprisingly convincing and she portrayed the role of sweet and innocent Julie very well, although perhaps this wasn't the most challenging of roles for her to pull off in that respect. Jenkins singing voice was as wonderful as could be expected, her vibrato and voice control was divine. It was nice to see her singing in a slightly different style to normal, however, there were moments where the singing was a little more classical opera and a little less Rodgers and Hammerstein musical theatre. But overall, she shone.
Again, Alfie Boe's singing was as brilliant as had hoped, yet it was his acting that slightly let him down in parts. It was a little stiff in parts and the chemistry between the 2 leads was at times, unconvincing. Boe's shining moment is Billy's soliloquy at the end of act one. We see a different side to Billy's character, as he learns he is going to become a father, a touching moment
A convincing relationship in the show is that of best friends Julie Jordan and Carrie Pipperidge (Alex Young). Young provides moments of wonderful humour and plays the role brilliantly. She has a pure, yet characterful singing voice and between her and her husband to be, Enoch Snow (Gavin Spokes), provide fantastic comic timing and a very charming character relationship. There were moments where I feel the 2 of them stole the show.
Other notable performances were that by Nettie Fowler (Brenda Edwards). Although a relatively small role, Nettie Fowler sings one of the most infamous and notable songs of the whole show 'You'll Never Walk Alone'. I'm not afraid to admit, it gave me goosebumps and I shed a little tear. It's a very powerful song, even when out of the context of the show (especially for Liverpool fans!), yet within the context of the production, it hits even harder.
Although Nicholas Lyndhurst is top billing, his roles were small, yet poignant. His role as star keeper is a comic one and his role as the rather grumpy Dr Seldon really brings together the ending of the whole show.
The choreography (Josh Rhodes) was classic and beautiful. With a mix of ballet and jazz/ musical theatre styles. It was very much in keeping with musicals of that time and provided a sense of joy and warmth. The most notable dance scene of the production is that which portrays turmoil young Louise Biglelow, played by 3 different actresses as we see her grow up, eventually played by Amy Everett, as we reach her teenage years. She portrayed the character of Louise effortlessly through dance. As did the rest of the ensemble. The show had some terrific choral moments.
I very much enjoyed the show and would definitely recommend it. I came out feeling a whirlwind of emotions with all the songs stuck in my head. It's a shame the show is only running for 5 weeks.
Jennifer Merchant