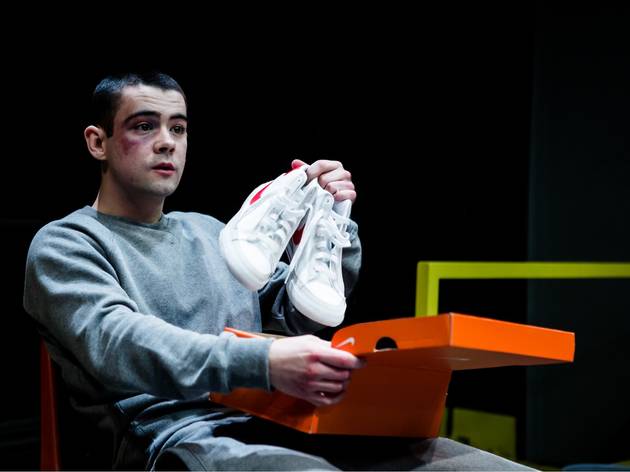 1/3
© Richard Davenport
Jack McMullen (Tommy Anderson)
2/3
© Richard Davenport
Jack McMullen (Tommy Anderson)
3/3
© Richard Davenport
Jack McMullen (Tommy Anderson)
Carthage was one of the most fought over cities of the ancient worlds and Chris Thompson's play takes it as a metaphor for the battles fought over those passing through young offenders institutions in modern Britain.

It's Thompson's first play and focuses on a feral young lad born in prison to a snarling teenage mother who was herself born into an abusive home. The play opens when the boy dies in jail at the hands of officers trying to restrain him and it has a tragic toll of truth thanks to Thompson's 12 years experience as a social worker.

Set between Benefit Street and a borstal, Thompson's uncompromising tale is the inside track on stories normally aired on the salacious like of 'The Jeremy Kyle Show'. The pleasure of it lies in Thompson's affectionate characterisation on equally abusive scenarios either side of the prison fence, while his language joy rides between the gangsta yardie and Scotland Yardie.
The result is both demotic and incisive, mature, lean and psychologically complex - handling themes of guilt and responsibility sensitively, provocatively and intelligently.

Such stories can become very worthy very quickly, but Robert Hastle's production is a sinuously toned spectacle on a patch of institutional grey carpet set in a custard yellow surround by designer James Perkins. The glare of striplights inside wire safety grills adds to the forensic tone as well as the stunning acting.

Toby Wharton is pickled in guilt as a prison officer and Lisa Palfrey is a hard-bitten angel of mercy as a seen-it-all Welsh social worker. Claire-Louise Cordwell is hard as concrete as the mother but soft as tissue paper when it comes to Jack McMullen as her son. He too makes a Molotov cocktail as the young hero caught between his crimes and his vulnerability. A chastening but urgent 90 minutes.
Rating Breakdown
5 star:

2

4 star:

0

3 star:

0

2 star:

0

1 star:

0
I hope to review it in next week's London Theatre Podcast but by the time it's online (ayu-londontheatre.org) it may be too late for you to get tickets. Do. This is by any measure a remarkable 'first play' - I thought it might be a polemical one-sided poke at the social work system but it's not, it's an extremely well realised human drama seen from many many points of view and what's almost as good as what Chris Thompson puts on stage is what he leaves the audience to fill in by way of background and judgment. Very clever. The Finborough's staging, direction and casting - particularly the social worker, the prison warder and 'the boy' - are all excellent.
An excellent cast, intimate venue and some fantastic funny writing combine to create a very rounded play that carries an important message, without ever crossing into preachiness or lazy stereotypes. Highly recommended.