Cat On a Hot Tin Roof review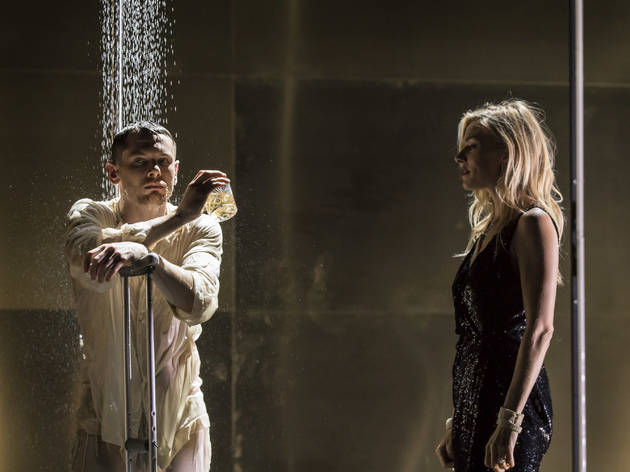 1/8
© Johan Persson
Jack O'Connell (Brick) and Sienna Miller (Maggie)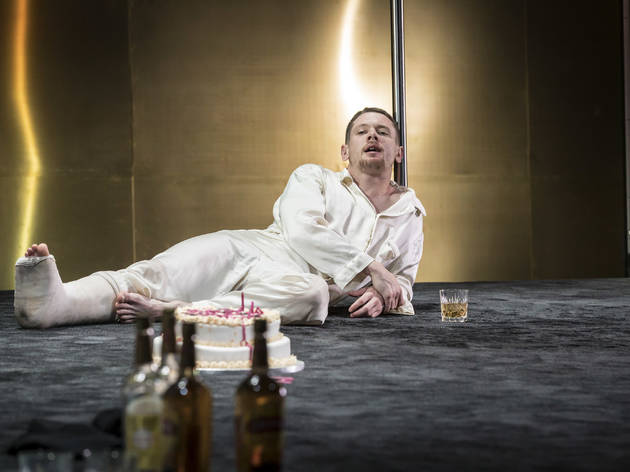 2/8
© Johan Persson
Jack O'Connell (Brick)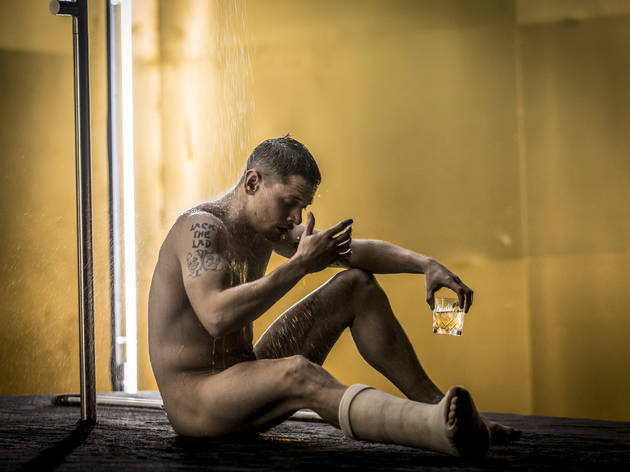 3/8
© Johan Persson
Jack O'Connell (Brick)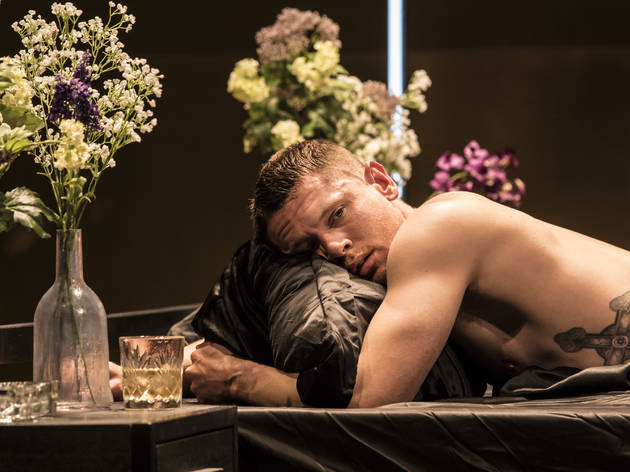 4/8
© Johan Persson
Jack O'Connell (Brick)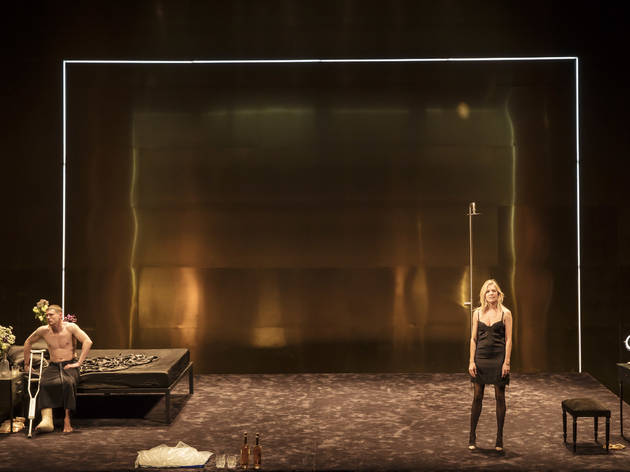 5/8
© Johan Persson
Jack O'Connell (Brick) and Sienna Miller (Maggie)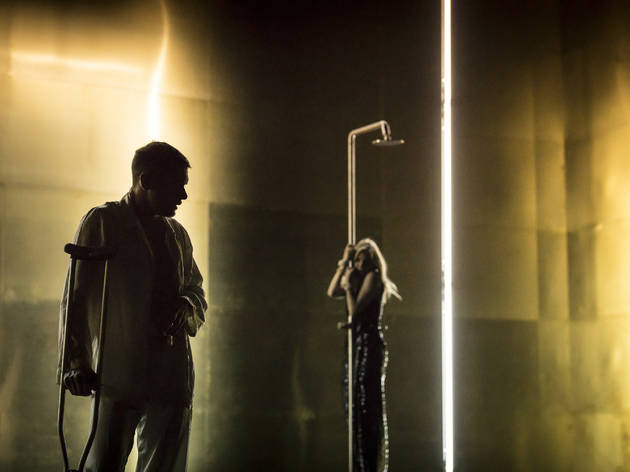 6/8
© Johan Persson
Jack O'Connell (Brick) and Sienna Miller (Maggie)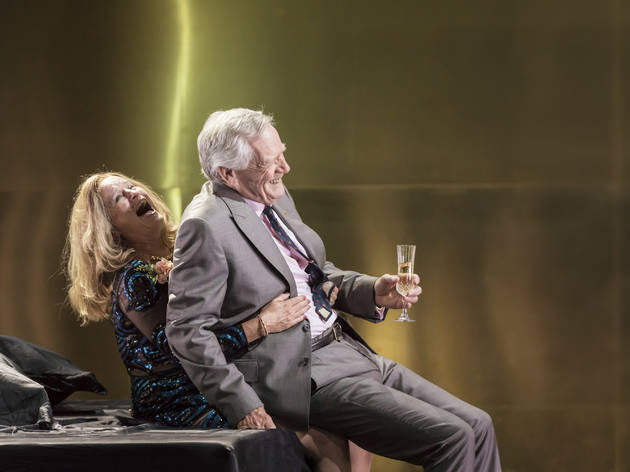 7/8
© Johan Persson
Lisa Palfrey (Big Mama) and Michael J Shannon (Reverend)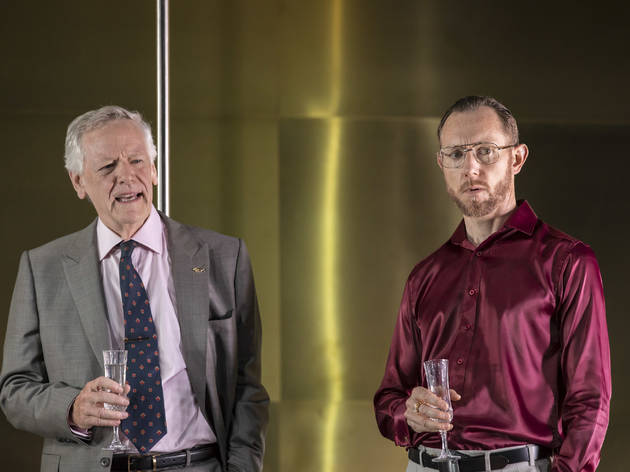 8/8
© Johan Persson
Michael J Shannon (Reverend) and Richard Hansel (Doctor)
Time Out says
Sienna Miller, Jack O'Connell and Colm Meaney star in this evocative but muddled take on the Tennessee Williams classic
Though it begins and ends with an extremely clear view of actor Jack O'Connell's penis, this take on Tennessee Williams's classic play from Aussie star director Benedict Andrews is a less edgy affair than one might hope.
Andrews's UK reputation is built on a pair of plays he directed for the Young Vic: his phenomenal 2012 take on Chekhov's 'Three Sisters', and his solid 2014 stab at Williams's 'A Streetcar Named Desire'. 'Cat on a Hot Tin Roof' is also a Young Vic production, though it's gone straight to the West End rather than calling in at the mother ship first.
One reason for that, I'm sure, is that O'Connell's co-star is the properly famous Sienna Miller, who plays Maggie, the loquacious, frustrated wife to his booze-sodden Brick, damaged scion to a wealthy, dysfunctional Southern family.
An actor whose fame has always somewhat overshadowed her abilities, a lot is asked of Miller during the long first scene, a two-hander between Maggie and Brick in which virtually all the lines are hers. There is a blowsy warmth and bigness of spirit to Miller's Maggie: her care – not to mention desire – for Brick is obvious, and her long, gossipy speeches are animated with a winsome charisma. Whether or not this entirely tallies with the character is debatable: it's hard to really square this charming Maggie with the woman who slept with Brick's best friend Skipper out of jealousy at their closeness – there's a lack of complexity. (Having raised the spectre of O'Connell's todger I should probably also mention that Miller takes off all her clothes too – if you're planning on taking a GCSE class you can't say you weren't warned).
Opposite her, young actor O'Connell's busy screen career hasn't a lot of time for stage work, and it kind of shows. The booze-sodden, guilt-stricken Brick is a tricky part because he has the most stage time but relatively few lines. O'Connell doesn't really have the oomph to make sitting around being silently anguished look as compelling as it might.
Andrews's prior Young Vic productions had a clarity of vision that felt grounded in the sets, as much as anything. Here everything happens in a sort of sleek black space that looks like a funeral parlour, surrounded by dull gold walls – I wonder if Magda Willi's design is supposed to suggest that life is a sort of grandiose tomb for Brick and his dysfunctional family. There are some beautiful moments, especially towards the end: a sort of quiet, unsettling chaos as the family starts to tear itself apart under the apocalyptic fireworks of patriarch Big Daddy's birthday celebrations (stunningly lit by Jon Clark, with a fidgety jazz score by Gareth Fry).
The longer second half is much stronger. The production kicks into gear, and Miller and O'Connell are backed up by some much more accomplished actors: Hayley Squires is scene-stealingly unrecognisable from her turn in 'I, Daniel Blake' as Brick's awful sister-in-law Mae. And Colm Meaney's Big Daddy is fierce and complicated, his rich man's unpleasantness tempered by a genuine love of poor Brick – their scene together is O'Connell's strongest.
Andrews is a gutsy choice for a West End show, and the results are more interesting than if it was just some journeyman Brit director, but it doesn't seem like his natural environment. Certainly there's none of the brilliant irreverence that surged through his 'Three Sisters' – the nudity feels a bit portentous, if I'm honest – and Miller and O'Connell are, to be frank, limited leads. Nice ideas and some moments of magic but it all adds up to an interesting mediocrity.
Details
Average User Rating
2.6 / 5
Rating Breakdown
5 star:

3

4 star:

1

3 star:

2

2 star:

3

1 star:

5
Big budget, famous actors and nudity to cover up shabby direction that doesn't make sense or connect in any way to the story, and a clunky set that looks expensive and glamaorus but serves little purpose. The direction was infuriating (why would a woman dive into a massive cake on being told her husband is dying) and the nudity was unnecessary and cheap. Jack O'Connell, Hayley Squires and Lisa Palfrey were the only actors who were engaged with there characters. The throwing of glass and ice and cake was just unnecessary and having Maggie hide the whiskey bottles in the audience felt desperate and uncomfortable. Was very disappointed that a brilliant script and good actors had been let down by set and direction.
I am so angry with this production! Maggie is beautiful. And she is good. But she is no cat. Brick is thick with no burning vulnerable simmering core. The heat that usually appears as a character in TW plays must have migrated South not able to get on with the director. Direction? All over the place. Fire works that go on and off without rhyme or reason. Birthday cake and sugar glass that do what they do but don't know why. And the shower that takes a life of its own but like us humans doesn't have a clue why it is there. The play survives on the shoulders of the supporting cast especially Big Daddy who was the best thing as far as I am concerned. This is all very harsh I know but I am angry that the ugly and sad beauty of the play is reduced to laughter and nudity which was just too much to be polite about. And that's when I had free tickets...
I was shocked from the get go! Weirdly it's set in modern times but with the same Southern accents which seems a bit out of place as the story hasn't changed all that much but the themes are still so relevant to now - like homophobia, class, greed, vanity, addiction, vice... not easy to explain, just go see it.
I've only given this production 1 star because everyone involved should have known better. I saw one of the first previews and the direction was shoddy - having the children running on and then running straight back off again the same way they came in was a bit like watching a bad school production. More importantly I blame Benedict Andrews for boring the pants off me for over 2 hours. I see a lot of theatre and very rarely leave early - I have only done it twice this year, once was Common and this was the other one. Those of us who love Tennessee Williams' work know that Cat On a Hot Tin Roof is one of his most difficult plays to stage. It is quite static and a successful production very much depends on sustaining the audiences' interest through long periods of dense dialogue. This all revolves around the characters of Maggie, Brick and Big Daddy. Both Maggie and Big Daddy were miscast - for different reasons. Sienna Miller just wasn't up to it, her accent was awful and it felt a bit like watching someone act by numbers. She certainly never inhabited the character of Maggie that's for sure. I saw Angels in America the day before and I'm pretty damn sure Andrew Garfield could have played Maggie 100% better than Sienna Miller. Colm Meaney just isn't the right person to play Big Daddy - he doesn't have the physical presence - although he tied his best. Poor Jack O'Connell looked like he just wanted to get out of there - and not in a good way. I'm sure his performance could have been great, with better support from the other lead characters and the director. Lots of people will go and see this production - despite the mixed reviews, because of the star names and that's a great shame because it will put them off going to see another Tennessee Williams play in the future and they will miss the magic of his theatre.
Before I saw this, I wouldn't have thought it possible to turn such a brilliant play into a dull production. It is. Sienna Miller works hard in the first act, but she doesn't crackle and is hindered by Jack O'Connell who gives her nothing. Brick is written as a taciturn alcoholic, but in this production he is bereft of character. Colm Meaney brings some much-needed warm blood to the stage. The other actors give it as much energy as they can, but are hamstrung by heavy-handed direction; I wanted the director to let them have more space and freedom to trust the text. The nudity was boring and pointless - it revealed nothing about the characters and didn't move the story forward. The 2009 production with James Earl Jones remains my standard: sizzling, dynamic and wrenching. That's what this production should have been, but the director went with star power with the lead and shock-value with the nudity, resulting in a production with no danger, no risk and no heart.