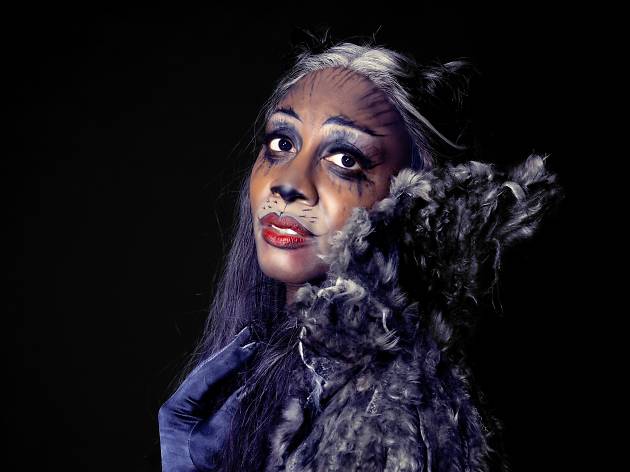 This bizarre musical gets an even more bizarre reboot.
Cats will return for Christmas 2015 with a new cast headed by Beverley Knight as Grizabella.
Andrew Lloyd Webber's 'Cats', which ran for 21 years at the New London Theatre back in the days when people presumably had more money for drugs, is a stupendously weird piece of musical theatre. It's an almost plot-free variety show based on a very '80s pretension – an adaptation of a collection of TS Eliot poems – and an unerring sense of the British fondness for felines, face paint and old-fashioned parochial structures.

Updating 'Cats' for 2014 via the introduction of a rapper and Nicole thingy off of 'X Factor' is a bit like trying to update a Betamax player via the introduction of a rapper and Nicole thingy off of 'X Factor': you can't repurpose with modern signifiers alone.
Nonetheless, this is what Webber and original director Trevor Nunn have done, and in a way, good for them: depressing as it is that we're forced to turn to the oldies to fill the West End's largest theatres, it's good that the creators of 'Cats' have made a bit of an effort rather than simply plonking the touring version on the Palladium's storied stage.

And, actually, the casting of Nicole Scherzinger as Grizabella The Glamour Cat is perfectly justified: all she really has to do is wander round looking sad – admittedly in a rather skimpier outfit than Elaine Paige from the original London cast wore – and occasionally belt out bits of 'Memory', the show's best song, which she does very well. She'll get a few younger folk through the door and probably win over some older folk besides, but it should be noted that it's a small role, one turn in a long night of turns.

More problematic is Antoine Murray-Straughan's Rum Tum Tugger, who is now a rapper, rather than the rocker of old. Drenched in bling and accompanied by writhing lady cats and the sound of scratching vinyl, I suppose, charitably, you could say that he fulfils a similar role to the knowing black stereotypes that crop up in modern pantomimes. Still, pantos tend to have ethnically diverse audiences who are in on the joke; on the overwhelmingly white press night for 'Cats', the vibe was all a bit 'Richard Madeley dressing-up as Ali G'.

But, again, this is only one tiny part of the near-three hour 'Cats' juggernaut, which kind of bludgeons you into submission via Gillian Lynne's aerobic choreography and John Napier's gorgeous junkyard set and still impressive costumes.

There's some more odd racial stuff and – the pitiable Grizabella aside – it's a bit hmmm how most of the turns are from male cats, fawned over by nubile female cats. But then there's something undeniably fascinating about the show's Victorian nostalgia, its melancholic obsession with ageing and death… and, let's be honest, its sheer weirdness.

'Cats' is a ridiculous and often trying piece of theatre, but its curio value is undeniable. If your interest is piqued and you've not seen it before, you'd be a bit of a pussy not to check it out.
RECOMMENDED: More Christmas shows in London
Find more festive fun with our guide to Christmas in London
Average User Rating
2.6 / 5
Rating Breakdown
5 star:

2

4 star:

3

3 star:

4

2 star:

2

1 star:

6
The first act was one of the most boring thing I've ever seen and it was hard to understand what the performer were singing. The second act is an explosion of scene changes, music, dance, light... it seems they spent all the money in what people usually remember: the end. In the second act the audio was much better.
I didn't like very much the choice of combining very colorful costumes with an even more colorful scene set: everything mixes together and nothing stands out.
Nicole Scherzinger sings surprisingly well.

On your way into the theater - if you're lucky - you'll encounter a guy looking to buy your tickets. If, like us, you bought them months in advance and are giddy with delight to finally see one of musical theater's "classics" (with a Pussycat Doll starring, no less), my advice is to let go of your excitement and sell the damn things. A quick buck will be infinitely better than the play.
It STINKS.
1. The sound is terrible. (We were sitting on the upper circle, perhaps it's better elsewhere, but I doubt it). The problem is that songs in which lyrics are clearly important are very rarely sung by individual performers. And instead of having a choral synchronicity, you end up with 30 odd singers all just belting it out together. I struggled to make out even every 3rd word and completely lost track of what was happening, save for the broad strokes of a plot that seemed tenuous at best.
2. Once you realise that there is no way you'll be able to make out the story using your understanding of English - and you hear pockets of the audience cheering in apparent delight - you will start thinking that perhaps you are missing something. Yes! Cats is perhaps best understood through non-verbal communication! Like a ballet! Nope... The dancing is cool, but pretty repetitive and clearly not enough to help you understand what the hell is happening. The costumes are fab, save for the Grizabella (Pussycat Doll!) character whose costume is TOO fab - my husband did not even realise the character of Grizabella is supposed to be old and decrepit as she just looks grey-but-glam.
We left during the interval - along with many others.
Don't waste your money - why this thing is so big and famous baffles me.
The set for this production is fantastic, superbly detailed and beautifully curated so that we are immediately transported into somewhere slightly otherworldly. The junkyard sets the scene for an eerie and beautiful theatrical experience, and the costumes and makeup of the cats only highlights the strangeness of it all. The cast move so brilliantly as a collective and are so feline it can be easy to forget they are not cats, and each one exudes personality so well that they you are quite often moved by the things they tell us...As the story progresses we are introduced to each cat and shown their experiences, charms, familiarities, loves, and quirks. Once you realise that this musical is based on TS Eliot's 'Old Possum's Book of Practical Cats' it all makes a little more sense and the almost chapter-like element of the show mimic the poems in Eliot's book precisely.
WOW lots of negative comments about this show on here so lets freshen things up a bit. First time to see CATS so there was no "back in the 80's" hangovers or "I remember the original" or "Can't believe they dare change it" just me and my wife out for evening watching something to us that was new. It was BRILLIANT - the stage was amazing, the dance and choreography as so, costumes fab and we quickly picked up the story and what we were being told. We felt a little sorry for the cast as Beverly Knight got the biggest applause but the show was more than one person or should I say cat. We would highly recommend this to anyone and not having seen the original we loved the fresh rap additions. Why keep things in the 80's - everything in life needs a lick of paint from time to time. Superb and would see this again.
Amazing experience! I encourage you to you go and see it
Great performance, good music, excellent costumes, not a bad storyline. I really enjoyed it!
I saw Cats originally in the 1980s and it met all of my expectation of a top West End show. The only bit of this 2015 version that I enjoyed was Memories. I couldn't understand the lyrics and my 2 grammar school children were utterly confused and kept asking me what was going on. I would have left during the interval, but the tickets were not cheap. I feel like I've been fleeced.