Heads up! We're working hard to be accurate – but these are unusual times, so please always check before heading out.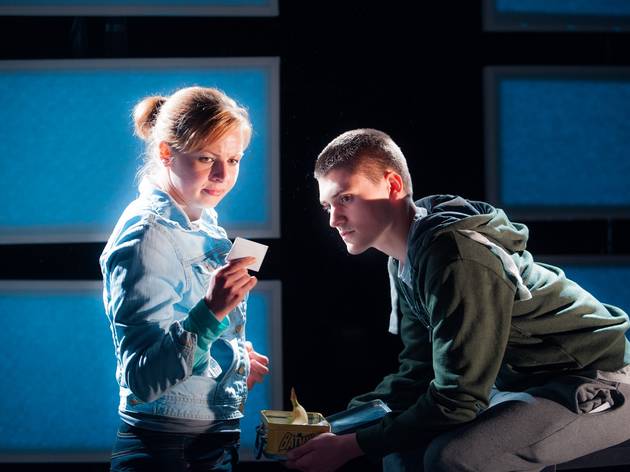 Chalk Farm review
Underbelly Cowgate

Kieran Hurley and AJ Taudeven's 'Chalk Farm' has been talked up as a play 'about' the 2011 London riots. In fact, while the riots are the backdrop, it's really a tender study of the complicated relationship between a single parent and her son. In it, we see Jamie grow from wide-eyed little mummy's boy to a foul-mouthed 14-year-old, whose teenage penchant for mischief threatens to break mum Maggie's heart after he gets involved in the looting of a Chalk Farm Sainsbury's at the riots' apex.

Consisting of a series of interlocking monologues cradled by dreamy electronic music and grainy, CCTV-style projections, the abiding tone is one of intense warmth. Hurley and Taudevin don't shy away from the fact some of Jamie's actions are inexcusable, but they're at pains to point out that his behaviour can partly be explained by the fact that, well, he's a teenager.

In a great performance from Thomas Dennis, Jamie never ceases to be the little boy who loves his mum more than anything else – he just becomes other, murkier things as well. And Julia Taudevin is similarly good as ballsy working class single mum Maggie, whose sense of social marginalisation is exacerbated by the harsh punitive measures taken against the rioters. If there is a political message, it's a plea for a more compassionate, forgiving society, to not give in to the creeping demonization of Britain's poor.

For all its considerable qualities, 'Chalk Farm' suffers from some rather gaping structural flaws: the monologue-based structure feels contrived in places, and there's an emotional final twist to the story that makes absolutely no sense whatsoever. Still, it has a beautiful heart, and that counts for an awful lot.

The latest Edinburgh Fringe theatre reviews