Heads up! We're working hard to be accurate – but these are unusual times, so please always check before heading out.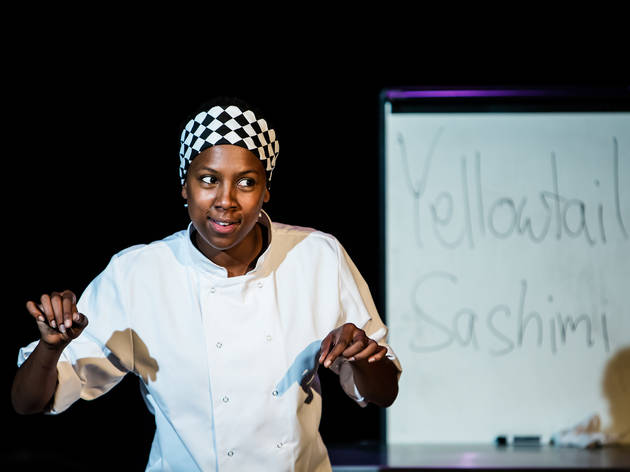 The dank caves of the Underbelly are the Edinburgh Fringe home of the dramatic monologue, with shows like last year's 'Fleabag' and this year's 'Awkward Conversations with Animals I've F*cked' breathing irreverent new life into the form.
Lots of people have fallen for Sabrina Mahfouz's 'Chef' as well, which has added extra performances to keep up with demand. But skilfully performed and good-hearted as it is, I found it hard to really succumb to the charms of a show that feels hidebound by monologue convention.
Not unexpectedly, 'Chef' is about a chef. Kirsty Patrick Ward's production is performed by actor Jade Anouka, who kicks things off without a care in the world, enthusiastically extolling the virtues of 'the perfect peach'. But because this is a monologue, we can be pretty certain she has a secret. In fact if you read the show blurb, it's not much of a secret – she is in jail, serving as a prison chef, though as it turns out she has a further secret, namely that she seems to have lost a large number of her privileges as a result of some grim kitchen incident involving a friend of hers.
What Mahfouz and her surrogate performer really nail is verse about food, a perennially popular topic, but never more zeitgesty than in 'Bake Off' obsessed 2014. Her words – mostly blank, occasionally rhyming – are vivid, sensual, excited as she extols the virtues of everything from tofu curry to mugs of soup. She's also good on the minutae of the troubled relationship between the chef and her abusive, pathetic father. And it's all dished up nicely by Anouka, who has a charming stage presence, peppy, strong and a little sly.
But it doesn't stop the overall form and thrust of 'Chef' feeing like a trudge to inevitable conclusions through well-worn structures, with a bodged, implausible reveal as to why she was jailed in the first place. Mahfouz has some good ingredients and Anouka has great flair at service, but the meal is ultimately pretty conventional.
By Andrzej Lukowski
The latest Edinburgh Fringe theatre reviews