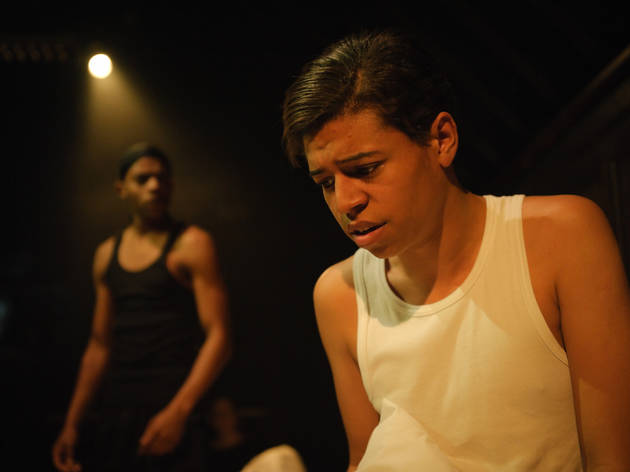 Alan Bennett may have indelibly defined the bittersweet elite boys' school drama with 'The History Boys', but there's one thing it conspicuously lacked… gospel singing.
Fairly or not, I couldn't help draw some comparison between Tarell Alvin McCraney's new drama, 'Choir Boy', about a storied black American prep college, and Bennett's grammar school opus. But if McCraney can't match Bennett in terms of wit and craftsmanship, then the pure, occasionally overwhelming power of the a cappella spirituals performed by the young cast can't be overstated. They offer both a small but visceral sense of the cultural weight of the shared African American experience, and also the simple pleasure of listening to beautiful music in an intimate space.
The play itself, then, follows a dysfunctional group of choir boys at the Charles R Drew Prep School for Boys, a one-time bastion of the Civil Rights movement now settled into prissy devotion to its glory days. Leading the singers is the remarkable Pharus (Dominic Smith), a fiercely intelligent dandy whose brazen homosexuality seems destined to lead to some serious soul-search at an institution that has allegedly never seen any funny business between pupils during its 50-year history.
The story arc is predictable – Pharus becomes disastrously entwined with another boy – and at an ambling two hours with no interval, I wish director Dominic Cooke had tightened things up a bit. But it's a winningly tender-hearted affair, sympathetically depicting the intense pressure placed on a group of young men trying to come to terms with not only their own identities, but their shared cultural one.
In the all-British cast, Khali Best impresses in his maiden role as Pharus's level-headed roommate, Anthony, while stage veteran David Burke brings an assured blend of humour and gravitas as elderly teacher Mr Pendleton. Smith's Pharus I found improbably arch in the first half, but when his facade finally cracks he becomes intensely human.
Designer Ultz has done some typically impressive business with the set, a traverse configuration with a dorm room on one side and boys' showers on the other. And though the script sags and rambles in places, it's never long until some sweet gospel comes to blow the cobwebs away.