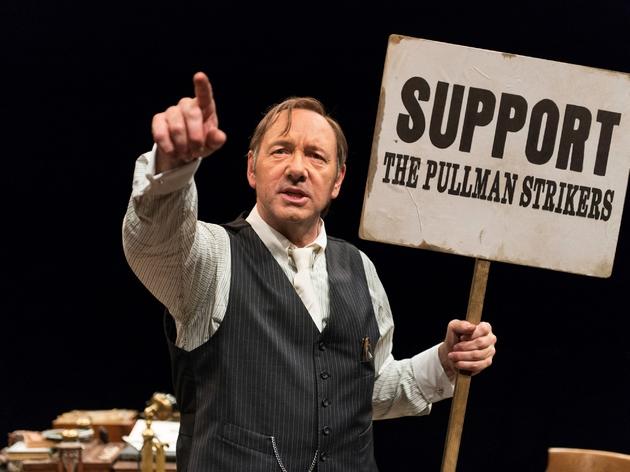 1/3
© Manuel Harlan
Kevin Spacey (Clarence Darrow)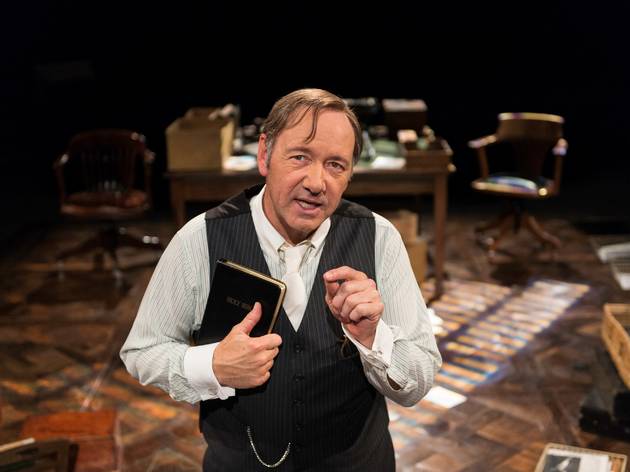 2/3
© Manuel Harlan
Kevin Spacey (Clarence Darrow)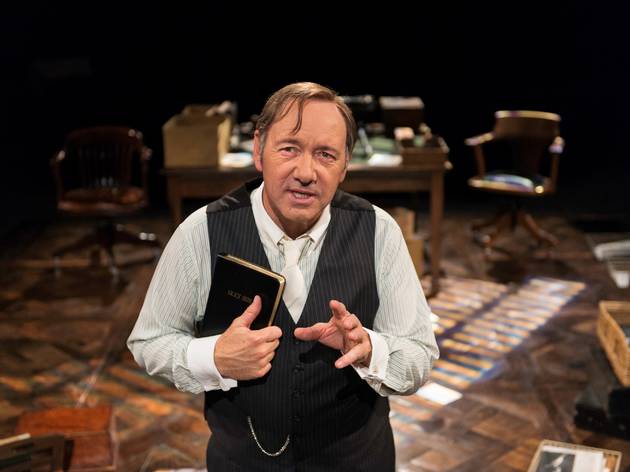 3/3
© Manuel Harlan
Kevin Spacey (Clarence Darrow)
Kevin Spacey bows out at the Old Vic by reprising his acclaimed turn as civil liberties lawyer Clarence Darrow.
He could have given us his Lear or Prospero or Antony; he might have wrapped up with the sort of new American plays he's championed over the last decade; or perhaps a collaboration with one of the leftfield directors (Yael Farber, Ian Rickson) he so thrillingly let into his theatre last year.

But after months of secrecy, it turned out that Kevin Spacey's final stage project as artistic director of the Old Vic would be a repeat of last summer's one-man drama about the civil liberties lawyer Clarence Darrow. Which is fair enough: not many people got to see its brief 2014 run.

Does Thea Sharrock's production feel like a meaningful sign-off for the departing Spacey, whose appearances on his own stage have grown more sporadic in the last five years? I think yes, kind of.

David W Rintels's little-known 1974 play is a first-person monologue covering the career of Darrow, a titan of the pre-civil-rights-era American left. You'd call it a hagiography, only Darrow really was that remarkable: his achievements include helping to establish the eight-hour day in America, defending the right to teach the theory of evolution in the classroom (the famous Scopes 'Monkey' Trial) and his electrifying defence of the murderers Leopold and Loeb, which led to a marked decline in capital punishment in the US.

It's not a complicated play. I can't imagine anybody would stage it if they didn't think Darrow was a hero. It is an absolutely unequivocal, no-hand-wringing stand for liberal, even socialist, values. It may be saturated in cosy charm, but to plonk on a piece so totally black-and-white about the dignity of labour, the need for unions and social equality, the absolute wrongness of the death penalty – it feels like a statement, especially at a time when so many of these things are under threat, in this country as well as Darrow's. For Spacey to use his celebrity to encourage a well-heeled crowd to see a show so celebratory of what left-wing values have achieved for our world feels at least gently subversive.

In Spacey's hands, it's also a barnstorming entertainment, a chance for him to show off, play with the audience, perform physical comedy, emote, sweat, and generally do a lot of very big, very enjoyable acting. You may come for Spacey, not his politics, but it turns out the two aren't easy to separate – and we'll miss both of them when he leaves.
Rating Breakdown
5 star:

3

4 star:

0

3 star:

0

2 star:

0

1 star:

0
What can I add to what's already been said about the party, not much. He's incredible, the script is amazing. There isn't much else nor is anything else required. Theatre night like no other. We waited 5 hours for standing seats and it was totally worth it.
The whole audience standing to applaud for some minutes. Kevin Spacey coming back again, and the applause is even louder. They were a couple of gripping hours. The play was rich, meaningful, the words targeting significant issues, and Spacey's voice, rising up to Lilian Baileys circle, left no one untouched. It's a powerful combination of a great play and a great actor. Few plays will top this one I believe. And I am so happy I was there, captured by this magnificent performance, not wanting it to finish.
From the moment it begins with Kevin Spacey under a desk until the moment it ends with him pleading to the audience, this is a mesmerising and thoroughly entertaining play which is a truly fitting way for Mr Spacey to end his tenure as the Old Vic's artistic director. The theatre has been rearranged for this performance "in-the-round" and Spacey makes full use of the audience on every side (including a hilarious venture into the front row for one lucky lady!). He clearly admires Clarence Darrow (who he has played before) and relishes the chance to play such a fascinating and influential real-life character. Whilst the subject matter is fairly heavy at times (Clarence Darrow fought vehemently against the death penalty, for example), Spacey intersperses these scenes with perfectly timed humour. The production is minimalistic but the sound and lighting work fantastically together to create stark contrasts in mood when required. The mere fact that one actor can have the entire audience hooked on his every word for nearly 2 hours is testament to a play of the very highest quality.