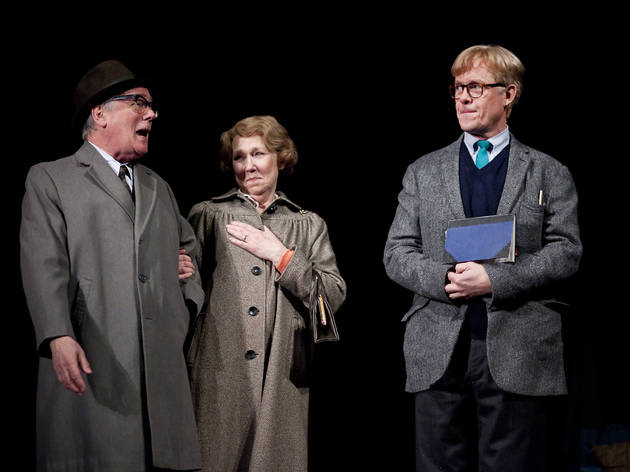 Time Out says
Whether through modesty or miscalculation, the National Theatre's normally formidable marketing arm seems to have sold this superb pair of autobiographical Alan Bennett pieces a little short. This is to your advantage: while Bennett's 'proper' new play 'People' remains stubbornly sold out, there is good availability for the small smattering of dates for each of 'Hymn' and 'Cocktail Sticks' .
Highly complementary, the two are best watched together on a Sunday double bill; failing that, 'Cocktail Sticks' is the one you'll want to see, a fine, funny, fully-staged production that's easily the equal of 'People' – with a cast to boot.
At the centre of each is a towering performance from Alex Jennings as Bennett. With his bleached hair, NHS specs, blazer, V-neck and clipped Yorkshire accent, he is so Bennett-esque as to initially appear almost parodic. Yet the slight feel of staginess in both of Nicholas Hytner's productions is perfectly judged – it allows Jennings to turn in a funnier, sadder and more detailed performance than the 78-year-old playwright could possibly have offered himself. And more than mere imitation, it is unabashedly a tribute to Bennett, a celebration of an idiosyncratic British icon now rarely seen in public.
If you're not interested in Bennett the man, you're definitely in the wrong place. 'Hymn', originally performed by Bennett himself in 2001, is a half hour piece with music by George Fenton in which – over pastoral, occasionally playful strings – Bennett/Jennings muses on his formative experiences of music and his difficulty in bonding with his father, a Leeds butcher who dabbled with the violin. It is poignant and witty but short at half an hour.
The new 'Cocktail Sticks' is the more substantial, a spiky, moving adaptation of Bennett's memoir 'A Life Like Other People's' which traces his relationship with his working-class parents over the course of an hour. There is lovely work from Gabrielle Lloyd as Bennett's irrepressible mum and Jeff Rawle as his determinedly old-fashioned father, and if there is a whiff of sentiment, the sheer brilliance of the language carries the day.
Conceivably it might be the last new Bennett play ever staged at the NT – if so it would be a very justified last hurrah. Catch it before word finally gets out.
Details
Best selling Time Out Offers