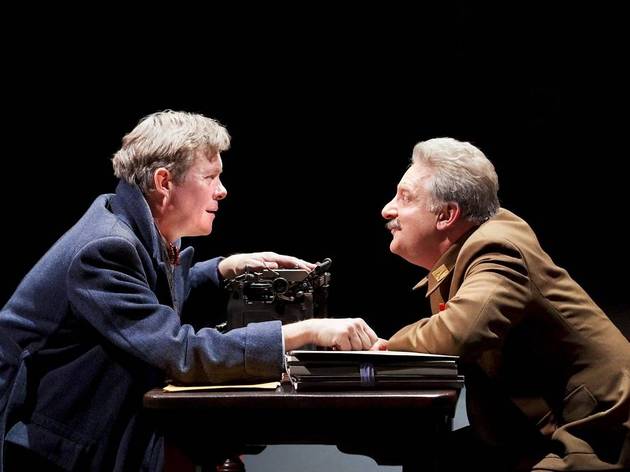 Screenwriter John Hodge ('Trainspotting', 'The Beach', 'Shallow Grave') brings macabre wit and flair to his theatre debut, a fantasia on the co-dependent love/hate relationship between the pen and the sword. Actually, it's typewriter versus gun in director Nicholas Hytner's swirling in-the-round staging of Mikhail Bulgakov's Moscow, where letter keys clatter like gunshots and the dying liberal writer (played by a patrician Alex Jennings) is haunted by his country's devilish Master Josef Stalin (Simon Russell Beale), a papa-tyrant who claims to be his 'Number one fan'.
'Collaborators' imagines what happened when Bulgakov was forcibly commissioned to write a play about the young Stalin. Unlike Bulgakov's reluctant drama, this is no plodding re-creation. It's a tribute to the 'Master and Margarita' writer's own surreal, metaphorical work and to the febrile disorder of his body as he secretly polished his subversive novel while dying from his dodgy kidneys.
Half reality and half dream, it's a cat-and-mouse game between Jennings's mild, elegant writer and Russell Beale's cuddly but sinister tyrant. Hytner's production even opens like a Soviet 'Tom and Jerry', in which Russell Beale's plump and growling Stalin leaps out of Bulgakov's wardrobe and chases him round the room.
The in-the-round staging is too untidy to make every joke snap. But it's a vivid allegory of totalitarianism, in which noir meets farce, and the great writer and the great dictator meet nightly for a secret role-swap.
Stalin's literary interests are well-documented, not least in Simon Sebag Montefiore's excellent biographies, and his patronage helped his intellectual enemy, Bulgakov, even as it censored and demoralised him. Hodge's play shows, at length, how Bulgakov's imagination was forced underground.
Plague-masked actors from his other play of this period (ostensibly about the death of Moliere; really about the plight of the writer in Soviet Russia) crowd on to this stage, an insurrection-in-disguise. He and his wife submit to the party line, ably represented in a leather-clad John Prescott-like performance from Mark Addy as NKVD officer Vladimir.
Russell Beale has a wonderful talent for portraying the banality of evil but never seems really dangerous here. But 'Collaborators' is designed to neuter him. Bulgakov evades his thick-whiskered pursuer precisely because the conflict between art and power is restaged on Bulgakov's ground: the bloodless arena of the imagination.