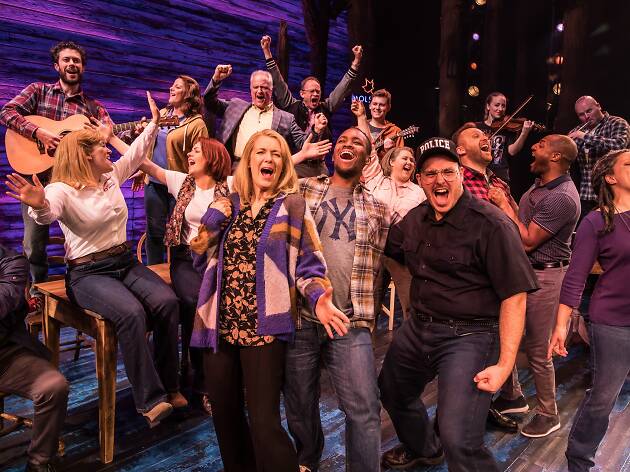 Time Out says
This 9/11-set musical is a gently miraculous masterpiece
Musicals don't come much more low-key, wholesome or Canadian than 'Come from Away'. Writers Irene Sankoff and David Hein cook up the straightforward world of the Newfoundland town of Gander using a very straightforward set of ingredients. The cast wear sensible shoes and lumberjack shirts. They tramp across a wood-decked stage that evokes the huge skies of their tiny island. They sing their way through a set of folk-tinged songs that tell stories of the five days after 9/11, when 38 planes made emergency landings on the island's huge, disused airstrip. And it's all totally, soul-feedingly wonderful.
'Come from Away' has been a massive sleeper hit across North America, Broadway included, and it's easy to see why: it mixes down-home authenticity with the desperate intensity that comes in times of crisis. This is a moment where 7,000 temporary arrivals join a community of just 9,000 people. Logistics might not be the sexiest of topics for a musical, but one of the many surprising joys of this show is how gripping it makes things like the struggle to rustle up transport at a time when the local school bus drivers were on strike and had to be coaxed into crossing the picket line. Then there are beds, food, medication and interpreters to be sourced for passengers from across the world: one non-English-speaking couple communicates by cross-referencing Bible verses.
Based closely on interviews with real Newfoundlanders, this is a picture of a community that stretches itself to breaking point to accommodate the stranded travellers. Like the local animal shelter worker who battles to rescue furry cargo from the planes' holds, including cats, dogs and a pregnant bonobo ape. Or the schoolteacher who offers comfort to a New Yorker whose firefighter son is missing.
It feels so organic that you almost don't notice how carefully it's been crafted. Individual stories are woven through rousing, foot-stomping, all-company choruses. Actors swap between playing locals and incomers with a fluidity that shows it's just chance separating the two. It makes you look inwards to ask: what would I do in their place?
The show's message about the power of doing good is underscored by darker notes. Among the waves of queasy post-9/11 fear, a Muslim traveller is treated with suspicion along with kindness, and subjected to a humiliating strip search. Another young New Yorker feels so welcome on the island that it makes him mourn the community and safety he's missing back home.
'Come from Away' creates a kind of temporary utopia: a little world where (almost) everyone is forced, by earth-shattering events hundreds of miles away, to come together and build a community based on principles of generosity and care. It's seductive in its resolute unsexiness, and its gentle uncynical warmth spills off the stage, extending a hug to an audience that wouldn't dream of turning it away.
Details
Venue name:
Phoenix Theatre
Address:
110
Charing Cross Road
London
WC2H 0JP

Transport:
Tube: Leicester Square/Tottenham Court Road
Price:
£19.50–£120. Runs 1hr 40min (no interval)
Average User Rating
4.7 / 5
Rating Breakdown
5 star:

18

4 star:

2

3 star:

1

2 star:

1

1 star:

0
Skeptical while booking, first few minutes into the show, mid way through the show. I was still loosing the plot and struggling to make an impact (no questions about the enthusiasm)....but you saved the best for the last...
Mind blowing superb MUST WATCH
SPECIAL KUDOS TO YOUR BAND YOU GUYS ROCK
Well done
I wish every single person in this world has atleast a tenth of your enthusiasm
I was really concerned when going to see this production, as how could anyone possibly create a musical from the subject matter of planes being diverted on 9/11, but I was wrong to have been worried, as the show was nothing short of brilliant!
The cast, music, story line and overall enjoyment factor, were nothing short of outstanding and whilst there were comical and lighthearted moments, the poignancy shone through, resulting in this production now having immediately escalated itself to one of my top-three shows to see for the second and/or, the third time.
For an incredible evening, where a stunningly talented and a multi-talented cast, band and Director entertain from the very start of the show, do yourself a huge favour and book tickets!
I have nothing but praise for this brilliant show. Completely away from the normal beat of musicals this is the show for everyone. From the beginning you are absolutely engaged and enthralled. The use of a simple moving stage, some chairs and simple stage furniture conjure everything from the inside of a jumbo jet to a Newfoundland bar. The songs are relentless and pure magic, taking you through every possible emotion. The ensemble acting and musicianship is simply amazing. By the end you feel that you have been through the whole experience, as a passenger and as a town resident. You come away uplifted and smiling. I need to see this again and again
"Fabulous!" "Wonderful!"
"Amazing!" "Must see!"
"A five stars musical! *****" "Musical of the year!"
You probably have not heard about Come from Away yet, so this is my chance to convince you to buy your tickets, or to ask for a belated Valentines' day gift!
Come from Away is set on the really sad day that was the 9/11, when the aerial space of the United States was shut down following the catastrophe we all know about. What we rarely know is that 38 planes landed in the small town of Gander in Canada and that 7000 passengers were welcomed, housed and fed by the residents.
The musical follows the stories of some resident and characters during those few days of chaos where humanity and generosity helped people to go through this experience.
Everything is to like in this musical!
This is a MUST SEE musical! I didn't have any expectations nor was I entirely sure of the storyline however I was hooked from the opening scenes. The simple set housing the folk band on stage allowed the audience to be swept up in the stories of the people from the small island of Newfoundland during the 5 days following the aftermath of 9/11. An incredible talented cast and enjoyable soundtrack added to this refreshing story of the true kindness of a small town community when 9/11 shocked the world. It's a heart warming tale that reminds us that it doesn't matter where we come from, what religion we believe in or what language we speak because kindness knows no barriers.
When thirty-eight planes land at Gander, Newfoundland, because of nine/eleven with diversions over America, the locals need to organise themselves to cater for thousands. Two or three planes a day is their norm. Food, clothes, bedding and phones are all needed by these stranded passengers. The cast turn from being locals to passengers in the twist of a beat. The music is wonderful and the feelgood factor- huge. This musical has a big heart and it shows itself constantly. Go! you wont be disappointed.
Covering an international event that effected every person uniquely is a very impressive undertaking for a hour and a half play, but Come from Away accomplishes just that. A hybrid of energetic folk music and theatrics brings a small town in Newfoundland to life as they welcome strangers from abroad into their lives. I was really impresssed with the casts ability to each play multiple characters, while keep them distinct and personal enough that from the first word they say you know the characters situation.
I wasn't sure what to expect but I was absolutely blown away by this show. The cast is so talented, the music is amazing and the set is simple but so clever. The story is fascinating and you really have to keep reminding yourself that it's all based on fact. The most impressive thing for me was the perfectly-executed balance between the incredibly positive energy that the show is full of and the tragic truths that form part of a narrative that actually unfolded. There are some hilarious moments but also real poignancy and it's really amazing how the cast are able to play so many different characters and do justice to every single one of them. A must-see!
When you hear a musical based on the events of 9/11, it's filled with heavy emotions. However when you are transported to the rock you are filled with high spirits and laughter from the people who came together at a time of crisis.
Each cast member played multiple roles with a variety of characters and personality which they all master. Along with a skillful band which fills the room with upbeat music.
When you go and see this show you will come out with a warm heart and the storys of a community that put others first.

On a logistics front this show has no internal ( which just shows the stamina of the cast) which makes it easier to get late night trains.
I didn't know much about this musical before going to see it, other than it was based around the events of 9/11. Although it was really more about a town who took in people from diverted planes and definitely told a story that I've never considered before. It was an uplifting story about the generosity of these people in a time of tragedy, however I did feel like I was missing something. Fair play to all of the actors on stage as they played different people and the energy didn't wane throughout, even without an interval. However, I found their accents were very confused and did blur into one so at times I struggled to determine which particular character they were playing. There were some great singing voices and some comical characters but I really felt that there wasn't much of a plot. It has to be said the rest of the audience pretty much, laughed throughout and really enjoyed it but it definitely wasn't one of my favourite musicals I've seen.
This is a joyous piece of theatre, which makes you believe in the goodness of humankind. I didn't know much about the town of Gander in Newfoundland which took in planeloads of people after being diverted on September 11th. We don't get to really know any of the characters in depth but we do get a snapshot of the people of Gander and the goodness of their souls. The show manages to be funny and not too serious but also portrays the harsh realities of the situation these people were in. You will leave feeling educated, humbled and uplifted.
If I could give it more than 5 stars I would. This musical was INCREDIBLE. Based on a true story, it tells the story of the town of Gander post the 9/11 attacks. It was an incredibly uplifting and heartfelt performance - tears and plenty of laughs!. Some amazing talent, the cast work so bloody hard! A must see, you won't be able to keep your eyes off the stage or your mind from wandering in this one!
I absolutely love, love LOVED this musical! Come From Away is set around a group of people with very different lives thrown into the circumstance of their plane being grounded in Newfoundland, Canada after the terror attack on the Twin Towers hit. I have never experienced such a roller-coaster of emotions in 100 minutes. With a minimalistic set and cast, it is not your average hit musical but it does not lack anything considering. I laughed, I cried and I was hooked from the off. Would 100% go and see Come From Away again.
Not advisable for people who are sensitive. It is a very stressful show which is a pitty since they could have set the focus much more on the positive relations which developed through the incident and funny stories. Instead they focussed way too much on anxiety stress and the negative aspects making the audience feel stressed 90% of the show. In an era of burn out people don't come to the theatre to get their stress levels increased even more(lol) however I am aware that this is completely subjective. Just want to emphasise that this is nothing for anyone who is sensitive to stress and easily annoyed.
Also the American accents were a bit over the top which impacted the singing in a negative way. Honest feedback is valuable that's why I give it and also to warn anyone who is sensitive or expecting a positive uplifting musical .. a pity cause I think the story has much more potential for being happy and funny. Anyways it's completely subjective -the actors were good!! And the music was amazing!
Phoenix theatre is anything but comfortable though which is shocking for these expensive prices. If you're taller than 1.75cm it is a nightmare don't do it there is no space for your legs - it is shocking that they do not warn about this since some people can't even fit into the chairs and have to sit on the stairs when they are tall -and this is a setting which is not acceptable due to the high price of the tickets.
Phoenix theatre should educate people about this before buying tickets and have solutions for people with long legs.