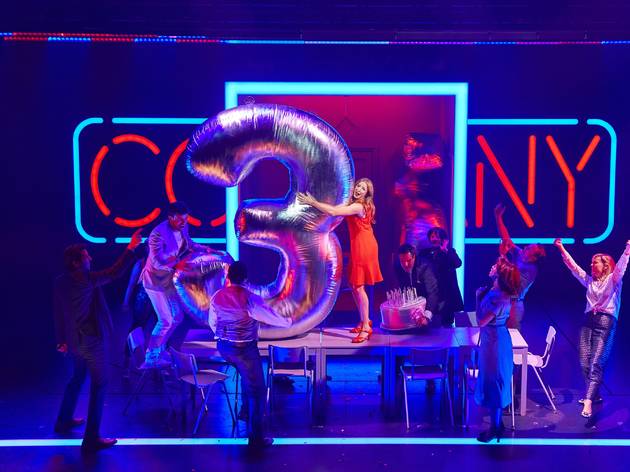 1/12
© Brinkhoff/Moegenburg
Rosalie Craig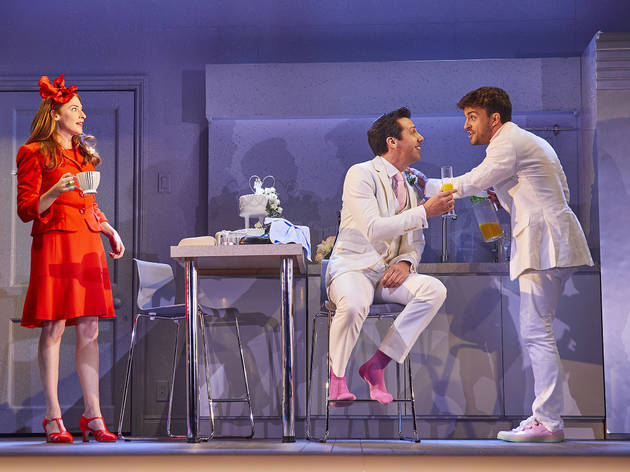 2/12
© Brinkhoff/Moegenburg
Rosalie Craig, Alex Gaumond Jonny Bailey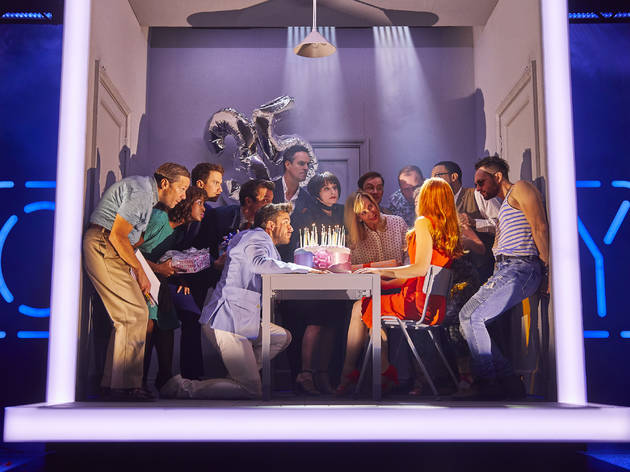 3/12
© Brinkhoff/Moegenburg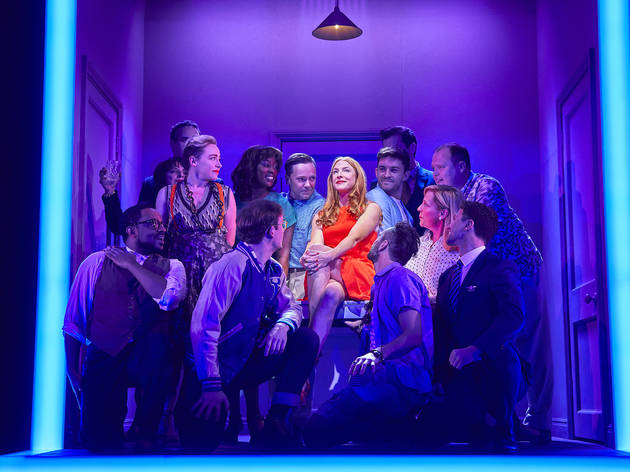 4/12
© Brinkhoff/Moegenburg
Rosalie Craig (Bobbie)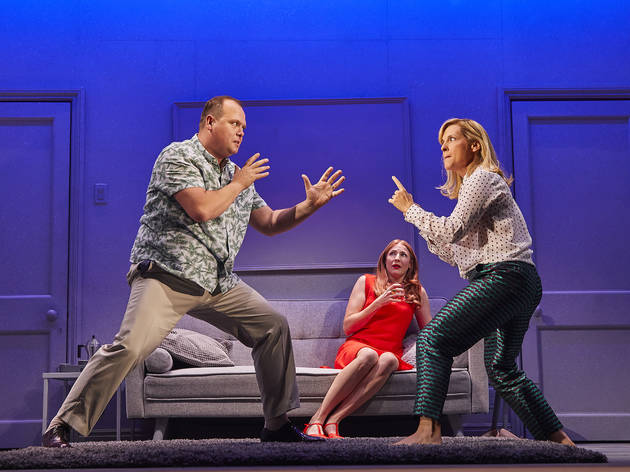 5/12
© Brinkhoff/Moegenburg
GavinSpokes (Harry) RosalieCraig (Bobbie) MelGiedroyc (Sarah)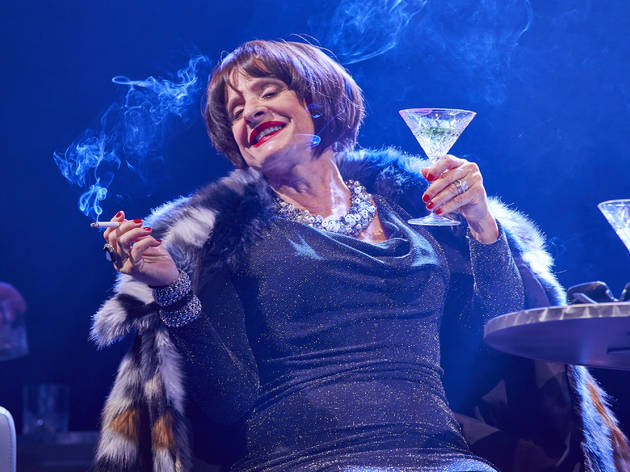 6/12
© Brinkhoff/Moegenburg
Patti LuPone (Joanne)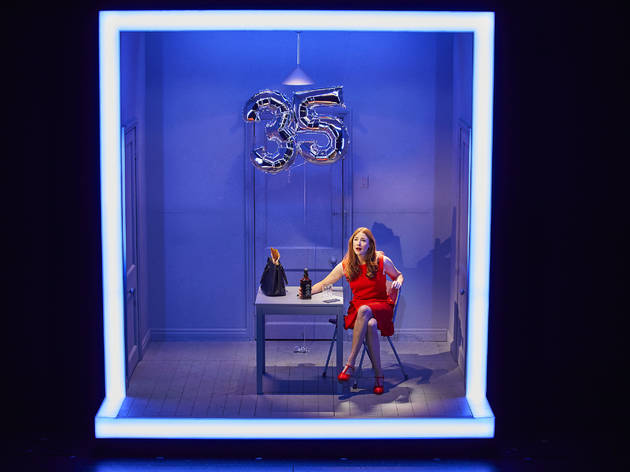 7/12
© Brinkhoff/Moegenburg
Rosalie Craig (Bobbie)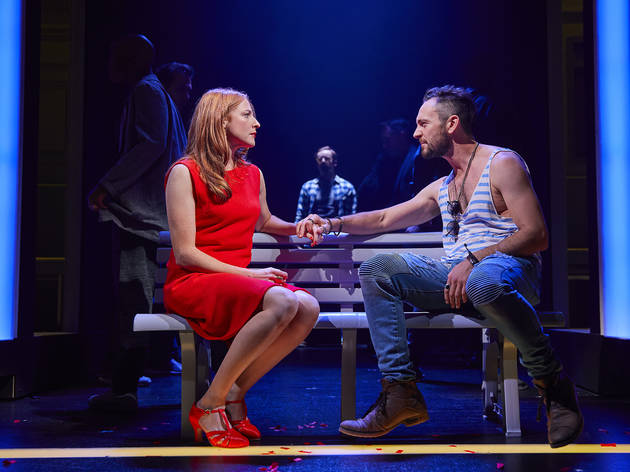 8/12
© Brinkhoff/Moegenburg
Rosalie Craig (Bobbie) George Blagden (PJ)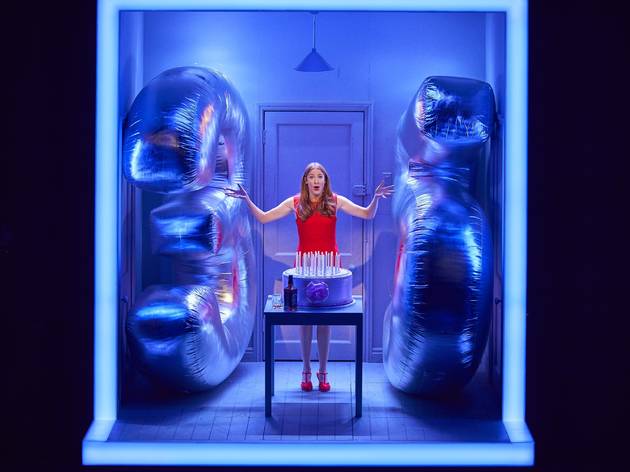 9/12
© Brinkhoff/Moegenburg
Rosalie Craig (Bobbie)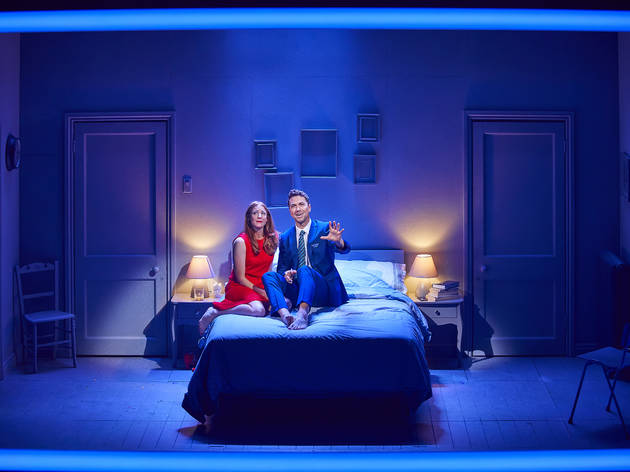 10/12
© Brinkhoff/Moegenburg
Rosalie Craig (Bobbie) Richard Fleeshman (Andy)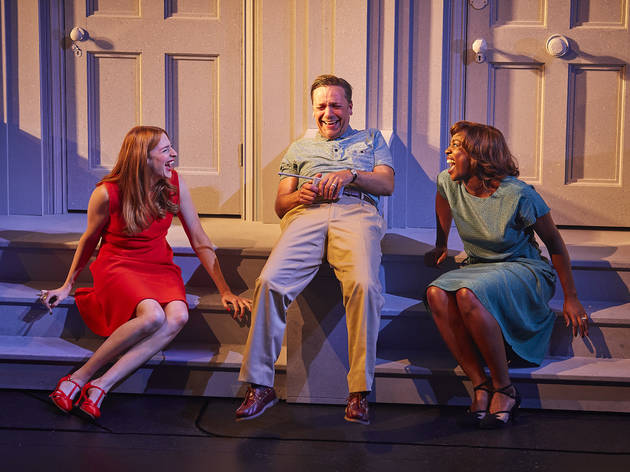 11/12
© Brinkhoff/Moegenburg
Rosalie Craig, Richard Henders, Jennifer Saayeng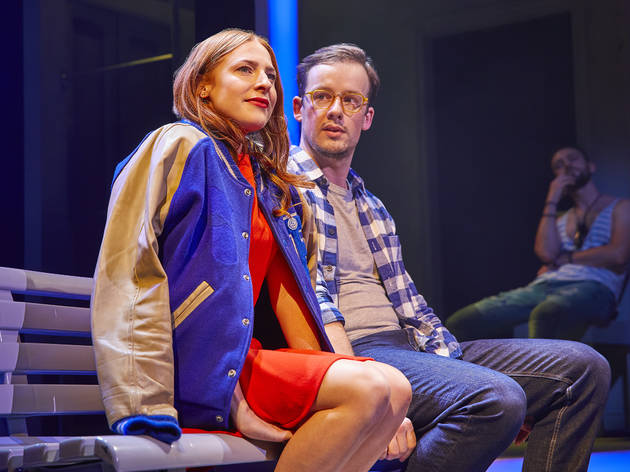 12/12
© Brinkhoff/Moegenburg
Rosalie Craig (Bobbie) Matthew Seadon Young (Theo) 
Rosalie Craig and Patti LuPone star in Marianne Elliott's tour de force reworking of Sondheim's sardonic musical
Marianne Elliott's production of Stephen Sondheim's 1970 musical comedy 'Company' was announced at what felt like some point in the late Cretaceous Period. And we knew from the get-go that the lead role of terminally single 35-year-old New Yorker Bobby (a man) would be gender switched to Bobbie (a woman), played by Rosalie Craig.
The potential for this to be a novelty hung over it… but now that it's here I'm going to cheerily declare that Elliott has found hidden depths in what was already a stone-cold classic. In 2018, when the borderline geriatric likes of Tom Cruise and Daniel Craig still regularly play sexy bachelors, the notion of a 35-year-old man being under any great pressure to settle down seems kind of quaint. But there is, of course, intense pressure for women to do so, before society deems them wanting for letting their youth and fertility run out. The nagging concerns heaped upon Bobbie for her singledom make total, crystal clear, perfectly realised sense. (NB Bobbie is straight, with the hopeless trio of lovers now men – a move that takes a certain misogynist sting out of the writing).
'One is lonely and two is boring' runs Sondheim's most pithy summation of Bobbie's dilemma, and it's intentionally never resolved. Craig is immaculate as a hazy woman trapped in an existential funk. Her coupled-up friends have committed to things, and it hasn't made them happy. So Bobbie remains an outsider in her own life, committed to nothing, a permanent glass of bourbon her only definite personality trait.
Elliott's production brilliantly underscores the existential nature of Sondheim's lyrics and George Furth's book. On Bunny Christie's striking set, Bobbie's adventures unfold in a series of glowing frames drifting through the inky dark. There's a definite Beckettian vibe as she relives her surprise birthday party in an increasingly nightmarish series of repetitions.
It's important at this stage to point out that 'Company' is entertaining as hell. For starters,
its cynical depiction of amoral New Yorkers screwing up their own lives is incredibly funny: 'Seinfeld' years before there was 'Seinfeld', and with much better songs.
And Elliott has put together a cast to die for. Liam Steel has brilliantly choreographed the ensemble scenes, notably the hellish party of 'Side by Side by Side'. But 'Company' mostly unfolds as a series of small vignettes, each based around a different couple. Former 'Bake Off' doyenne Mel Giedroyc gives a masterclass in the comic possibilities of passive-aggression as Sarah, married to Gavin Spokes's schlubby Harry.
Formerly straight couple Paul and Amy become gay couple Paul and Jamie. Perhaps it's a nod to the popular theory the entire musical is an allegory for gay relationships; more probably it's just a sensible update now that gay marriage is a thing. Whatever the case, it's an opportunity for a terrifically funny turn of hyperventilating self-loathing from Jonathan Bailey, as Jamie.
And of course, there's Patti LuPone. Look: relatively speaking, the Lloyd Webber-loathing Broadway legend does not do a huge amount. In the role of Bobbie's extremely Patti LuPone-ish older friend Joanne, she basically sasses sporadically for two-ish hours before being deployed like a 50-megaton bomb just before the end. But her half-wistful, half-raging, devastating-but-not-hammy take on 'The Ladies Who Lunch' is exactly as good as you hope it will be. It is a show-stopper – but not a show-stealer. Craig's wallflower Bobbie doesn't dominate the stage, but she owns it, ambivalent in her red dress.
Following the NT's grandiose 'Follies' last year, this 'Company' is another easy case for the greatness of Sondheim, the man they literally call God. But a serious word for Marianne Elliott: she may not have killed Bobby-with-a-'y' for good, but this production deserves to go down as a game-changer.
Venue name:
Gielgud Theatre
Contact:
Address:
35-37
Shaftesbury Avenue
London
W1D 6AR

Transport:
Rail/Tube: Charing Cross; Tube: Piccadilly Circus
Price:
£25-£124.50. Runs 2hr 40min
Average User Rating
3.9 / 5
Rating Breakdown
5 star:

3

4 star:

6

3 star:

4

2 star:

0

1 star:

0
Brings the comedy back to musical comedies! Company proves to be a fantastic evening out, with plenty of laugh-out-loud moments and some achingly candid - but hilarious - representations of what it means to be a young adult in a big city. The cast is great; the soundtrack full of energy and humour (keep an eye out for the Easter egg of birthday hats on the orchestra once the birtday scene comes up!). The décor itself is an impressive sort of Tetris-style arrangement of blocks that are often one (or part of a) room and move about the stage as they rearrange themselves to make way for further scenes. Add to that a touching story and very. very likeable characters, and don't forget the show-stopping scene where the gay couple is about to get married!
All in all, hardly a revolution in the world of musicals, but definitely one of the best nights out on the West End at the moment.
Funny! The pre wedding scene deserves 5 stars! The rest felt a little too directed at the 30 somethings. Rosalie Craig was amazing in her role! She felt very natural right down to her facial expressions and body language! Mel Gielgud was hilarious with her stepford wife's like faces! The audience went nuts for Patti LuPone but I felt her character was out of place and unnecessary. The music didn't seem memorable. I laughed and enjoyed it. Well worth seeing!
Snap up exclusive discounts in London
Time Out's handpicked deals — hurry, they won't be around for long...