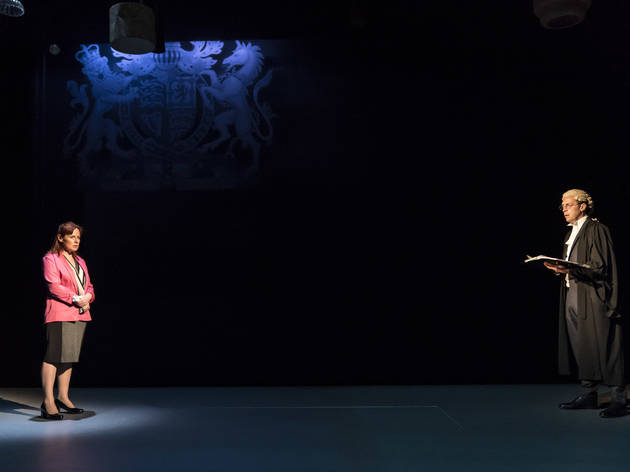 1/8
© Johan Persson
Heather Craney (Gayle) and Stephen Campbell Moore (Edward)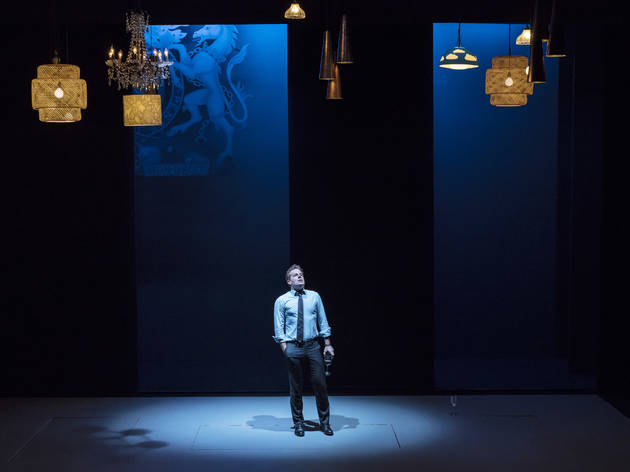 2/8
© Johan Persson
Adam James (Jake)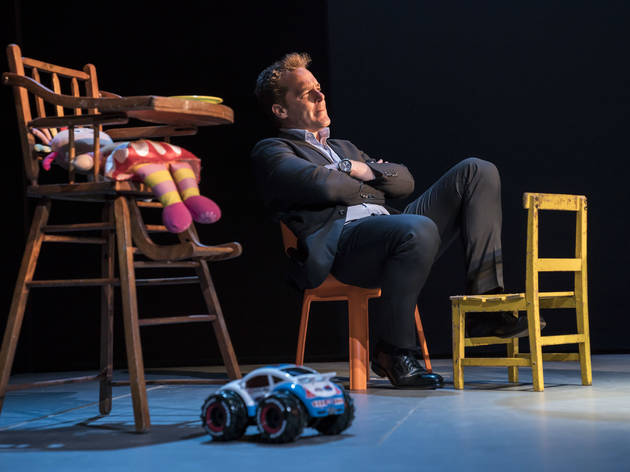 3/8
© Johan Persson
Adam James (Jake)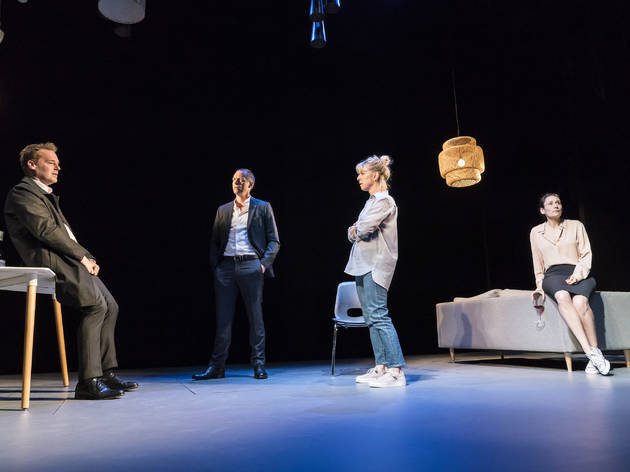 4/8
© Johan Persson
Adam James (Jake), Stephen Campbell Moore (Edward), Claudie Blakley (Kitty) and Sian Clifford (Rachel)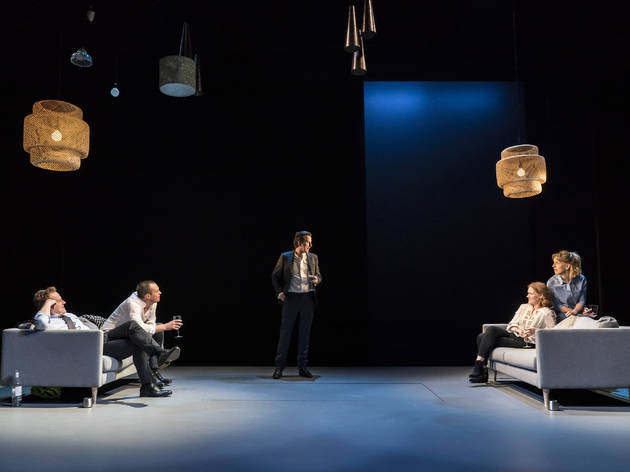 5/8
© Johan Persson
Adam James (Jake), Stephen Campbell Moore (Edward), Lee Ingleby (Tim), Clare Foster (Zara), Claudie Blakley (Kitty)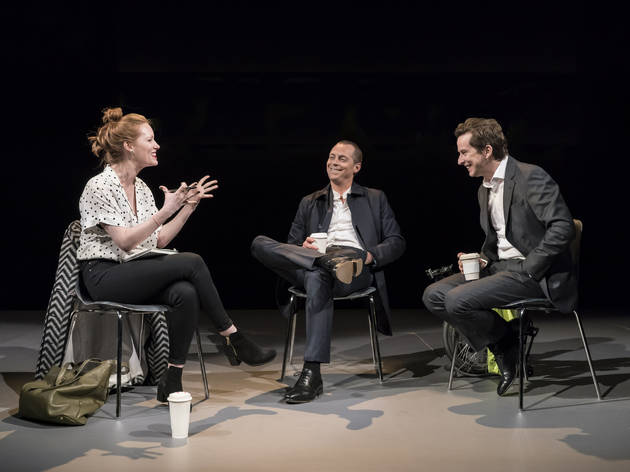 6/8
© Johan Persson
Clare Foster (Zara), Stephen Campbell Moore (Edward) and Lee Ingleby (Tim)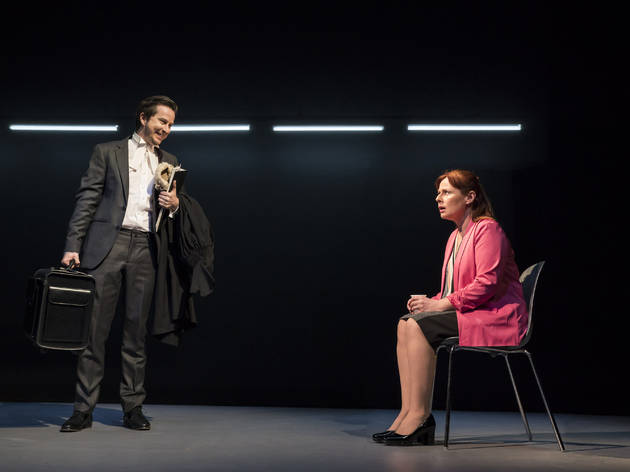 7/8
© Johan Persson
Lee Ingleby (Tim) and Heather Craney (Gayle)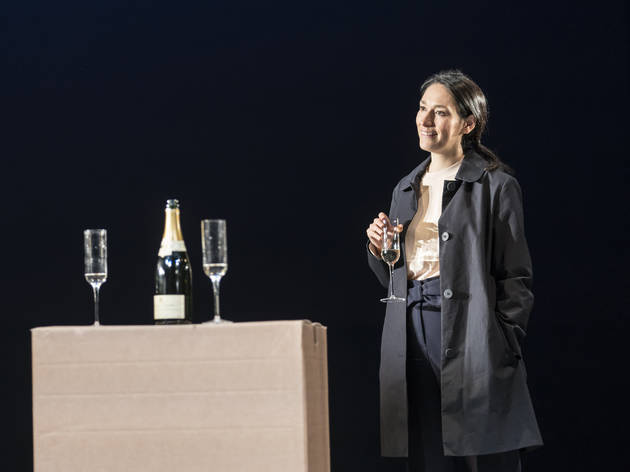 8/8
© Johan Persson
Sian Clifford (Rachel) 
Time Out says
Nina Raine's brilliant – if imperfect – moral thriller hits the West End
'I'm doing a lot of raping,' says a blasé male barrister who's so wrapped up in his cases that he's blurred identities with the men he represents. Nina Raine's awe-inspiringly eloquent play, getting a West End run after opening at the National Theatre last year, explores the nuances of consent, empathy and a broken criminal justice system in a way that's gained new relevance in the #MeToo era. Loosely, it follows a group of fantastically unpleasant upper-middle-class thirtysomethings as they navigate first a rape trial, then some grey areas that sit a little closer to home.
One of the many things that Raine's play explores is how these barristers are intellectually, not emotionally, invested in the cases they fight. Edward (Stephen Campbell Moore) makes the emotional brutality of sexual assault invisible by letting off bravura squid ink clouds of rhetoric and technicalities. He's up in court against his sweatier, more awkward friend Tim (Lee Ingleby). Their laddish arguments reveal the chummy injustices of a system where two establishment men decide the fate of Gayle (Heather Craney), a working-class woman who's living with trauma after a sexual assault, and whose world they barely try to understand. But then Raine's play also shows how little space the legal system offers for real empathy, how it equates 'getting your story straight' with 'telling the truth'. This story in itself would be enough to fill a play, but it's not really what 'Consent' is about. Raine's play rapidly morphs into a drama about marriage, infidelity, and the gross cycles of gaslighting and self-pity that its three central couples fall into.
It's sparkily written, emotionally bruising stuff. But it's also painfully polite, in that sweary, 'Four Weddings and a Funeral'-type way. Roger Michell's production is endlessly staid, each fresh set-piece argument divided by the anodyne tinkle of piano music, while a John Lewis lighting department-style array of pendant lamps twinkles away from the ceiling above.
The question I was left with was: why tell these stories together? The dishevelled, tracksuit-wearing Gayle rolls up in the second act pretty much wholly to make these city shitbags feel guilty, the ghost at their Ottolenghi feast. The pain of her fruitless fight for justice mostly happens offstage, like something out of one of the Greek tragedies her lawyer's friends so glibly reference.
'No grey areas' has been one of the rallying cries of the post-Weinstein mood of examination into sexual harassment and gendered industry abuses of power. I don't think anyone literally thinks there are no grey areas. But it's also true that some of the people who are most invested in insisting these grey areas exist are also people who've got the most invested in not rocking the boat. By segueing from Gayle's horrendous suffering to the nice, middle-class, ambiguous marital abuses of these lawyers, Raine's play implicitly makes a statement about what kind of people horrible things happen to – about how guilt and blame can only really be apportioned when events reach tragic extremes.
'Consent' is so bold, so far-reaching that it's a shame to see it ultimately subside into something so safe and so in thrall to the status quo, reinforced by an ending that locks its couples into the stasis of mutually assured destruction. Raine uses language to strangle her subjects, wrapping their own self-aggrandising flourishes and tangled excuses round their necks – but ultimately the same linguistic flourishes stifle the play, too.
Details
Average User Rating
4.1 / 5
Rating Breakdown
5 star:

5

4 star:

3

3 star:

1

2 star:

0

1 star:

1
Utterly boring. If you're looking for a play that challenges the mind and presents those morally ambiguous situations that get you talking afterwards - look elsewhere. The majority of the play is a lot of standard British chit chat. It felt less like a play and more like a sitcom or 'intellectual' reality tv show, where people are trying to have the last word but with words that hold little meaning or belief.
The marital rape that calls into question 'what is consent' doesnt come about till the second half. The first half presumably being build up?
For such a heavy theme, this was very light on its feet. Anna Maxwell Martin is extraordinary, ably supported by the ver reliable Ben Chaplin and Adam James. Engrossing and well written. Hard to say it was "enjoyable" but beautifully done none the less. Highly recommended if you like something a bit meatier with sincere and compassionate writing and superb acting. Along with Travesties and Hamlet, the best acted play I have seen this year.
Despite an absence from the theatre for a couple of years, Nina Raine's new play "Consent" cements her as one of our great playwrights. This is brilliantly woven with twists and turns that continue to keep you on tenterhooks.
We start with an objective, intellectual and dispassionate view of the subject matter, rape, by lawyers with whom we have little sympathy. However as the play progresses and views of the protagonists become subjective, based on unfolding events, the whole balance changes. The bunch of arrogant shits we first meet and have little empathy with, start to engage us with their frailty and emotional responses. Some of the dialogue is worthy of a Wimbledon final, so fast, furious and varied are the verbal gymnastics. There is a lot of absurdist humour to break tension and the play is masterfully anddelicately directed by the gentle hand of Roger Michell. The cast is predictably outstanding, with not a cigarette paper between their performances. This is a must-see and I think will be seen as a play of great significance and longevity. It's not just about the subject matter, it's about human relationships and how we all deal with their reality. Go see!