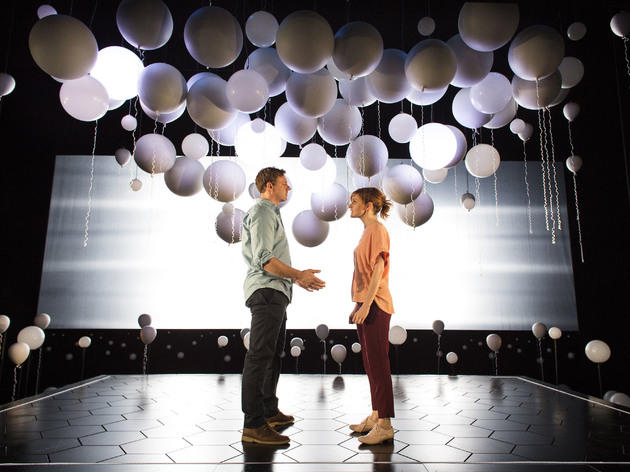 1/4
© Helen Maybanks
Joe Armstrong (Roland) and Louise Brealey (Marianne)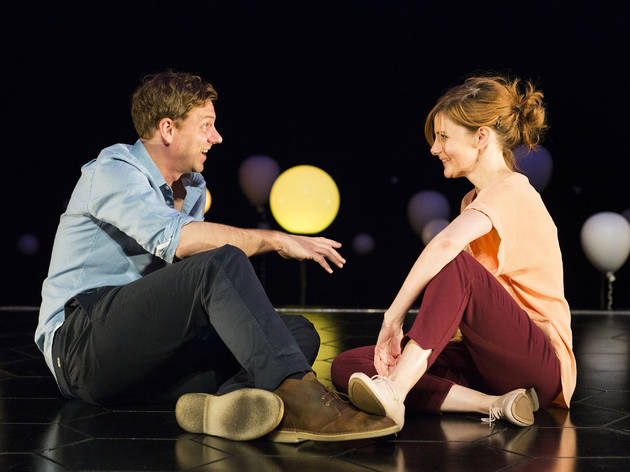 2/4
© Helen Maybanks
Joe Armstrong (Roland) and Louise Brealey (Marianne)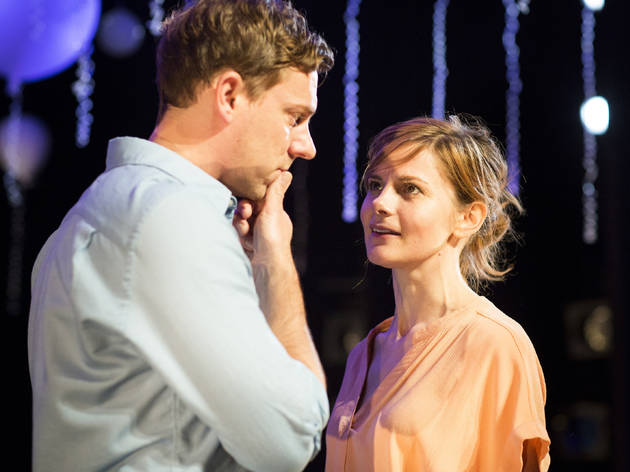 3/4
© Helen Maybanks
Joe Armstrong (Roland) and Louise Brealey (Marianne)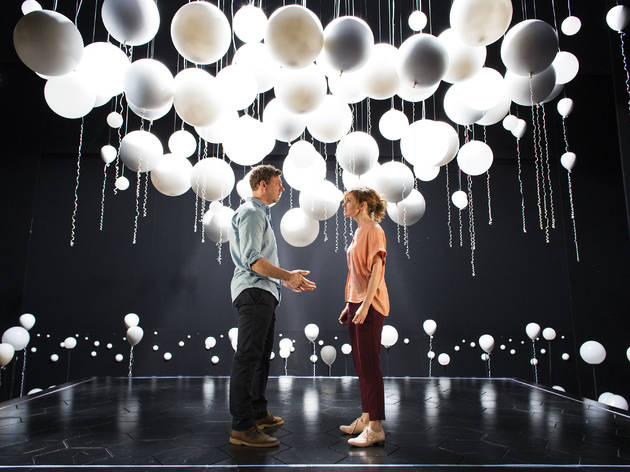 4/4
© Helen Maybanks
Joe Armstrong (Roland) and Louise Brealey (Marianne)
Nick Payne's avant-romcom remains infinitely brilliant.
There's probably a universe somewhere – in fact there's technically probably an infinity of universes - in which Nick Payne's audacious multi-dimensional tragicomedy 'Constellations' simply didn't turn out right. Director Michael Longhurst never worked out how to turn Payne's script – which sees key moments in the lives of beekeeper Roland and scientist Marianne play out across a multitude of possible outcomes in a multitude of possible realities – into a fast-paced, bittersweet avant-romcom. Designer Tom Scutt never hit upon his striking, strangely moving idea of designing a set that's nothing but fragile white balloons. And they were never lucky enough to score Rafe Spall and Sally Hawkins as the original stars, propelling this modestly leftfield show all the way to the West End.
This, however, is not that universe, and though Spall and Hawkins are now gone, the play and the production remain wonderful, and it's great to have this – barely altered – touring edition pop into London for a month-long-run.
New leads Joe Armstrong and Louise Brealey are not the big stars that their predecessors were, and perhaps consequently offer earthier performances. I don't believe I know any beekeepers, and suspect they're not a bunch you can stereotype, but the blokey, awkward Armstrong fills the Roland role more believably than Spall did – there's also a greater sense of the differences between him and Marianne, and consequently the unlikeliness of a universe in which the two of them became a couple. And the nerdy Brealey is a much more plausible scientist than the otherworldly Hawkins.
That said, it's not a naturalistic production and the original leads chimed better with its air of swooping, stylised romance; it feels a little grittier now, but somehow a touch more conventional too. But let's not disparage two excellent performances: Brealey in particular is superb and the play loses none of its power as the infinite possibilities start to converge upon one horribly inescapable outcome. If you're not crying by the end in this reality, you will be in most of the others.
Book tickets with Time Out for Friday July 17 and receive a discount plus an exclusive post-show Q&A with the creatives behind the project
Average User Rating
3.1 / 5
Rating Breakdown
5 star:

4

4 star:

1

3 star:

0

2 star:

0

1 star:

4
Constellations is a shot to the heart. Makes you wonder on the question 'if not now when, if not we who´ upon the ultimate quest of live: love. Both actors portray that quirky faultiness we are to embrace when facing the decision of accepting the other. The play, the script, the deep realm of anotherness that theatre as media confronts us with is brilliantly set and intertwined in this dramatic comedy. Nevermind bad reviews. To quote a graffitti in Valparaiso: "Capitalism Hates Love", and loves perfection I might add. This is not a perfect play. This is a play for us to love. For us to remember life before skin and face and tablets and can move back and forth between all possible parallel universes with the music of the humble, working bees.
Just brilliant - you must go and see this if you get a chance. I actually prefer this cast to the previous cast I saw a couple of years ago. The show is funny and incredibly touching. Simple but profound. Theatre at its absolute best.

I couldn't disagree with James B and JB more. I found this funny, intriguing and ultimately very moving. I thought Andrzej's review spot on: just how I felt. BUT on a second viewing I wasn't so convinced. The audience seemed to have the attention span of gnats and bladders the size of peas: so that was a (horrible) distraction. Perhaps once you've experienced the 'Sliding Doors' device it seems, well, a little mechanical. That said the performers still offered a masterclass in acting, which in itself was a treat to experience again.
Amateurish and plain boring - I left half way through together with another couple of similarly bored viewers. The show looked like a cheap student production at the Edinburgh Fringe. I also agree with the previous comment about the questionable judgment of the Time Out critic.
Totally agree with Carly Simmons and Alexander. Plus I could not empathise with the characters and didn't care what happened to either of them. Makes me concerned about the judgement of Time Out theatre critic to merit such mediocrity with a CC
Funny, poignant and utterly absorbing...this play enthralled me from start to finish. The acting was brilliant especially Sally Hawkins who made me laugh then made me cry...an emotional roller coaster of great writing and acting.
I got the parallel universes concept immediately. The play went on to show how this concept might be manifested with variations on a theme. Even though the play was short, the repetition of the variations was difficult to endure. I am sure that it was demanding for the actors. What a shame that the material is not worthy.
Great concept but that's where it ends. The dialogue isn't good enough to withstand several repetitions, and the relationship isn't particularly charming or engaging. Plus Sally Hawkins' obvious eating disorder made her acting uncomfortable to watch.