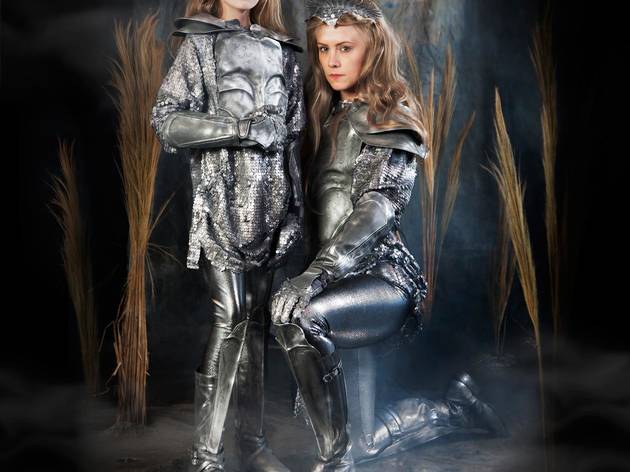 In a glittery grove, a pre-teen girl in Little Lord Fauntleroy garb gambols and plays, barely encumbered by the leash around her neck… The unexpectedly allegorical fruit of a year-long project with very deep roots in the real world, 'Credible Likeable Superstar Role Model' is the fascinating new show from Bryony Kimmings, and perhaps her richest yet.
In 'Sex Idiot' and '7 Day Drunk', the performance artist used storytelling, dance, video, song, charisma, charm and general messing about to relate her experiences of, respectively, tracing the lineage of a sexually transmitted infection and experimenting under laboratory conditions with the effects of alcohol on creativity. They were about her life and work, but also a broader social discourse around sex and booze.
This project goes deeper. Aghast at discovering the overtly sexualised and commercialised nature of mass culture aimed at tweens, Kimmings joined forces with her nine-year-old niece, Taylor, to create an alternative role model – Catherine Bennett, a kind, clumsy, funny paleontologist who loves her job, her proof-reader boyfriend and tuna pasta, and also sings about friendship, the future and animals. Kimmings plays her, Taylor calls the shots, and they've already toured schools, met MPs and appeared on 'Woman's Hour'.
This show doesn't give a detailed account of the process in the manner of 'Sex Idiot' or '7 Day Drunk' – a documentary next year will cover that ground – but metaphorically expresses the pair's collaboration to funny, moving, thought-provoking effect, notwithstanding the relatively limited formal approach (mostly spoken word with lots of dance and movement).
Both are on stage more or less throughout, tracing a kind of lone-wolf-and-cub trajectory as Kimmings tries to defend, understand and prepare Taylor on the brink of her departure from childhood. The duo's bond is blazingly apparent, their rapport assured and Taylor's stage presence no less compelling – or, at times, surprising – than her aunt's. The material, meanwhile, is alternately hilarious, heartbreaking, troubling and inspirational. Kick-ass in all the right ways.
By Ben Walters