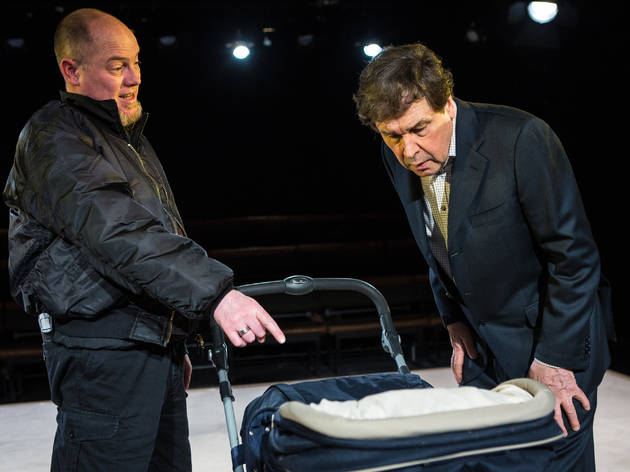 1/4
© Helen Murray
Chris Corrigan (Slim) and Stephen Rea (Eric Miller)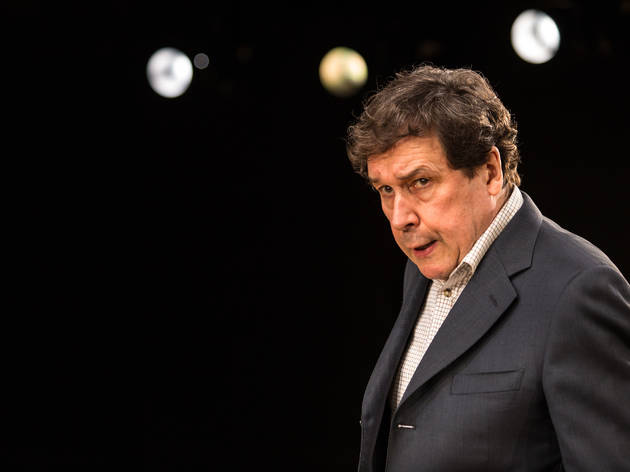 2/4
© Helen Murray
Stephen Rea (Eric Miller)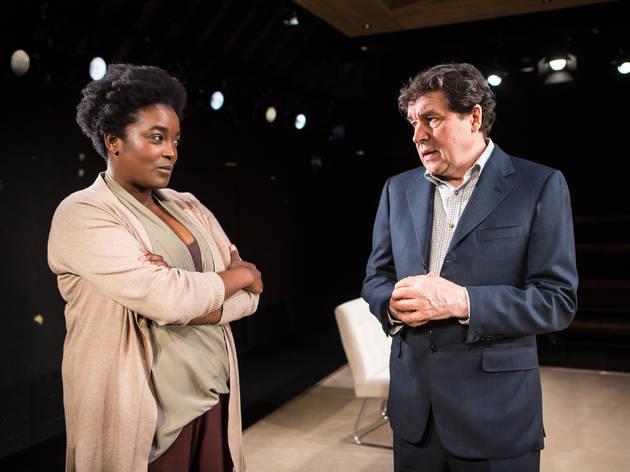 3/4
© Helen Murray
Wunmi Mosaku (Bridget) and Stephen Rea (Eric Miller)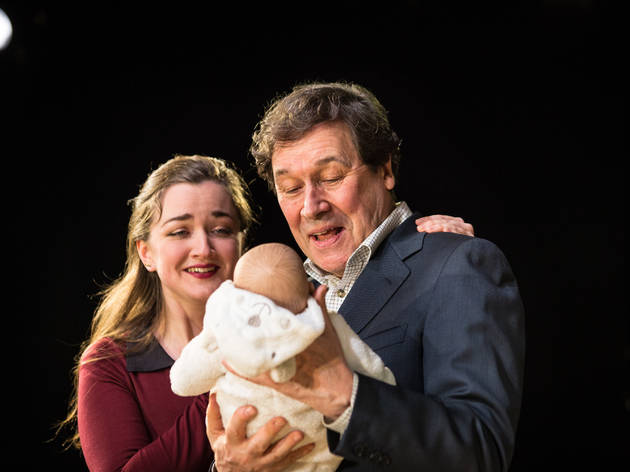 4/4
© Helen Murray
Amy Molloy (Julie) and Stephen Rea (Eric Miller)
Stephen Rea is phenomenal in this satirical comedy about a man who thinks his granddaughter is Gerry Adams
The last show I saw by Irish playwright David Ireland was 'I Promise You Sex and Violence', a wildly offensive bad taste comedy that opened to venomous reviews at the 2014 Edinburgh Fringe and definitely stands in the top five worst things I've ever seen in any medium. In that respect the only way was ever going to be up (in fact I'd actually have been grudgingly impressed if Ireland has managed to outdo 'IPYSAV's rancid cocktail of racism and misogyny).
'Cyprus Avenue' is an altogether more focused and morally justified, er, offensive bad taste comedy, which benefits tremendously from a huge lead performance by Stephen Rea, one of the all-time great Irish actors. In an absurdist satire about the festering bitterness of sectarianism in Ireland, Rea plays Eric, a Belfast grandfather and staunch Unionist whose dawning existential crisis – he insists he's not Irish, but is beginning to have doubts – comes to a head with the birth of his granddaughter. Who he believes is Gerry Adams.
Vicky Featherstone's smart, efficient production originated at the Abbey Theatre in Dublin, and is clearly a more provocative play over there than it is in a London where the Troubles are an increasingly distant memory. It is still tremendously funny, though, and for at least two thirds of its duration the playwright manages to have his cake and eat it. He satirises the absurdity of Ulster's unhealed wounds with long passages in which Rea's mild-mannered Eric spews out hilariously bizarre prejudice against the hated 'Fenians' ('this fucking baby does not look like a Unionist!').
Structurally though, it's all over the shop, framed as a two-hander between Eric and his young, black psychiatrist, Bridget, but zipping through flashback scenes with his wife Bernie and daughter (Julie) and one lengthy, loose sequence that's closer to stand-up comedy than conventional drama. Rea holds it all together phenomenally, bringing both a tremendous gravitas to bear – which stops the whole thing blowing away in its sillier moments – but also absolutely sensational deadpan comic timing. Towards the end I started to struggle somewhat, as without issuing any spoilers, 'Cyprus Avenue' eventually scampers off completely beyond the pale with a gleefulness that rather blunts the moral point it's very obviously trying to make. Still, as I say, it is undeniably funny, probably a braver play than I entirely appreciate, and really it could be a whole lot more offensive and still be worth it for the chance to watch the great Stephen Rea up close.
Rating Breakdown
5 star:

0

4 star:

1

3 star:

0

2 star:

0

1 star:

0