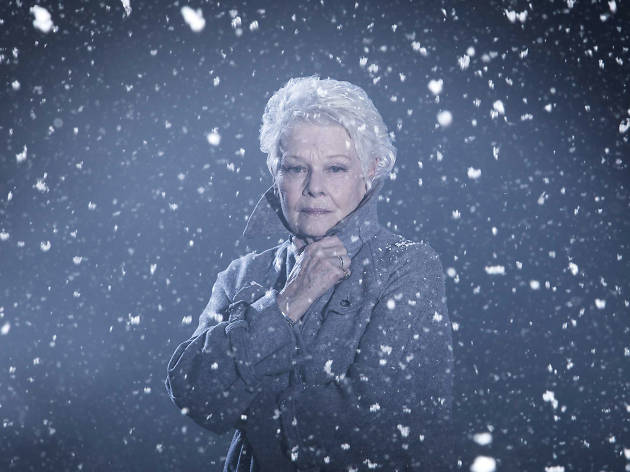 Dame Judi Dench on retirement, Star Wars rumours and Jeremy Corbyn
Screen icon, stage stalwart and superstitious interviewee – ever-sizzling thesp Judi Dench shows that she's still the boss
'I'm afraid I'm going to have to ask you to leave the room.'
The 'room' is the empty bar at the Garrick Theatre, where I'm sat with Dame Judi Dench: not only one of our greatest living actors, but one of the greatest actors who has ever lived.
You can measure it in awards: six Oliviers, one Oscar (plus seven nominations) and more Baftas, Golden Globes and international gongs than she can possibly keep track of.
You can measure it in her innumerable iconic performances. She is almost certainly the world's foremost Shakespearean actor. 'I could do the whole of the "Dream" for you, the whole of "Twelfth Night", and quite a lot of "Measure for Measure",' she says. And even if you've never caught her on stage you'll know 'Shakespeare in Love', 'Notes on a Scandal', 'Philomena' and above all her 17 years as MI6 boss M: the woman who sat the James Bond franchise on the naughty step and forced it to grow up.
Or you can just measure it by looking at the play she's currently in, 'The Winter's Tale'. A tricky late Shakespeare that's hardly a guaranteed box-office success, but is almost sold out (you can still get in via a day seat lottery or see it screened in Picturehouse cinemas on November 26). That may be partly down to co-star and director Kenneth Branagh, but it's surely Dench who has the greater pulling power: an 80-year-old woman who continues to deliver tour de force performances years after peers like Michael Gambon or Maggie Smith have retired from live theatre. She's bloody amazing, is Judi. But ten minutes into our chat she asks me to leave.

'You're going to have to go out 
that door.'

'Eh?'

'You're going to have to go out of that door,' she repeats. 'I'll ask you in again, and you mustn't mention the name of that…' She trails off with a shudder.
The penny drops: in my previous, rambling question I said 'Macbeth', which, amongst thesps, is a major no-no – saying the name out loud is very bad luck. But her reaction genuinely surprises me, not because I've never met actors who are superstitious about the 'Scottish Play', but because I'd so equated her with no-nonsense spy boss M that it didn't occur to me that she'd be bothered by it.
But Judi Dench is not M: she is dreamier and more detached, self-deprecating and given to long, contemplative pauses and pin-sharp recollections of her extraordinary life. So I dutifully leave the room, and knock on the door a second time.

'Come in!'

We start the interview, again.
After election comedy 'The Vote', this is the second play you've acted in this year. Are you ever going to slow down?
'It's just the way it's fallen. I was asked to do "The Vote" and I thought it would be enormous fun. Then Ken asked me to do "The Winter's Tale", and I find it quite hard to say no to Ken. I think this is the ninth time we've worked together.'
Do you seek each other out?
'He's a Sagittarian, I'm a Sagittarian: we're a day apart. Many years, but a day apart. That's got to have something to do with it. He's got phenomenal energy. When you're with him on a film set he'll know every single person's name, and not just the actors. If somebody comes on to bang a nail in, he'll know exactly who that person is. It's a very attractive quality.'
'I get frightened. I'm frightened that I won't get asked to do another job and I have had that fear throughout my entire career: all 58 years.'
He's doing a year of plays at the Garrick – were you asked to do any more?
'No, but I was asked to do eight performances a week. I know my own capabilities, though, and I don't think I have the energy now ['The Winter's Tale' runs in tandem with the comedy 'Harlequinade', also starring Branagh]. I used to not even think twice about it. I do have a lot of energy, thank God. I was blessed by my parents with it, but I want to give my best performance every night.'
No plans to retire?
'I'm not going to retire as long as I can work and as long as I'm asked to. If you can still climb the ladder, then do it.'
Is there any climbing left?
'Well I'm always looking for this play, you know, this extraordinary kind of thing that isn't like anything out there, maybe about an Afghan woman who walks the tightrope and turns into a dragon in the last act. I've looked for it for ten years or more, That's why I loved doing "Notes on a Scandal"; it was really something to try and understand that woman. The next thing I want to do mustn't be like Paulina [in 'The Winter's Tale'].'
Surely you can pretty much do what you want given your success?
'I get frightened. I'm frightened that I won't get asked to do another job and I have had that fear throughout my entire career: all 58 years.'
That's mad, you're Dame Judi Dench. People must stop you in the street to say how much they love you.
'They do. Although sometimes they just say my name in a rather challenging way. There's no answer, really. It's usually as M. In India I was recognised as M all the time.'
There's a new James Bond film out. Are you going to see it?
'Ooh yes! Of course I'll watch it: I've always been a tremendous Bond fan. [I did] seven films over 17 years, it's an awful long time and I loved it. My daughter phoned me a few months ago to say they'd shut down Covent Garden to film something and I was outraged. I said: "How ridiculous!" Then she phoned back to say: "It's Bond, Ma." And I said: "Oh well, that's perfectly okay."'
Isn't it galling that you were written out of the franchise in 'Skyfall'?
'Yes, but there it is. So will Ralph [Fiennes, the new M] one day, I expect. He always wanted the part, I could tell.'
'Just give Jeremy Corbyn a chance, I think. "Is he going to kneel down? Is he going to wear a red poppy? Is he wearing underpants?" Give him a chance to get on and do it.'
There was a rumour going round that you're in the new 'Star Wars' film…
'I heard that. Charming, charming. Why not? I've never seen a "Star Wars" film ever, or "Star Trek" or "Back to the Future" or any kind of space film at all. Is that terrible of me? I'm not in it, but that would've been nice, wouldn't it?'
You must have been in at least one space film?
[Pauses] '"Chronicles of Riddick". [Conspiratorial whisper] I've never seen it.'
'The Vote' was broadcast live on TV on election night. How did the cast react when the exit poll was announced at the end?
'It didn't go down very well with any of us, I think, but there we are.'
Do you have any thoughts on Jeremy Corbyn?
'No, I don't. Just give him a chance, I think. "Is he going to kneel down? Is he going to wear a red poppy? Is he wearing underpants?" Give him a chance to get on and do it.'
Would you say London has changed for better or worse in your lifetime?
'In some ways for the better. We got stuck just now in Trafalgar Square and all those buildings used to be completely black and it's made such a difference, all those pale buildings. The smog was horrible. I think London's in pretty good shape.'
'The Winter's Tale' is playing at the Garrick Theatre until January 16. A special performance of the play will be broadcast to cinemas on November 26.
Best selling Time Out Offers
Support Time Out
We see you're using an ad-blocker. Ad revenue is Time Out's main source of income. The content you're reading is made by independent, expert local journalists.
Support Time Out directly today and help us champion the people and places which make the city tick. Cheers!
Donate now