David Hoyle & Richard Thomas: Merrie Hell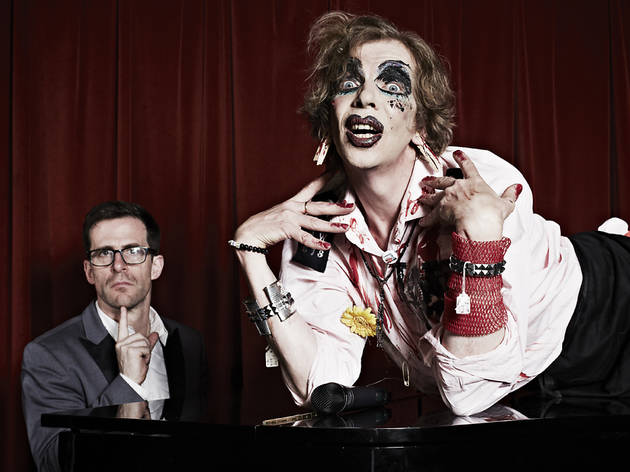 Christmas means different things to different people: where some see reindeer, snowflakes and sentimentality, others see social bankruptcy, disenfranchisement and a good excuse for suicide.
Channelling the voraciously iconoclastic sensibility of radical cabaret performer David Hoyle into a top-hat-and-jazz-hands festive song set is no mean feat. But this collaboration with the musician Richard Thomas pulls it off. It helps that Thomas has co-created operas from the lives of Jerry Springer and Anna Nicole Smith, and that Hoyle, who comes from Blackpool, has always had a soft spot for razzle-dazzle, without letting it blunt any of his sharp edges.
Directed by Gary Reich, 'Merrie Hell' follows a more rigid format than Hoyle's famously free-flowing nights at the Royal Vauxhall Tavern, which remain the gold standard for his – perhaps for any current cabaret performer's – practice. But this set of a dozen songs is a terrific showcase for his remarkable physicality (in both face and body, he turns on a dime from irreverent to savage), rich, expressive voice, and 'champagne communist' sensibility.
No punches are pulled here, from gays in the military ('turds in the lavatory') and the vagaries of love ('like listening to lambs in an abattoir') to a paean to anal sex called 'Gently' and a moving survey of blasted lives, 'Crying at Christmas'.
Thomas's music is excellent: not just marvellously catchy but tremendously versatile, encompassing jaunty larks, soaring ballads and spot-on military and religious pastiches. The duo's affectionate rapport cements a night worthy of a spot on any festive calendar.