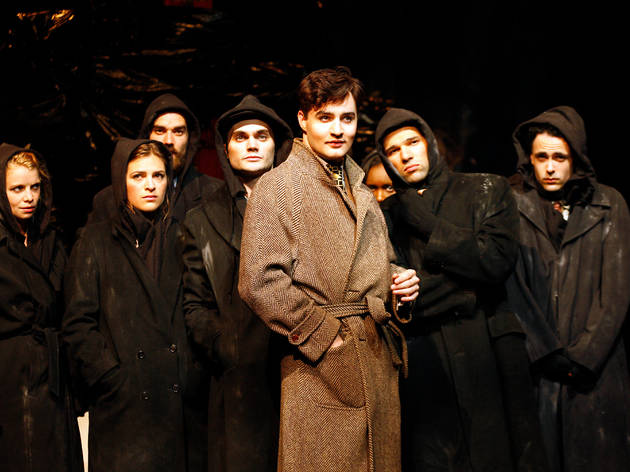 Time Out says
'Ever been run over by a steamroller, ladies and gentlemen?' asks Jos Vantyler's sensuous-lipped, sinister-eyed Master of Ceremonies as six exhausted competitors continue to drag their heels around a dusty ballroom.
For the residents of Pulaski Falls and every nowhere town like it, the Great Depression has killed the American Dream. But here is touring promoter Mel Carney to institute a new one: $500 to whichever couple can stay on their feet the longest, risking injury, insanity and severe degradation in the process.
The United States dance marathons of the '20s and '30s were the reality TV talent shows (or indeed the 'Hunger Games') of their day, exploiting and humiliating desperate people for the escapist entertainment of paying audiences in a contract from which only the corrupt promoters really stood to gain.
Irish playwright Ron Hutchinson's gripping but sometimes heavy-handed imagining of one such event draws so heavily on Horace McCoy's 1935 novella 'They Shoot Horses, Don't They?' as to homage its author in the character of pulp fiction-writing bouncer McDade (Ben Whybrow).
The play's best scenes deal with the human craving for a narrative they can invest in. Never mind the real reasons that brought Sandra Reid's single mother, Rowan Schlosberg's frustrated English major or Kelly Gibson's mouthy, traumatised train-jumper to this contest.
Viewers of Saturday teatime TV will watch with a thrill of despondent recognition as Carney conjures romance, rivalry and crises from thin air, or humiliates and tortures in the name of the human spirit. 'For the joy!' he cries, as Victoria Fischer's mentally fragile housewife has to be hauled on to the finish in her underwear – almost believing himself.
Hutchinson is far from the first to draw parallels between the Great Depression and the current recession. But Barry Kyle's production, in which the dancers introduce themselves from a video screen buried in a pile of plastic rubbish bags, speaks loudly to a current generation already confined to the scrapheap of history, who want nothing more than the chance to stand on their own two feet.
Details