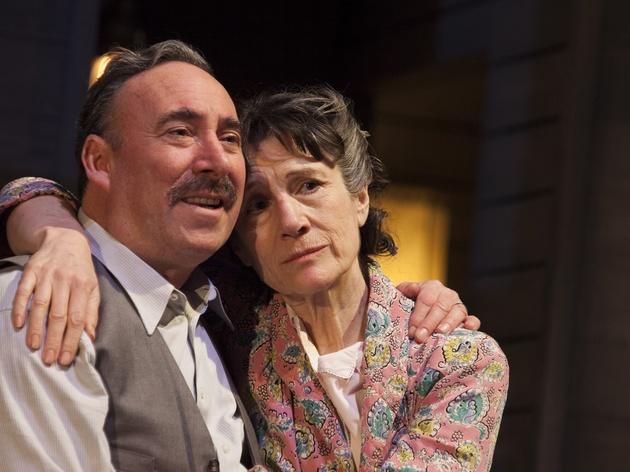 1/4
© Ellie Kurttz
Antony Sher (Willy Loman) and Harriet Walter (Linda Loman) in 'Death of a Salesman'
2/4
© Ellie Kurttz
Antony Sher (Willy Loman) in 'Death of a Salesman'
3/4
© Ellie Kurttz
Antony Sher (Willy Loman) and Alex Hassell (Biff) in 'Death of a Salesman'
4/4
© Ellie Kurttz
Alex Hassell (Biff), Harriet Walter (Linda Loman), Antony Sher (Willy Loman) and
Sam Marks (Happy) in 'Death of a Salesman'
Antony Sher and Harriet Walter arrive with this transfer of the RSC's production of Arthur Miller's great tragedy.
Theatre hipsters who view the RSC as irredeemably square might roll their eyes at the prospect of artistic director Gregory Doran's trad revival of Arthur Miller's 'Death of a Salesman', which must inevitably suffer some comparisons to the last Miller in the West End – Ivo van Hove's Olivier-winning avant-garde 'A View from the Bridge', a show that would scarcely have attracted more acclaim if it had managed to keep the Tories out.

But the thing is, the RSC didn't get where it is today by listening to theatre hipsters, and though Doran's production took a little while to settle for me – the stately pace, the pitch perfect but slightly ostentatious Brooklyn accents, the general un-Hove-ishness of it all – the fact is that Doran knows what he's doing.

As Willy Loman, the titular washed-up salesman, Antony Sher's voice is, at first, a distracting mumble, a constant low-pitched whine that jars the nerves with its ceaseless buzzing. But as he blunders on ever more erratically, it becomes apparent that this little man is, in his own way, a force of nature, a non-stop one man hubbub whose increasingly odd behaviour is masked by a strange, tragic charisma that's allowed his mess of a life to continue to move forward on fumes alone. He is tragic because he had something once. Given a little luck, he might have made it to retirement without falling apart. Unfortunately, he's come up just short.

It's a splendid performance in a night full of them: Harriet Walter is reliably brilliant – tired, human, compassionate – as Willy's long-suffering wife Linda, and Alex Hassell is magnetically pitiful as his son Biff, a shattered alpha male twisted with self-loathing over his own failure, his father's mental decline, and a terrible, traumatic memory from his childhood.

And all credit to Doran: 'Death of a Salesman's complicated mesh of psychodrama, memory play and still-pertinent social realism means that it's almost more studied than performed (it's definitely a stranger play than you remember). But the RSC boss makes it all look effortless: Willy's decline is realised with deft precision and a few sly flourishes – voices from the past relayed via Jonathan Ruddick's sound design, and a febrile live jazz score that grows more intense as Willy becomes more adrift, desperately pinning everything to a mad, doomed hope of resetting the clock on his relationship with Biff. In Miller's centenary year, this is a fine birthday present: his greatest and trickiest play, done just right.


Average User Rating
4.6 / 5
Rating Breakdown
5 star:

3

4 star:

2

3 star:

0

2 star:

0

1 star:

0
This was the first time I'd ever seen anything by Arthur Miller and it's pretty safe to say that it definitely won't be the last! Absolutely loved the whole production. I thought the whole cast were superb, with Antony Sher and Alex Hassell standing out especially as Willy and Biff; their chemistry really exposed the emotional heart of the script in a way that was just subtle enough to not be overbearing or depressing. Harriet Walter deserves a very honourable mention for her performance as Linda too - beautifully fragile and just despairing enough to be believable but not overstated. I was absolutely coated in goosebumps by the climax!

One of the best plays I have seen... ever. It's an incredibly emotional performance by all cast members but I would single out Harriet Walter's portrayal of Linda Loman as being mesmerising.

This beautifully constructed play was delivered with absolute conviction this evening by a talented RSC cast. I found it to be good throughout, but there are moments of brilliance. I feel I now know The Loman family - I certainly recognise their situation and feel their terrible pain, emptiness and disappointment. If the cast ever look at this review, Thank You for a wonderful evening. I applaud you.