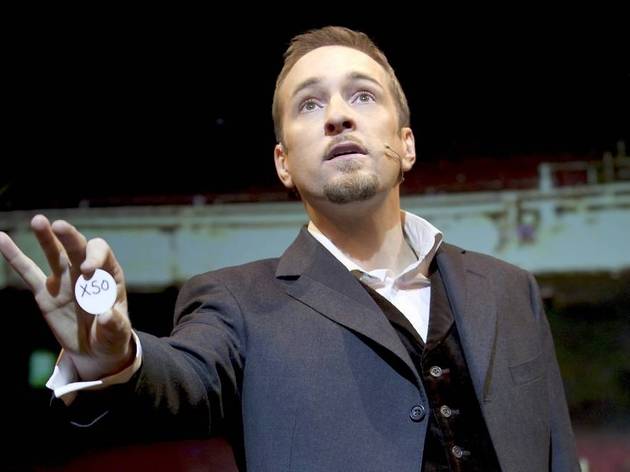 Derren Brown certainly has control of his audience. So much so that when, at the top of this evening's performance, he requests that the audience (and especially members of the press) don't reveal the show's secrets, we all kindly obey. Frustratingly, that makes describing the London-born illusionist's fifth live outing rather difficult.
So what can we reveal? Well, 'Svengali' follows a similar format to Brown's previous stage outings – a livelier, light-hearted first half of humorous mind-reading set pieces followed by a darker, more sombre second act, which this time around features a deliciously creepy mechanical contraption.
Throwing Frisbees into the auditorium to dispel sceptical thoughts of stooges or set-ups, the psychological illusionist randomly chooses audience members to join him on stage for tricks involving shoes, balloons, paintballs, needles and deep secrets.
It's all mightily impressive stuff. Brown's a master showman and each segment is exquisitely and expertly performed. But Brown's biggest challenge is that he set the bar incredibly high with his previous efforts, and, perhaps since this is his first live show without the contribution of regular writing partner Andy Nyman, it doesn't quite match the impressiveness of 'Enigma' or 'An Evening of Wonders'.
Anyone who saw those shows will be expecting a stronger driving theme and, ironically, more unexpected twists. But despite it being occasionally predictable, 'Svengali' is still miles ahead of the majority of magic shows and Brown remains one of the most inventive, impressive magicians out there.