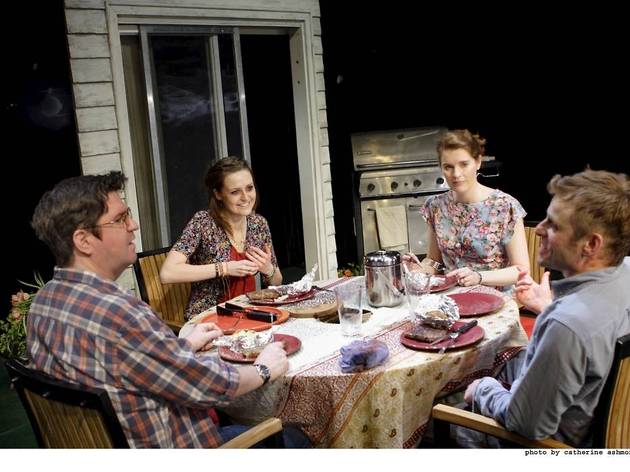 Time Out says
The National Theatre's ongoing relationship with the trailblazing Chicago company Steppenwolf offers London audiences a welcome window into contemporary American drama. It's just a shame that Lisa D'Amour's slender, suggestive play about boozy despair in the 'burbs, which was a finalist in the 2011 Pulitzer Drama Prize, comes to the UK in the wake of two heftier dramas in a similar vein: Tracy Letts's 'August: Osage County', whose original Steppenwolf production was a huge hit at the NT in 2008; and Bruce Norris's 'Clybourne Park', a bigger, funnier, crueller take on Midwestern middle-class housing crises, which rightly beat 'Detroit' to the Pulitzer after its world premiere at London's Royal Court.
'Detroit' is a backyard drama which opens when struggling white-collar homeowners Ben and Mary (Stuart McQuarrie and Justine Mitchell) entertain their new, distinctly trashier neighbours Kenny and Sharon (Will Adamsdale and Clare Dunne) by throwing a few 'puppies' on the BBQ. The couples' first meeting, scripted by D'Amour as acutely awkward passive-aggressive comedy, segues into a euphorically destructive four-way friendship, facilitated by loneliness, proximity and beer.
The real pleasure of this new Cottesloe production, helmed by Austin Pendelton (director of 'Detroit's 2010 Steppenwolf premiere), is seeing D'Amour's characters up close. McQuarrie and Mitchell make Ben and Mary's surprising infatuation with their young neighbours totally plausible: frustrated, bored and worried, by each other and by Ben's recent redundancy, they are ready to cut loose and be intoxicated. And Adamsdale and Dunne are superb as Kenny and Sharon: ex-addicts who met in rehab and need guidance, but could be bad news. With their visible injuries and manic gratitude, they're scruffy, sexy refugees from Planet Fuckup who crave suburban normality like it's a new drug.
D'Amour's play, which runs at two hours straight-through, would benefit from cuts, especially in the final scene, an odd valedictory lecture on the history of suburbia from an entirely new minor character, which entirely fails to pin those big themes onto the preceding Bacchic backyard party that is the play's real climax.
Compared to 'Clybourne Park', which squatted audaciously all over contemporary gentrification, race and class debates, 'Detroit' looks like a very fine small-scale play that's trying a touch too hard to embrace big national themes. But there's a lovely looseness, rhythm and exhilaration to D'Amour's writing, especially in the tender, misguided relationship between the two women, who take off for a weekend camping in the woods (described with Thoreau-like lyricism) but only make it as far as the gas station.
It is most original when it advances on Betty Friedan in its wry, acute portrait of contemporary suburban women living dangerously, on the tightrope between boredom and self-destruction.
Details